Is bareMinerals Cruelty-free and Vegan?
Yes, bareMinerals is a cruelty-free brand. The company is certified by PETA as a cruelty-free brand. This certification shows that it does not test any of its products or the ingredients on any animals. The products are also not sold in mainland China. The brand is not 100% vegan, but several of their products are vegan.
bareMinerals brand was founded in 1995 and ever since has continued to make cruelty-free makeup and skincare products.
Their formulas are made without harsh chemicals, and several of the products are vegan, without the addition of animal by-products or derivatives. The company was acquired by the Shiseido Group in 2010. This company tests on animals.
Our readers have asked us to confirm whether bareMinerals is a cruelty-free brand considering the history of its new owners. We have analyzed the brand and its products in detail.
Is bareMinerals cruelty-free and vegan? Keep reading to find out the details.
Is bareMinerals Cruelty-free?
Cruelty-free has a different definition depending on who you ask. We define cruelty-free as satisfying these three criteria, which we will analyze individually. Here they are:
None of the products should be tested on animals. Neither the company nor its suppliers must test on animals at any product development stage, pre-market, or post-market.
They should not test on animals even when required by law. Even if there is a legal requirement for animal testing, it still must not. Nor can it pay a third party to test on its behalf.
The products should not be sold in China. The company must not sell its products in mainland China or any other country that enforces animal testing.
We have considered each of these criteria and compared them with the brand. Our answers will determine whether this is a cruelty-free brand.
Are bareMinerals products tested on animals?
bareMinerals does not test any of its products on animals. The company claims that all their products are certified cruelty-free. There are certifications from third-party bodies that confirm the authenticity of this claim.
From formulation to ingredients and the finished products, no animal testing is done.
Here's a snapshot from the company's FAQ section.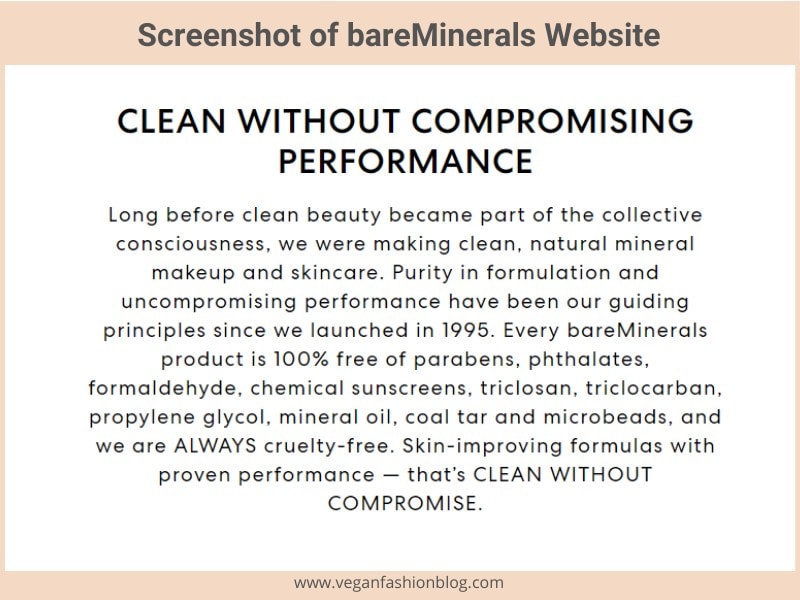 Do they test on animals when required by law? Or use a third party?
No. bareMinerals does not use any third-party companies to test products on animals. Additionally, this brand does not sell any products in countries or regions that mandate animal testing.
Are bareMinerals products sold in China?
The brand does not sell any of its products in mainland China. The company does not have a retail presence in the country. Chinese law mandates that animals be tested with any imported cosmetics or beauty products.
The only way a product can enter the country without being tested on animals is when the imported products are delivered directly via online purchase. Thus, any brand that has a retail presence in China is not cruelty-free.
Does bareMinerals have cruelty-free accreditations and certifications?
Yes. bareMinerals is certified cruelty-free by PETA.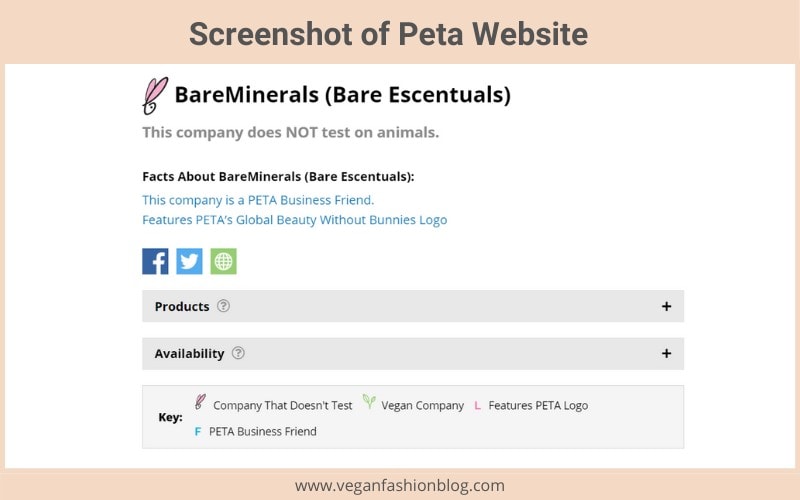 Is bareMinerals's parent company cruelty-free and vegan?
bareMinerals was acquired by the Japanese company Shiseido. This company was not a cruelty-free company. Founded in 1872, this is a multinational beauty company that focuses on Research and Development.
However, the company has committed to finding alternatives to animal experiments.
According to them, they have discontinued animal testing in cosmetic and drugs from April, 2013.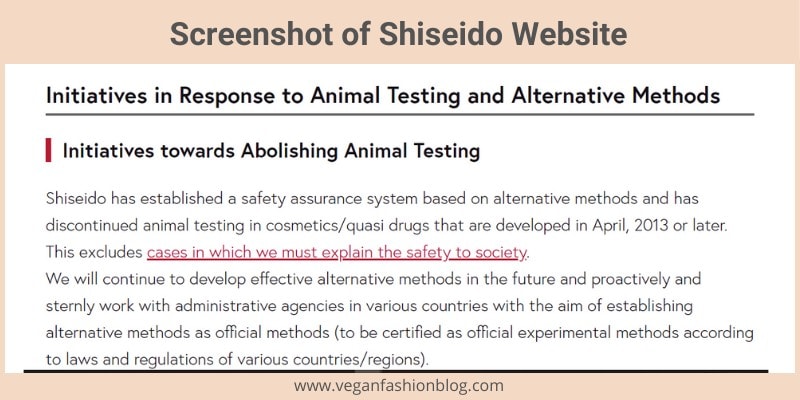 Is bareMinerals Vegan?
To qualify as a vegan brand, bareMineral products must not contain any animal derivatives or by-products. We have carefully assessed the brand and found that some of the brand's products are not vegan.
There are some of their products that are still made of animal parts.
Some of their brushes are made of Goat and Pony hair. However, no animals were harmed in the process of making these brushes.
The company's policy in terms of vegan products is that,
" All of our makeup and skincare ingredients go through rigorous safety testing to ensure they meet our quality and safety standards, and we use synthetic ingredients only when a better natural alternative does not exist."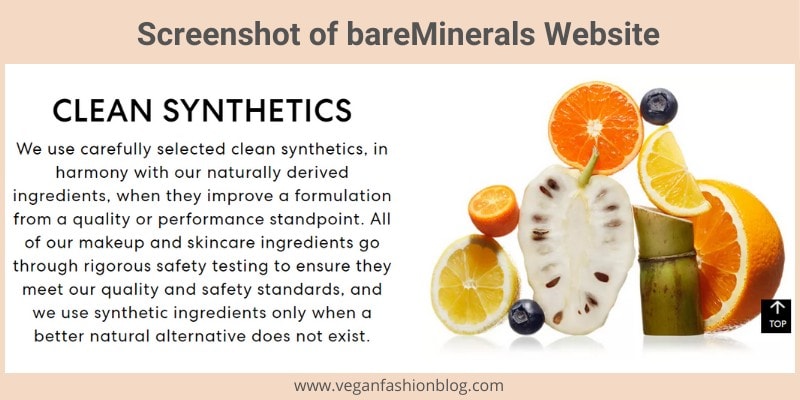 Nevertheless, the company does have a collection of vegan products. These are:
Skin
SKINLONGEVITY LONG LIFE HERB SERUM
SKINLONGEVITY LONG LIFE NIGHT TREATMENT
SKINLONGEVITY LONG LIFE HERB SERUM
SKINLONGEVITY LONG LIFE HERB EYE TREATMENT
SKINLONGEVITY GREEN TEA HERBAL EYE MASK
PURENESS GEL CLEANSER
PURENESS SOOTHING LIGHT MOISTURISER
PORELESS OIL-FREE MOISTURISER
PORELESS EXFOLIATING ESSENCE
PORELESS CLAY CLEANSER
Lipstick
BAREPRO LONGWEAR LIPSTICK
Makeup
MICRO PRECISION EYELINER
MINERAL-BASED MASCARA
COMBO CONTROL MILKY FACE PRIMER
GOOD HYDRATION SILKY FACE PRIMER
BAREPRO 16-HR FULL COVERAGE CONCEALER
LIP LACQUER
Creams
AGELESS GENIUS FIRMING & WRINKLE SMOOTHING NECK CREAM
AGELESS GENIUS FIRMING & WRINKLE SMOOTHING EYE CREAM
TRUE OASIS™ OIL-FREE REPLENISHING GEL CREAM
BRILLIANT FUTURE™ AGE DEFENSE & RENEW EYE CREAM
BUTTER DRENCH™ RESTORATIVE RICH CREAM
BARE HAVEN™ ESSENTIAL MOISTURIZING SOFT CREAM
Concealers and Foundations
MATTE FOUNDATION SPF 15
SPF 25 MINERAL VEIL®
BAREPRO™ PERFORMANCE WEAR POWDER FOUNDATION
SPF 20 CONCEALER
ORIGINAL FOUNDATION SPF 15
MINERAL VEIL®
SPF 20 CORRECTING CONCEALER
WELL-RESTED® EYE BRIGHTENER SPF 20
Summary
In summary, bareMinerals is a cruelty-free brand that comes with some vegan products. After carrying out our in-depth research into the company, we can certainly add it to our list of cruelty-free brands.