Quick Answer: Is 3INA Cruelty-Free?
Yes, 3INA is cruelty-free, but they are not 100% vegan. They do not test the effects of their products on animals. 3INA also does not sell its products in countries that require products to be first tested on animals.
3INA does not mix natural ingredients into their products. However, they ensure that the chemicals they use are mild and do not affect the skin of users in any negative way.
3INA produces products for cleansing, hydrating, and exfoliating the skin. They also produce all kinds of makeup equipment, like eyeshadows and eyeliners.
The brand is jointly owned by Pablo Rivera and Mark Even, and its headquarters is based in New York. They do not have a parent company.
A lot of our readers have asked if 3INA is cruelty-free or vegan. Through our thorough research studies, we have analyzed the brand and its products in detail. Is 3INA cruelty-free? Keep reading to find out.
Is 3INA Cruelty-Free?
Yes, 3INA is cruelty-free. Before any brand can be ascertained to be cruelty-free, it must first satisfy some criteria. Here, we will analyze the criteria one by one.
None of the products should be tested on animals.
The brand must not test its products on animals even if it is required by law.
The brand must not sell their products in China.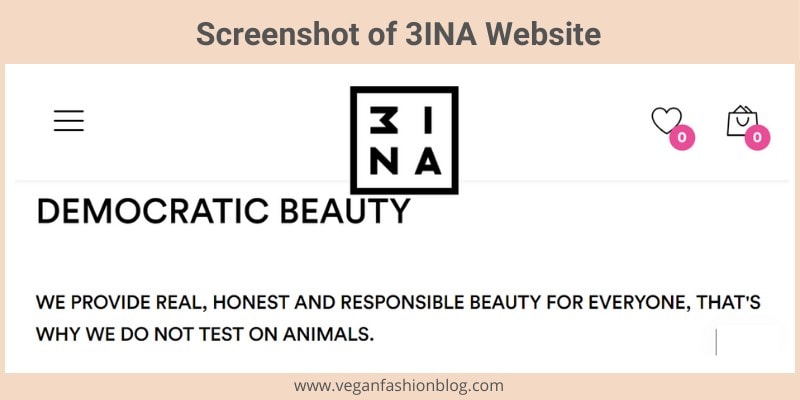 Are 3INA Products Tested On Animals?
No, the products of 3INA are not tested on animals. 3INA ensures that no harm is brought to any animal in any way because of their products.
For this purpose, the brand has resorted to using chemicals that are very friendly to the skin.
Does 3INA Test Its Products On Animals Even When the Law Requires Them To Or Through Third Parties?
Animal testing is a situation where the products of a company are applied to animals to determine if they are healthy enough to be used by human beings.
Through these tests, the company learns if the products will affect humans in any way, thereby putting the animals at risk of death. These tests are carried out in laboratories, and 3INA does not have any of these.
3INA does not test its products on animals, and they make sure their suppliers and third parties do the same. If any country demands that they carry out animal testing, they do not sell their products there.
Does 3INA Sell Its Products In China?
China is one country that demands that companies test their products on animals. 3INA has a standard that avoids such tests, so they don't sell their products in China.
Does 3INA Have Cruelty-Free Accreditations?
3INA has been certified by PETA.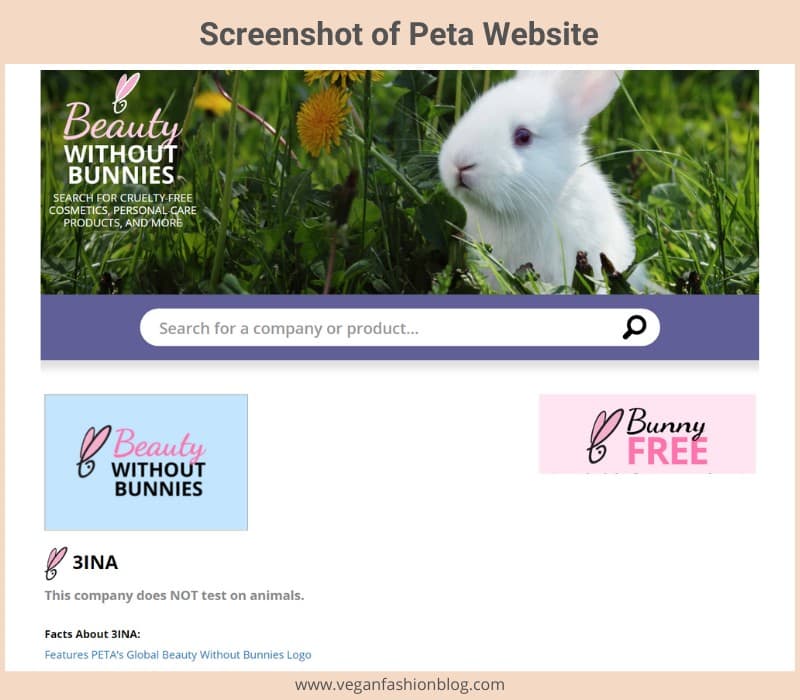 The PETA certification is one that requires companies to make a statement of assurance that they are not involved in conducting or commissioning any test on animals, nor will they ever be involved.
3INA does not test their ingredients or finished products on animals. This PETA company is so rigorous with their checks that even the materials given to the brands by the manufacturers are properly scrutinized.
Does 3INA Have a Parent Company?
No, it does not have a parent company.
Are 3INA's Products Vegan?
Vegans are individuals who do not use anything produced from animals. Next, we will analyze the brand's products based on that definition.
3INA does not completely produce vegan products, so we cannot categorize all of their products as vegan. The other products have ingredients that are sourced from animals.
Only a few products made by 3INA are vegan.
Does 3INA Have Vegan Certifications?
No, 3INA does not have vegan certifications. That is because not all of their products are vegan. Vegan certifications are only awarded to brands that produce items with more than 90% naturalness.
The following products are some examples of vegan products sold by 3INA.
Eye accessories
Eyebrow pencil
Pen eyeliner
Color eyeliner
Essential eyeliner pencil
Metallic eyeshadow
Eye shadow palette
Eye shadow (all are vegan except shades 119 and 121)
Waterproof definition mascara
Volume mascara brown
Transparent mascara
Lengthening mascara
Color mascara
Eye primer
Lip accessories
Lip gloss
Essential lip pencil
Lip primer
Long-wear lipstick
Shiny lipstick
Lip vinyl
Intense lipstick
Lip oil balm
Face accessories
Blush
BB cream
3-in-1 foundation
Highlighter
Revitalizing primer
Matte and smooth primer
Fixing spray
Setting loose powder
Compact powder
Bronzer
Skincare accessories
Cleansing milk
Eye mask
Eyes and lips makeup
Remover
Fixing spray
Micellar gel
Micellar water
Milk and toner
Lip mask
Moisturizing mask
Restorative mask
Soothing and nourishing mask
Summary
3INA is a cruelty-free company that works with mild chemical ingredients that cause a glowing effect on the faces of users.
They do not perform tests of their ingredients or experiments on animals, and this has been certified by PETA.