Is Acqua di Parma Cruelty-Free and Vegan?
Acqua di Parma isn't 100% vegan, and they're not cruelty-free either. This is because the brand carries out animal testing on its products when required by law. They also sell in China and don't have any form of animal cruelty certification on their site.
Acqua di Parma is a luxury personal care brand based in Italy. The brand majors in the production of fragrance, leather goods, and accessories.
All their products are made in Italy and distributed to several countries all over the world. The brand was founded in 1916 and is based in Milan.
Is Acqua di Parma Cruelty-Free?
Acqua di Parma isn't cruelty-free because it failed to meet certain requirements set by cruelty-free authorities such as PETA. The most important requirements go this way: A cruelty-free brand must not:
Conduct animal testing during their product development
Test their final products on animals or pay a third party to conduct the test
Must not sell in countries where animal testing is required by law.
Unfortunately, Acqua di Parma didn't meet this requirement. For instance, they sell their products in China and, as such, must comply with the strict testing policy enacted.
You should also know that there are only a few scenarios where brands who sell in China were approved to be cruelty-free.
Brands like Aussie found a way to bypass the strict testing rule by manufacturing some of their products domestically in the country.
However, most brands have failed to go on this route due to the expenses involved. The reason the likes of Mary Kay, Clarins, and Olay are not cruelty-free.
Are Acqua di Parma products tested on animals?
A loophole we've found in their operation is a lack of full disclosure of their testing policy. They don't have an animal testing policy, and neither do they have any sort of certification.
However, what we know to be true is that they carry out animal testing when they sell in foreign countries like China.
Do they Test Animals when required by the law?
Acqua di Parma joins an illustrious list of brands that sell in China. Although animal testing isn't necessary for commercial brands in the US, the Chinese government sees things differently.
Foreign brands who bring their goods to China are required to submit them for testing before they're approved for sale. This is the only possible way to minimize harm to consumers.
Are Acqua di Parma products sold in China?
Acqua di Parma products are sold in China. The brand distributes its product to the Chinese market and is available for purchase in physical and online stores.
You should know that since their products are manufactured outside China, they have to be imported into the country; hence, they're subject to testing regulations in the country.
Does Acqua di Parma have Cruelty-Free Certifications?
Acqua di Parma is not approved by PETA or other cruelty-free authorities. This is because the body is aware that they test their products on animals when they sell in other countries.
They've also failed to join in the fight against animal cruelty by signing a statement that guarantees that they won't indulge in any practice that poses harm to animals.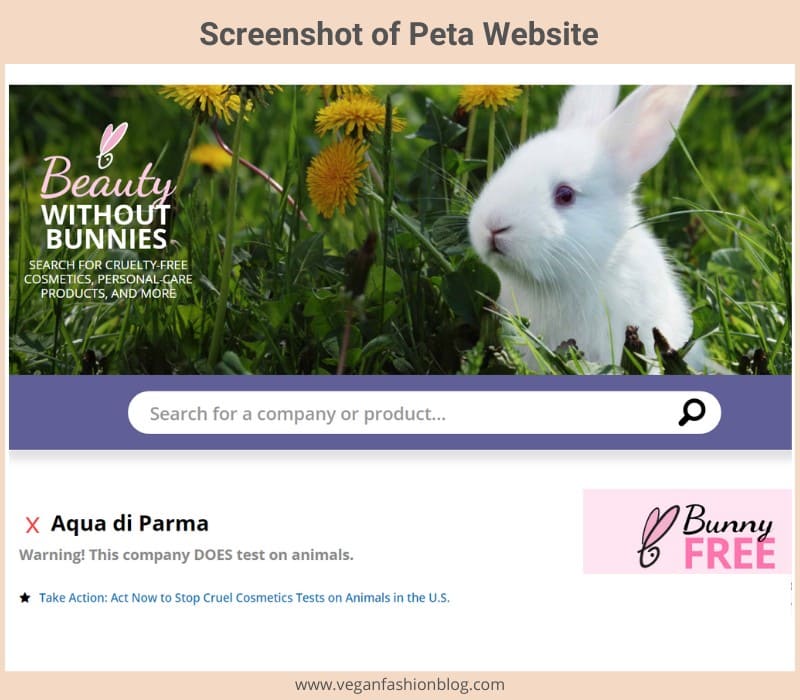 Is Acqua di Parma Owned by another Company?
Acqua di Parma is not an independent company. It's a subsidiary of LVMH, one of the biggest multinational corporations in the world. LVMH acquired the brand in 2001 and has been able to extend its reach beyond Italy's shore to 43 other countries.
LVMH was founded in 1987 and has its headquarter in Paris, France. They have several world-class brands under their wing. Some of their subsidiaries include Hennessey, Fendi, Givenchy, and Kenzo.
Is Acqua di Parma Products Vegan?
It's clear that Acqua di Parma products aren't cruelty-free, and you might want to know if they have any vegan collection in their brand. Well, our research has led us to uncover a lot about their dealing.
We're not falling for the sweet talk of these brands. Rather we watch out for their ingredient list to see if they contain animal derivatives.
The first red flag for us was that none of Acqua di Parma's products came with a vegan logo. Hence, we can't certify such a brand as a vegan since the probability that the animal constituent in each product is high.
Summary
Acqua di Parma is a luxury brand and has a strong desire of ensuring their products reach their customers no matter where they live.
It's the reason why they sell in a whole lot of countries, and their ability to bend their rules to suit the testing regulations in these countries is the primary reason why they're not cruelty-free in the first place.