Is Acure Cruelty-free and Vegan?
Yes, Acure is cruelty-free and vegan. The company is certified by trustworthy bodies like Leaping Bunny and PETA. These certifications indicate the cruelty-free nature of the brands' products. Additionally, their products are not sold in China, where animal testing is required by law. The products are also vegan and do not contain any animal derivatives or by-products.
Acure is a skin and hair wellness company that makes cosmetic products out of high-quality ingredients that your body will love. The brand sources sustainable ingredients to formulate their cosmetics.
The company's line of products is relatively extensive and includes gels, creams, masks, moisturizers, shampoos, cleansers, and more.
The brand has facilities all around the USA, with some found in Miami, New Jersey, New Mexico, and California. A lot of our readers have asked whether Acure is cruelty-free and vegan. We have analyzed the brand and its product in detail.
Is Acure cruelty-free and vegan? Keep reading to find out the details.
Is Acure Cruelty-free?
Before we determine the answer to that question, we have to take a serious look at the answers we derive from our questions. These criteria are what will determine whether a brand is truly cruelty-free and vegan. There are:
The brand should have zero products tested on animals. Neither the company nor any suppliers must test the products, at any stage, on animals. It must be free from animal testing from the development stage to post-market.
They should not test the product on animals even when required by law. If there is a legal requirement for animal testing, the brand must still refuse to carry this out. Furthermore, the brand must not pay a third-party company to test on its behalf.
The products should not be sold in China. The company must not sell any of its products in mainland China or any other country that mandates animal testing.
Are Acure Products tested on Animals?
No they are not. The company flatly refuses to test any of its products on animals. All the products from the company are certified to be free of animal-cruelty.
There are even certifications to that effect, proof of which we will provide in later sections of this article. Overall, from the composition to the formulation and finished product, no animal testing occurs.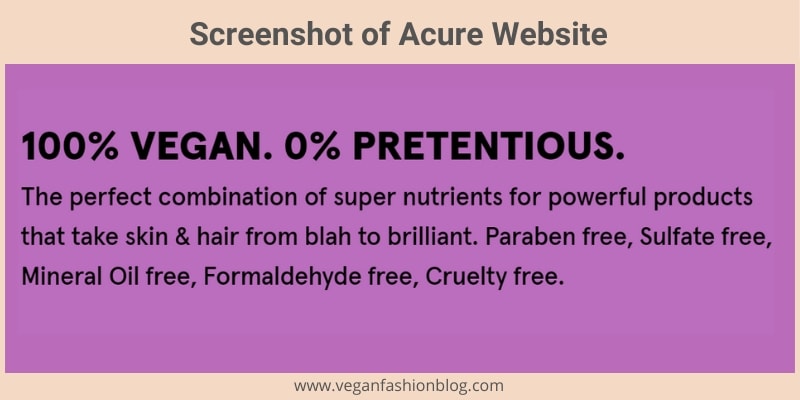 Do They test on animals when required by law? Or use a third party?
No, Acure doesn't use any third-party companies to test their products on animals. They also do not sell their products in regions that enforce animal testing.
Are Acure products sold in China?
No, they are not sold in China. The company does not retail or sell products in China. Their products are not sold in stores there because the law of China stipulates animal testing on cosmetics.
The only exception to this regulation is online purchases – where imported goods are delivered directly to the consumer. Therefore, any brand currently selling through retail outlets in China is not cruelty-free.
Does Acure have cruelty-free accreditations or certifications?
Acure is certified as cruelty-free by Leaping Bunny and PETA. All products from the company come with the Leaping Bunny Certification and PETA, which is the gold standard for cruelty-free certifications.
PETA has the "Beauty without Bunnies" program that certifies cruelty-free companies. These certifications show that Acure products are free of animal testing across every single stage of product development.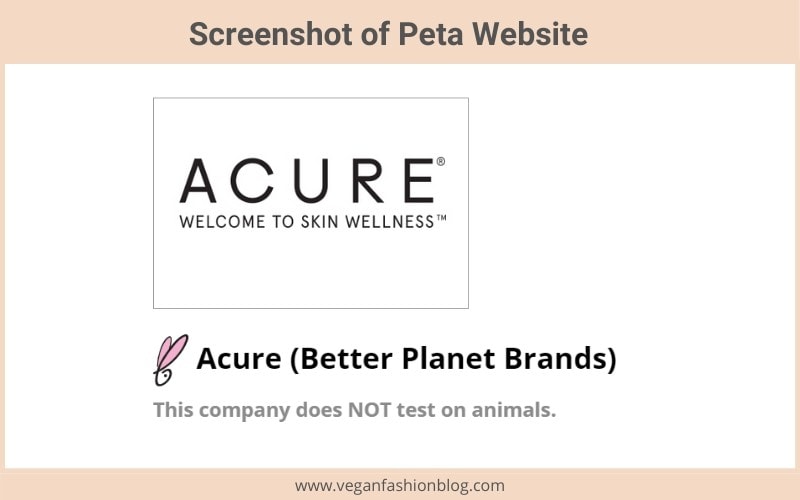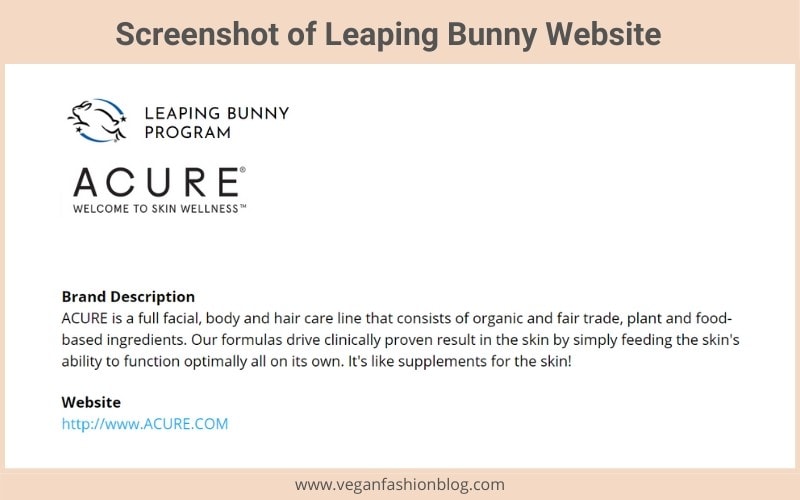 Is Acure Owned By Another Company?
No, Acure is not owned by another company. There is no indication that it is affiliated with other beauty companies.
Is Acure Vegan?
A vegan company is a company whose products do not contain any form of animal ingredients or animal by-products. According to the company, all the products are 100% vegan.
Here are the vegan products offered by the company:
Skin
BRIGHTENING FACIAL SCRUB
BRIGHTENING FACE MASK
THE ESSENTIALS ARGAN OIL
BRIGHTENING GLOWING SERUM
BRIGHTENING CLEANSING GEL
BRIGHTENING COCONUT CLEANSING TOWELETTES
RADICALLY REJUVENATING CLEANSING CREAM
BRIGHTENING MICELLAR WATER
SERIOUSLY SOOTHING CLEANSING CREAM
BRIGHTENING NIGHT CREAM
BRIGHTENING DAY CREAM
Hair
IONIC BLONDE CONDITIONER
IONIC BLONDE SHAMPOO
IONIC BLONDE SHAMPOO
WAVE & CURL COLOR WELLNESS SHAMPOO
UNICORN SHIMMER CONDITIONER
UNICORN SHIMMER SHAMPOO
ULTRA HYDRATING CONDITIONER
ULTRA HYDRATING SHAMPOO
CURIOUSLY CLARIFYING SHAMPOO
CURIOUSLY CLARIFYING SHAMPOO
SIMPLY SMOOTHING CONDITIONER
VIVACIOUS VOLUME CONDITIONER
DAILY WORKOUT WATERMELON & BLOOD ORANGE CONDITIONER
DAILY WORKOUT WATERMELON & BLOOD ORANGE SHAMPOO
JUICE CLEANSE SUPERGREENS & ADAPTOGENS CONDITIONER
JUICE CLEANSE SUPERGREENS & ADAPTOGENS SHAMPOO
DRY SHAMPOO – BRUNETTE TO DARK HAIR
DRY SHAMPOO – ALL HAIR TYPES
DETOX-DEFY COLOR WELLNESS CONDITIONER
COCONUT & ARGAN SHAMPOO BAR
BUILDUP BALANCING HEMP & ACV SHAMPOO
Body
LEMON VERBENA DEODORANT
LAVENDER & COCONUT DEODORANT
FRAGRANCE FREE DEODORANT
CEDARWOOD & MINT DEODORANT
SERIOUSLY SOOTHING 24HR MOISTURE LOTION
EVERYDAY ECZEMA LOTION
CALMING ITCH & IRRITATION LOTION
Summary
Acure offers you lovely products that are all cruelty-free and 100% vegan. It is an awesome company that looks set to rise in stock and popularity.