Is Aesop Cruelty Free and Vegan?
Aesop is a cruelty free brand with PETA and Leaping Bunny certifications. This brand does not test any of its products, formulations, or ingredients on animals. The company doesn't authorize any third-party testing and does not sell its products in mainland China. Aesop body, skin, and hair care products are 100% vegan.
Aesop is a global beauty brand that belongs to a Brazilian company, Natura & Co. As of 2019, this brand has more than 320 points of sale across 25 countries. Also, it boasts of over 83 products and three shaving accessories.
The cosmetic industry is experiencing a significant change, particularly with animal rights and animal protection.
Many individuals are now paying considerable attention to their favorite brand's testing policy and ingredient list.
If you are interested in the cruelty free and vegan status of Aesop, you are not alone. We have made a thorough analysis of this brand, and you will have your answer in this article.
Is Aesop Cruelty Free?
A brand that would be certified as cruelty free must meet up with specific considerations and criteria, which we duly consider for Aesop beauty brand.
Their products or any of its ingredients must not be tested on animals even when requested by law
Their products should not be sold in mainland China
They should not allow any third-party testing of their products or its ingredients on animals
Are Aesop Products Tested On Animals?
Aesop does not test any of its products or ingredients on animals.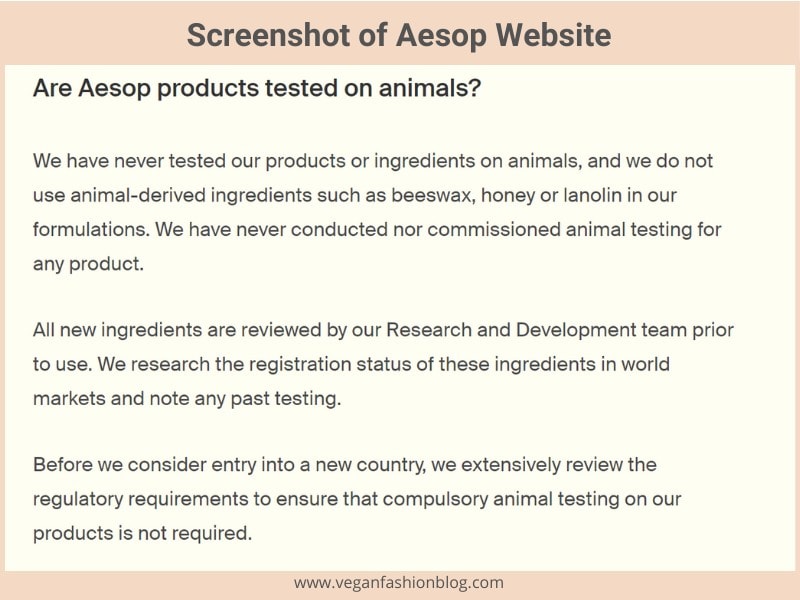 Above is the animal-testing policy of Aesop. This statement translates to the fact that they do not engage themselves in any animal testing.
Likewise, the company asserts that the company does not and has never commissioned animal testing on its products.
Do they test animals when required by Law? Or use a third party?
Aesop does not test its products on animals even when the law requires it. They neither do it themselves nor submit their products for animal tests to authorities where laws require them to do so.
This strong will is one of the reasons why the brand maintains its cruelty free status.
Likewise, Aesop does no use any third-party testing; neither do they authorize their retailers or distributions to test their products. Similarly, they don't permit any form of third-party testing even by their ingredient suppliers.
Are Aesop products sold in China?
Aesop does not sell its products in mainland China because animal testing is required by law in China.
This requirement contradicts the ethical policy of Aesop; hence, they prefer to keep their products away from this region.
However, Aesop has confirmed that it only sells its products in some parts of Hong Kong. Hong Kong isn't part of mainland China and has a different product testing policy.
Consequently, Aesop can freely sell its product in Honk Kong without going against its no-animal testing policy.
Does Aesop have Cruelty free Accreditations Certifications?
Aesop is uncompromising about its cruelty free animal testing policy. The brand meets all cruelty free standards and criteria; hence, it deservedly has some cruelty free accreditation certifications.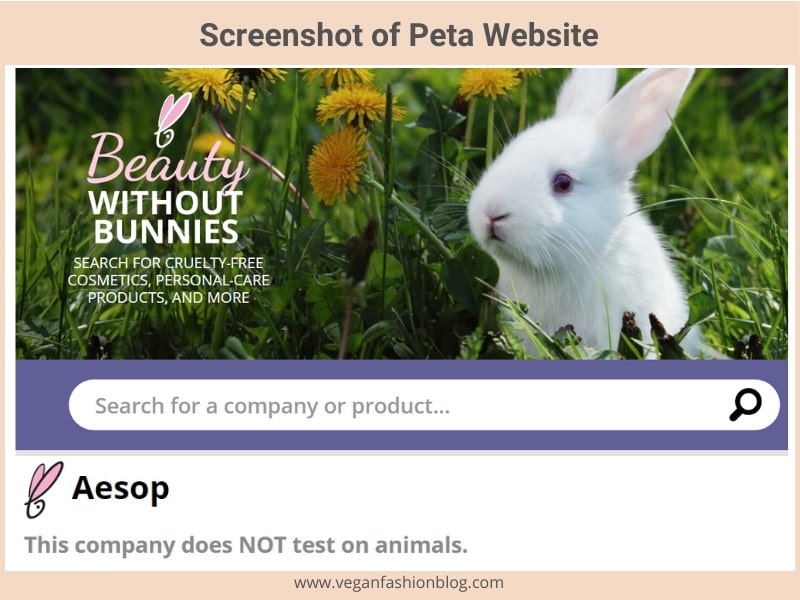 Aesop cosmetics are certified by PETA BEAUTY WITHOUT BUNNIES. This certification means that this company does not test its products or ingredients on animals at any phase of their production process.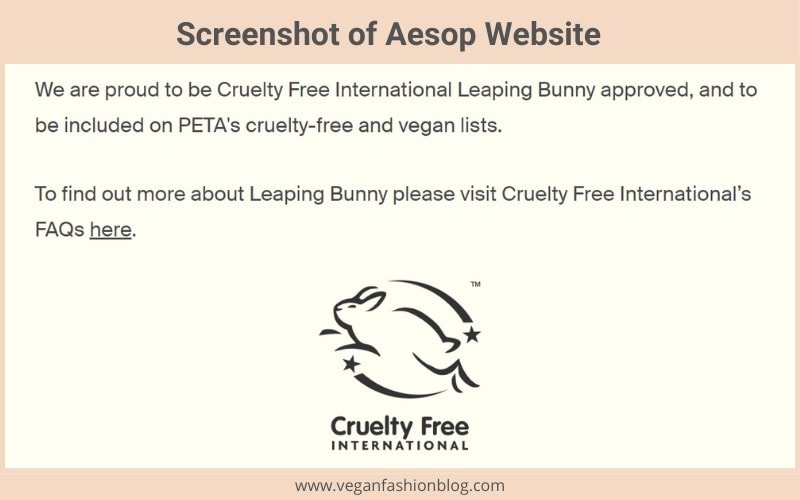 Aesop cosmetics have LEAPING BUNNY certification.
This certification means that a company's ingredients and products are not tested on animals during development.
This double certification reflects the uncompromising effort of Aesop towards maintaining a cruelty free operation.
Is Aesop Parent company Natura & Co. cruelty free?
Brazilian giant Natura & Co. fully owns Aesop following a total takeover of the brand in 2019. However, the good news is that this parent company and all its subsidiary brands are cruelty free.
They don't test on animals, and they don't sell their products in countries and regions where animal testing is required by law.
Is Aesop Vegan?
Vegan products are products that don't contain any animal ingredients or animal-derived ingredients. Aesop is 100% vegan.
None of its products contain any animal material or animal-derived ingredients, including common derivatives like beeswax, honey, and lanolin.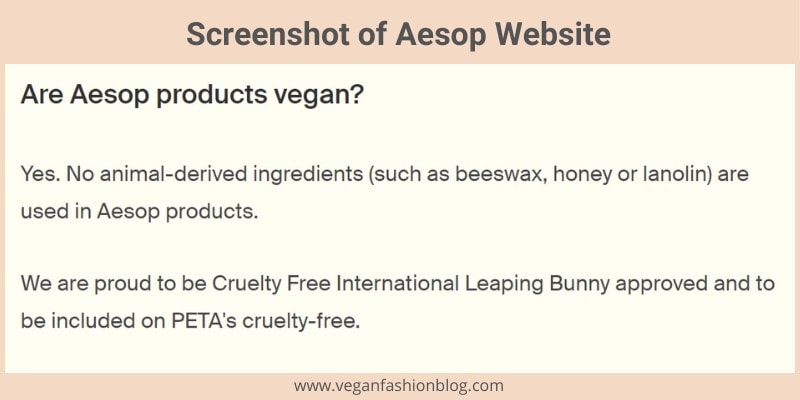 Aesop does not have any cruelty free certifications. However, this does not undermine the vegan efforts and vegan originality of this brand.
Summary
Summarily, Aesop is a cruelty free brand that is certified by PETA and Leaping Bunny. The brand doesn't test any of its products on animals nor commission any third party to do it on their behalf.
Aesop only sells its product in Hong Kong, not mainland China and its products are 100% vegan.