Is Afterglow Cosmetics Cruelty free and Vegan?
Yes, Afterglow Cosmetics are cruelty-free; this means they do not test on animals. They are certified by the CCIC and PETA. Afterglow also provides its consumers with an array of vegan options, but not all their products are vegan. Their products are not available in China because the law requires that all cosmetic products must be tested on animals.
Afterglow Cosmetics company focuses on natural, organic, and pure ingredients to make their makeup and skin products. Its headquarters are located at 310 S Harrington St, Raleigh, North Carolina, 27603, United States.
They specialize in cosmetics, beauty supply, and personal care products. Their products are available and can ship to Canada, Australia, the USA, and Europe.
Our readers have recently been asking if Afterglow Cosmetics is cruelty-free and vegan. We have had an in-depth look at the brand and have analyzed their products in detail. Keep reading to find out more.
Is Afterglow Cosmetics Cruelty-free?
Yes, Afterglow cosmetic products are cruelty-free; they do not test their products on animals. For a product to be considered cruelty-free, it has to meet certain conditions.
We will use the following requirements to come to a conclusion.
None of their products should be tested on animals
Their products should not be tested on animals even when the law requires them to
The products should not be sold in China
Are Afterglow products tested on Animals?
No Afterglow cosmetics are never tested on animals.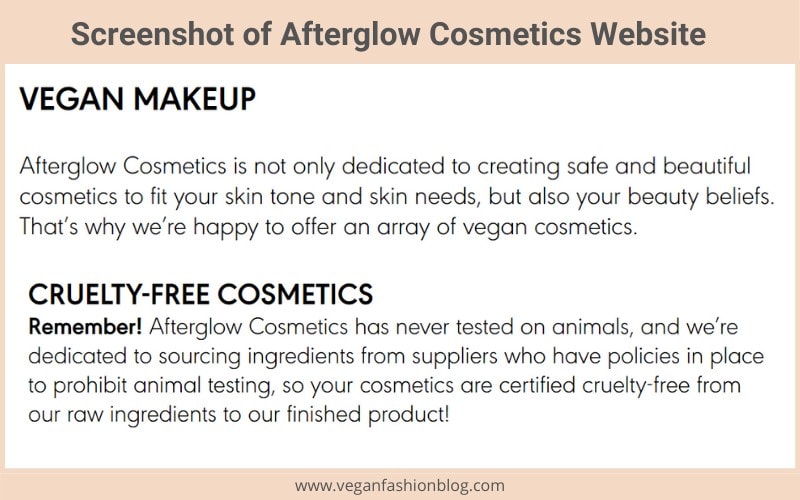 Afterglow Cosmetics have fully confirmed that they do not test their finished products or ingredients on animals. They also make sure the same case applies to their suppliers or any third parties.
The company has been verified by cruelty-free organizations like PETA and Leaping Bunny and have received certification not to test on animals now and in the future as well.
Are Afterglow products tested on animals when the law requires them to? Or use a third party?
In the United States, where Afterglow products are made, the law does not require them to test their products on animals. The U.S Food and Drug Administration (FDA) does not require any cosmetic company to test out their ingredients or finished products on animals to ensure they are safe for human use.
Afterglow also makes sure that suppliers of their ingredients and other third parties are also cruelty-free.
The United States has rules and regulations to protect animals in regards to animal testing policies. Animal testing is not necessarily needed as there is a lot of information out there already.
Are Afterglow products sold in China?
No, they are not. In countries where animal testing is compulsory such as China, Afterglow products are not available. Cosmetic products that are physically available in China are not cruelty-free.
However, if the product is sold on online platforms, it does not need to be subjected to animal testing.
Does Afterglow Have Cruelty-free Certifications?
Afterglow is approved by the Coalition for Consumer Information on Cosmetics (CCIC). This means that they have met the required standards and perform no tests on animals.
They have the standard internationally recognized Leaping Bunny Logo as the CCIC aims to make shopping for animal-friendly products easy.
The company is also certified by PETA. This means they agreed and verified that they would not conduct animal tests or use animal-derived ingredients during the production or finished products.
They also pledge not to break this agreement in the future. Afterglow gets its ingredients from cruelty-free suppliers who do not get them from animals.
Is Afterglow Owned by Another Company?
No Afterglow is not owned by another company. They have a strict no animal testing policy and are certified cruelty-free.https://www.afterglowcosmetics.com/certified-cruelty-free-makeup/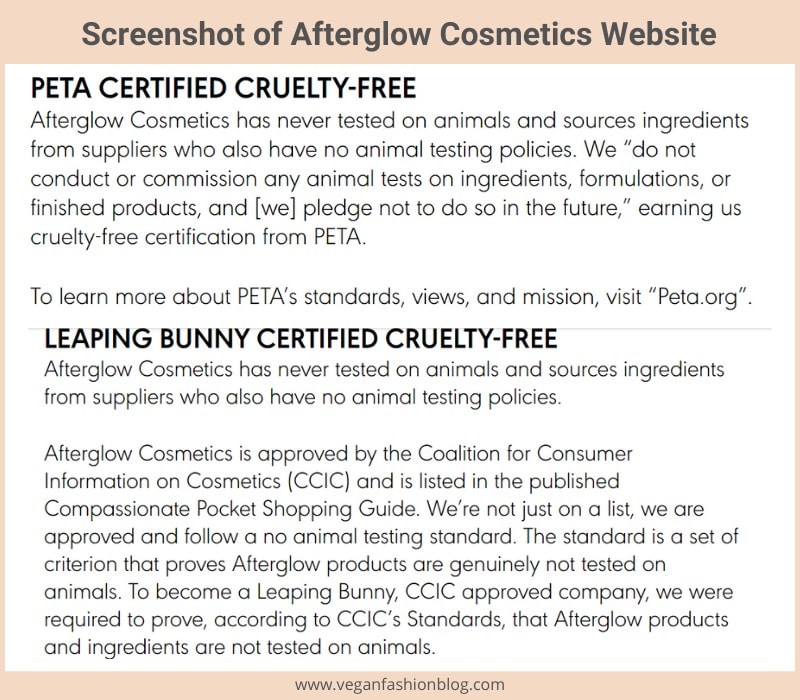 Is Afterglow Cosmetics Vegan?
A product can be referred to as vegan when all the ingredients used to make it are not derived from animals. If a product is vegan, it can also be cruelty-free, depending if it has been tested on animals.
Most of the products that Afterglow offers are vegan, but not all of them. For example, the professional and Vegan Cosmetic Brushes are made from soft and synthetic taklon hair.
Afterglow uses beeswax as the only ingredient that is an animal byproduct. It is included in some of their lipsticks, mascara, and concealer.
Afterglow Cosmetics aims to provide you with safe and effective products that fulfill the needs of your skin with their vegan products. The following are some of the vegan products they have:
Vegan Makeup Brushes
Essential Brush Set
Replacement Bumpers for Pro EyeLash Curler
Travel Swirler
Vegan Angled Liner Brush
Vegan Concealer Brush
Vegan Oval EyeShadow Brush
Eye make up
Neutral Eyeshadow Bundle
Magnetic Eyeshadow Palette
Infused Eyeliner
Foundation
Infused Mineral Foundation
Summary
Since 2004 Afterglow Cosmetic has been inspiring and creating beauty through natural and safe products.
The company does not believe in harming animals to get good products; they also make sure that their ingredients supplier is also cruelty-free.
Afterglow Cosmetics are dedicated to meeting your skin needs and your belief needs, which is why they also make vegan cosmetics available.