Is Algenist Cruelty-free and Vegan?
No Algenist is not cruelty-free; they test their products on animals. Their products are also available in China. The law in China requires that all cosmetics be animal tested to be approved into the market. Algenist is also not 100 percent vegan, as some of its products contain ingredients derived from animals.
Algenist is a cosmetic company that deals in the beauty supply and perfume stores industry.
The company is located at 500 N Brand Blvd 1700 Glendale, CA, in the United States. It has around 40 employees in every one of its branches.
They offer safe and clean skincare formulas for their products. Algenist is very keen on its ingredients. They get them from natural sources to produce high quality and clean products.
Is Algenist Cruelty-free?
No, they are not. A while back, customers could not distinguish between cruelty-free brands and those that are not.
All they could rely on was an official statement from the brand, which sometimes was inaccurate or not even there.
Today you could easily know which brand is cruelty-free; you just have to consider some criteria and their production process. The following are the mentioned criteria:
The company does not engage in any form of animal testing
Their ingredients and formulations do not have any form of animal products
The company does not allow third-parties to test their products on their behalf
They don't sell their products in China
Their products are not available in countries where animal testing is required by the law
We went deeper and discovered that Algenist sells its products in the People's Republic of China and has animal-derived ingredients in its products.
Are Algenist Products tested on Animals?
Algenist claims that it does not test their products on animals or ask other third parties to do it for them unless it is required by regulation, government authority, or the law. The following is from their website: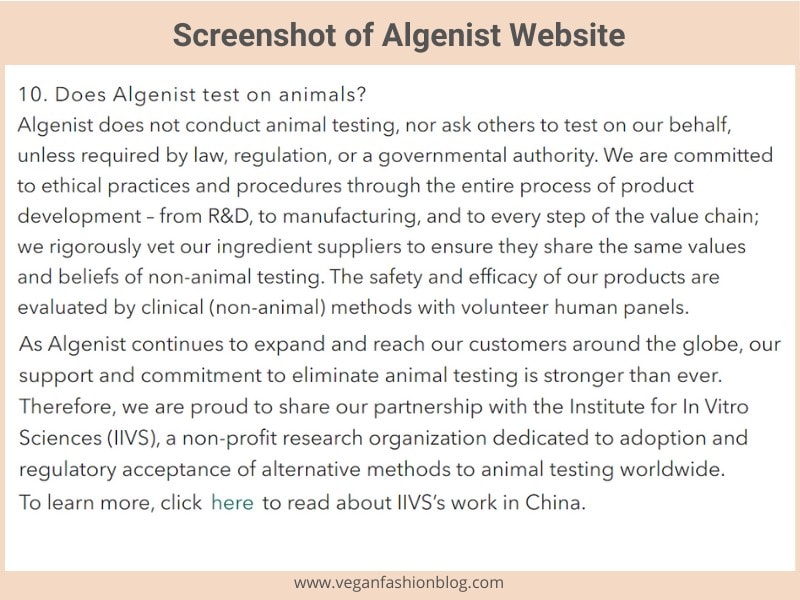 The statement that says, "Exceptions are made if the law requires it" most of the time implies that the company sells its product to countries that require animal testing.
Are Algenist products sold in China?
Yes, they are. When a company sells its products in China, it mostly means that the company is not cruelty-free. This is because China has strict laws regarding cosmetics.
All cosmetic products must be animal tested before it is released for sale in China to ensure that it is safe for human use.
Algenist knowingly pays and consents the Chinese authorities to test their products on animals in order for them to be sold in the country. This is why all cosmetic brands being sold in China are not cruelty-free.
There are many cruelty-free brands that have refused to sell their products in the People's Republic of China because of these laws. Unfortunately, Algenist is not one of them.
Does Algenist have any Cruelty-Free Certifications?
We doubt they do. After looking up its cruelty-free status on PETA, we found out that Algenist tests their products on animals.
They most likely lack any certification from any animal rights organization, including PETA.

Is Algenist owned by another company?
Yes, Algenist is owned by Tengram Capital Partners. This is an independent equity firm that invests in companies that are branded consumer products.
The operators, Mathew Eby, Richard Gersten, and William Sweedler, have a ton of experience, having been around for three decades combined. Tengram Capital Partners looks to invest in underdeveloped consumer companies.
Are Algenist Products Vegan?
A product is only considered to be vegan when all the ingredients used in the production process are free from animal-derived ingredients.
Unfortunately, this is not the case for Algenist; some of their products have traces of ingredients derived from animals or their by-products.
Keep in mind that while some products may be vegan, it does not mean that they are cruelty-free.
Their ingredients could be free from animal sources, but the final product could be tested on animals. There are companies that fail to mention all the ingredients they use.
Be on the lookout for them as some could be inaccurate or have some information omitted.
Companies can claim to be cruelty-free or vegan when they are not, so make sure you look up certifications from well-known animal rights organizations such as PETA.
Summary
The products produced by Algenist are effective and amazing; however, they are tested on animals. Selling their products in China results in large profits for them, but it comes at a cost; animal cruelty.
This should not be the case. As mentioned earlier, there are many cruelty-free brands that refused to sell their products in China because of their animal testing laws; we hope Algenist will be a part of them in the future.