Is Almay Cruelty-Free and Vegan?
Almay isn't cruelty-free, and neither are they vegan. The brand is not recognized in PETA's list of cruelty-free brands. This is because they sell in China.
Almay is a cosmetic brand which majors in makeup products. The brand was founded in 1931 and has its headquarters in New York City, USA.
They're owned by Revlon Corporation, one of the largest producers of cosmetics products in the US.
Almay's products are distributed worldwide, and they have an impressive product catalog that includes foundation, lipstick, finishing powder, mascara, and brushes.
Is Almay Cruelty-Free?
There are certain standards a brand must meet before they're considered "cruelty-free".
Almay hasn't done so. Most cruelty-free brands are required not to carry out any form of testing on animals or sell their products in countries where animal testing is required by law.
Almay has failed to adhere to this. Rather than trying to comply with the rules, they engage in false advertisements. Almay customers are confused about their cruelty status.
This is because, on the one hand, the brand promotes themselves as cruelty-free, but on the other hand, they're not approved by any cruelty-free authority.
Furthermore, they have imprinted a cruelty-free logo on their products. Well, this is a case of false advertising and a practice that's becoming synonymous with top cosmetics brands.
Are Almay products tested on animals?
Almay animal testing policy back in 2016 stated that the brand only carries out animal testing when required by law.
However, they've since modified that policy and now maintain that they neither use animal derivatives nor test their products on animals. Here's a full view of their policy.
The brand claim that they've developed a technologically advanced testing method that's safer than animal testing. They went further to claim they haven't carried out any form of animal testing in decades.
Well, if you must know, this isn't true. Alamy and its parent company – Revlon, sell in China. It's no longer news that the Chinese government has a strict testing policy that ensures every imported product is tested.
The law also applies to brands such as Almay, and as far as we know, they can't bypass it.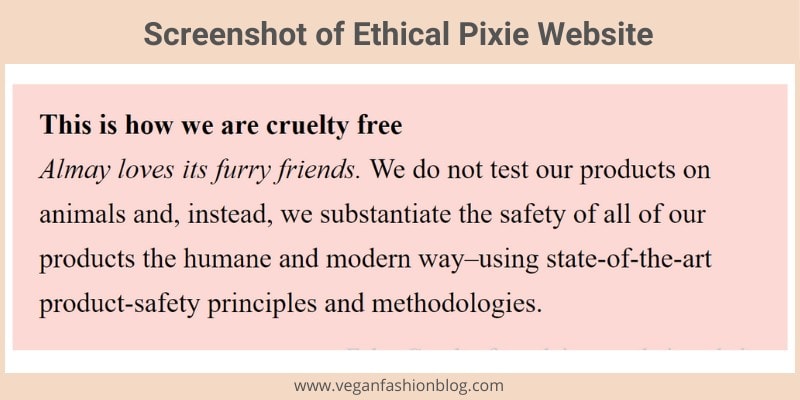 Do they test Animals when required by the Law?
Yes, in a country where animal testing is compulsory before your product is approved for sale, you have no choice but to do so. This is the only way to confirm that the product is safe for consumption.
In the United States, human volunteers are used for this purpose. In countries like China, using animals is seen as a safer option for tests.
Almay has failed to admit it, but they do carry out testing when required by law. This is the only explanation as to why they've been a mainstay in the Chinese market for years.
That wouldn't have been possible if they failed to comply with the rules.
Are Almay products sold in China?
Yes, Almay products are sold in China. Revlon distributes its product worldwide, including that of its subsidiary brand. The company has a physical store in China and is also listed in several online portals there.
Though they don't have a Chinese website, they're available in cosmetics stores all over the country.
Does Almay have Cruelty Free Certifications?
To the best of our knowledge, Almay doesn't have any form of cruelty-free certification. The cruelty-free logo on their product is just pure deceit. They are not recognized by PETA or Leaping Bunny.
This is because the brand isn't straightforward; hence we're not surprised to see them left out of PETA's list of cruelty-free brands.https://crueltyfree.peta.org/company/almay-revlon/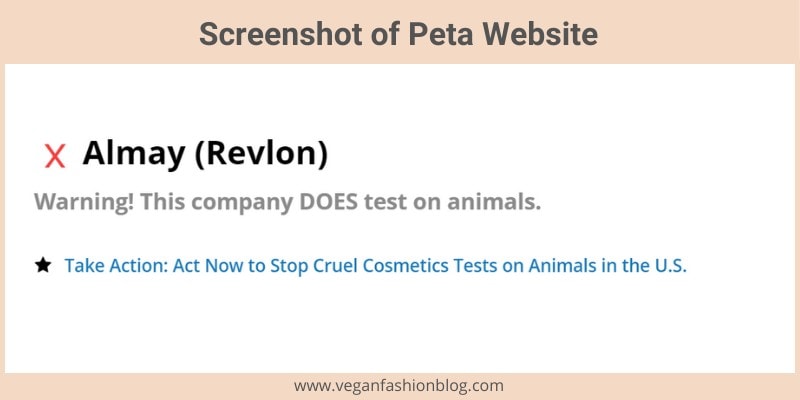 Is Almay Owned by another Company?
Yes, Almay has a parent company. The brand is owned by renowned cosmetics brand Revlon. Revlon also has its fair share of false advertising.
They claim not to test their products on animals and, at some point, managed to convince PETA. However, it was later discovered that they finance testing when required to do so by law.
Is Almay Products Vegan?
Almay and its parent company, Revlon, is high on PETA's list of brands to avoid for two reasons. The first is due to their testing practice, and the second is the presence of animal-derivatives in their products.
So far, we don't think any of their products are 100% vegan. They contain traces of derivatives like beeswax.
Summary
Almay is involved in several deceitful self-promotions. Going to the extent of adding a "cruelty-free" logo to your products when you know you're not is the height of it.
Fortunately, there are several alternatives to explore. The list of cruelty-free brands is on the rise, and you can take advantage of it.