Quick Answer: Is Alterna Cruelty-Free and Vegan?
Alterna is not 100% cruelty-free nor it is 100% vegan. The company is owned by Henkel, a company that has confirmed in its official animal testing policy that they test on animals when legally required to do so. What makes Alterna Haircare non-cruelty free is that they share the same animal testing policy with Henkel. Some of their products are vegan with due certifications.
Alterna, as a beauty company, launched in 1997 to reset the standards of luxury haircare.
Since its inception, the company has been at the forefront to provide hair care formulas with botanical enrichments without added sulfates, parabens, and artificial colors.
Alterna is based in Beverly Hills, California, and has its headquarters in the same place. The creator is the same person who founded California Tan, a well-performing tanning brand.
Currently, Alterna haircare is owned by the German consumer products corporation, Henkel. Actress Katie Holmes co-owns Alterna and is the company's spokesperson.
A lot of our readers have been asking if Alterna Haircare is cruelty-free. We have studied the brand and all its products and have the details. Is Alterna cruelty-free and vegan? Keep reading to find the details.
Is Alterna Cruelty-Free?
For a company to be cruelty-free, it has to satisfy the criteria below, which we will discuss one-by-one.
They should not test on animals – It means that none of the company's products should undergo any form of animal testing through manufacturing, production, and marketing stages.
They should not test even when required by the law – This applies to countries that require mandatory animal testing. There should not be sales of their products in such countries.
Their products should not be sold in China – To be cruelty-free, Alterna should not trade in China, where animal testing is mandatory by the law.
By meeting all of the above three criteria, Alterna would qualify for our cruelty-free list.
Are Alterna Products Tested on Animals?
Searching their website for their cruelty-free status, nothing was found. The company does not provide any credible information regarding its official animal testing policy.
There are no claims that the company is cruelty-free and if their products are tested on animals. This is never a good sign.
However, Alterna claims that they are a vegan brand. Here is a screenshot of their vegan status claims.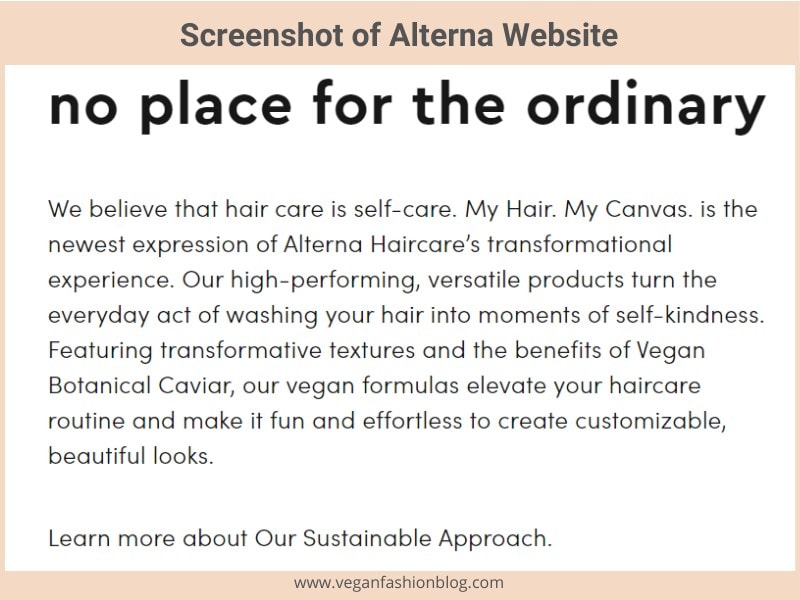 Alterna is an example of a brand that markets as vegan but not cruelty-free.
Do They Test on Animals Where the Law requires it? Or Using a Third-Party?
When reaching out to Alterna Haircare for inquiries about their animal testing policy and if they are cruelty-free, this was the result:
Their parent company, Henkel, is not cruelty-free and formulates Alterna's policies. Alterna and Henkel share a similar animal testing policy.
Check this out:

Unfortunately, Alterna allows animal testing on their products when there are supposedly no other legal animal testing laws.
However, note that there are more than 50 scientifically authorized testing methods that don't involve animal tests to validate a product's safety.
There are also close to 20,000 raw ingredients that are already tested and proven safe for human use, so they don't require additional animal testing.
It isn't delightful when Henkel and Alterna still choose to rely on animal-testing methods.
Are Alterna Products Sold in China?
Henkel, Alterna's parent beauty company, sells in China, though domestically. They have agreements with the Chinese authorities to locally produce body care products such as shampoos and shower gels.
Although the products might not be subjected to mandatory premarket animal testing, Chinese post-market animal testing rules still hold for shelved goods in case of customer complaints.
Alterna products are also shipped to China through online sales portals like desertcart.com.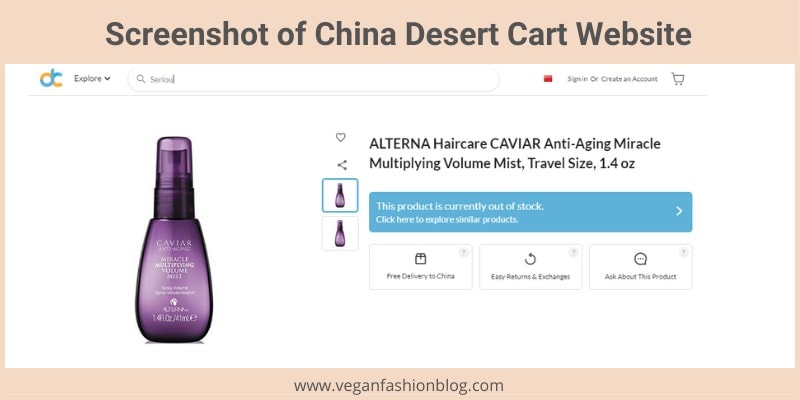 Does Alterna Have Cruelty-Free Accreditations and Certifications?
PETA, Leaping Bunny, and Free the Bunnies are three of the most recognized organizations that offer official cruelty-free certifications.
Neither Alterna nor Henkel, its parent company, are found in the lists of these corporations.
PETA and Leaping Bunny qualify a brand to be cruelty-free if it clearly states in their animal policy that they don't test on animals and do not trade in mainland China.
Is Alterna's Parent Company Henkel Cruelty-Free?
Henkel is not a 100% cruelty-free company. They allow animal testing on their products in situations where there are no other legal means for safety testing.

Is Alterna Vegan?
We define vegan as a product that does not use or include any animal-derived ingredient or animal by-products in their finished products. This is the definition we will use to analyze the brand's products.
While all products of Alterna are not vegan, they do have some vegan products in categories like shampoo and hair conditioners. Some examples include:
My Hair. My Canvas. Another Day Dry Shampoo – Shampoo
My Hair. My Canvas. Me Time Everyday Shampoo
My Hair. My Canvas. Me Time Everyday Conditioner
My Hair. My Canvas. City Slay Shielding Hairspray
My Hair. My Canvasshine On Defining Foam
My Hair. My Canvasmore To Love Bodyfying Conditioner
Check out their vegan offerings on the Alterna official website www.alternahaircare.com or www.alternahaircare.com/shop
Summary
In conclusion, we cannot include Alterna in our cruelty-free list of companies. It allows animal testing on their products when required by the law and trades in mainland China where animal testing is mandatory.
The brand offers many vegan options in hairspray, shampoos, and sheen sprays suitable for their vegan customers.