Quick Answer: Is Anna Sui Cruelty-Free and Vegan?
Anna Sui is not cruelty-free or vegan. While the brand does not state it's vegan or cruelty-free policies on it's website, it has outlets in China. This answers the question of whether it is cruelty-free. Anna Sui doesn't have any vegan certifications.
Anna Sui is an internationally acclaimed Chinese-American fashion designer. She studied at the Parsons School of Design in New York City.
And, stayed on in the city to start her own company in 1980, filling orders from retailers like Macy's. Her first runway show in 1990 catapulted her into fame, and she opened her first store later that year.
Sui went from strength to strength. In 1999 she added a fragrance and cosmetic line to the brand. She lists such celebrity clients as Madonna, Cher, Christina Ricci, Naomi Campbell, and Sofia Coppola.
The Anna Sui flagship store is located on Broome Street, New York City. She has stores in China and distributors in Japan and Taiwan.
Anna Sui's high fashion streetwear is as popular as ever, but our readers want to know if the brand is cruelty-free and vegan. Is Anna Sui cruelty-free and vegan? Keep reading to find out the details.
Is Anna Sui Cruelty-Free?
Cruelty-free is not a defining, legally binding term, and there are no repercussions for brands falsely claiming to be cruelty-free. So what do we regard as cruelty-free?
Well, for the Anna Sui brand to be regarded as cruelty-free, it needs to satisfy these criteria, which we will analyze one by one:
None of the products should be tested on animals
They should not test on animals even when required by law
The products should not be sold in China
Are Anna Sui products tested on Animals?
A 2013 article quotes the company as using French company, Interparfums, and Japanese manufacturer, Albion to make its fragrances and cosmetics respectively.
It is not clear that this is still the case, but neither of these companies displays animal testing policies on their sites either.
Anna Sui is not approved by PETA as it does test on animals.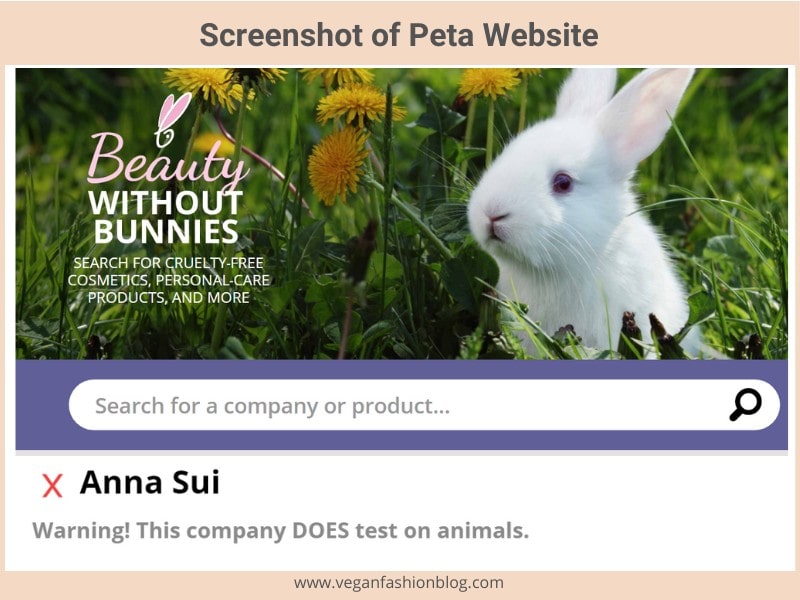 Animal testing for cosmetics has been banned in the European Union since 2013, but there is no indication of whether Interparfum manufactures exclusively in the EU. They have a Singaporean subsidiary.
Do they Test Animals when required by Law? Or use a third party?
As per the above, the company websites do not provide information on this. But see below for China trading, which implies testing on animals.
Are Anna Sui products sold in China?
Anna Sui has several stores in China, where mandatory tests on animals for all imported cosmetics are still required by law. For these purposes, "cosmetics" include shampoos, moisturizers, and perfumes.
This is following the Cosmetics Hygiene Supervision Regulations (CHSR), first released in 1989.
The only exception to this regulation is online purchases – where imported goods are delivered directly to the consumer. Therefore, any brand currently selling through retail outlets in China is not cruelty-free.
However, on 1 January 2021, the new version of the Cosmetics Supervision and Administration Regulation (CSAR) came into effect.
It allows an application to be made for safety assessments to replace animal testing for "ordinary cosmetics."
Regardless of whether they are produced locally or imported. "Special cosmetics," which include children's products and products used for hair and skin treatment, will still require animal testing.
The new regulations do not extend to post-market animal testing in response to customer complaints or product recalls.
Does Anna Sui have Cruelty-free Accreditations or Certifications?
Anna Sui does not have any official cruelty-free status.
Is Anna Sui owned by another Company?
No, Anna Sui is an independently-owned company.
What is Anna Sui's Animal Testing Policy?
Anna Sui's website does not display an animal testing policy.
Is Anna Sui Vegan?
To qualify as vegan, Anna Sui products must not contain any animal parts or anything derived from animals. We have assessed the brand on this definition and conclude that it is not vegan.
Some Anna Sui apparel has elements made of real leather. And some cosmetic products possibly contain animal derivatives like glycerine, which can be animal or plant-based. Anna Sui does not have any vegan certifications.
Is Anna Sui Palm-oil free?
Interparfums, one of Anna Sui's suppliers, is criticized for unsustainable use of palm oil on the Australian consumer guide site Shop Ethical.
Summary
Anna Sui does not appear to be a brand that is concerned about animal cruelty.
If this is a brand you love, please consider contacting the company and respectfully requesting them to reconsider their animal testing and animal derivative usage.