Is Antipodes Cruelty-Free and Vegan?
Antipodes is cruelty-free but not 100% vegan. Some of their products contain animal byproducts or derivatives. However, they don't test their finished products on animals. The company keeps its products away from the Chinese market, where foreign companies are mandated by law to do animal testing before they're allowed to sell their products.
Antipodes is a brand that specializes in the making and distribution of beauty care products. The brand is based in Newtown, New Zealand, and it is owned by a Wellingtonian, Elizabeth Barbalich.
It has scientifically validated products. 30% of Antipodes' products are sold in New Zealand, while it exports to Asia, Europe, and the Americas.
Unfortunately, none of their products are approved by cruelty-free organizations, such as PETA's Beauty Without Bunnies.
However, Antipodes products are certified by regional beauty care standards organizations in the continent where the brand is based.
Is Antipodes Cruelty-Free?
It's needless to say that products advertised as cruelty-free have high selling points. However, many companies hide under the guise of respecting animals but only by finding their way around it.
Many companies, for example, pay other companies to do animal testing on their behalf.
If a company submits products to authorities for animal testing, finances other animal testing companies, or does it directly, a company cannot be said to be cruelty-free.
Some of the requirements a brand must meet for it to have the cruelty-free seal include the following:
Must not test its products on animals
Must not fund the testing of products on animals when selling in foreign countries
Must not make or sell its products in countries that mandate animal testing
Considering the above and according to the manufacturer, all Antipodes products except one are 100% vegan.
Are Antipodes Products Tested On Animals?
Although not all Antipodes products are vegan, the brand doesn't conduct animal testing in any form. The company doesn't finance animal testing, nor does it do animal testing by proxy.
Do They Test Animals When Required By Law?
Unfortunately, despite their awareness and activism against all forms of animal cruelty, many countries still do it today.
These countries even go the extra mile of legislating that all finished products within the country must be tested on animals before they're launched on the market.
The risks or disadvantages of animal testing is that many animals are killed in captivity under the dosage of products that are unfit for their health, even though there are other ways of validating the effectiveness of these products on humans without resorting to testing on animals and endangering them.
China is one of the countries that has this legislation in place regarding animal testing. However, Antipodes doesn't sell or distribute its products where animal testing is required by law.
Are Antipodes Products Sold In China?
Antipodes products are not sold or distributed anywhere in the Chinese market. Most of their products are made in New Zealand.
30% of these products are sold in the country, and the rest are exported mainly to Canada, the US, and Europe. Antipodes has no retail stores in China, nor does it sell online to Chinese-based customers.
Does Antipodes Have Cruelty-Free Certifications?
Unfortunately, Antipodes is not certified by any top cruelty-free organization. This comes down to two reasons. One, Antipodes is still an emerging brand and may look at this possibility in the near future.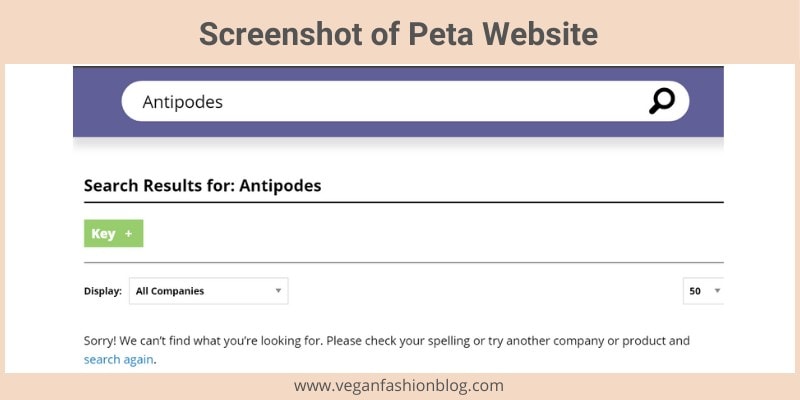 Secondly, one of the requirements stipulated by cruelty-free organizations before a company can be certified is that none of the products of the certification-seeking brand are tested on animals or contain any animal derivatives.
However, Antipodes is qualified in terms of non-animal testing, but one of its products disqualifies the brand from having the 100% vegan seal.
Is Antipodes Owned By Another Company?
Antipodes is developed by CEO and founder of Antipodes New Zealand Limited, Elizabeth Barbalich. It is not owned by any other company that may be conducting animal tests.
The brand specializes in natural, plant-based beauty products. It is new in the industry and has only a few subsidiaries.
Are Antipodes Products Vegan?
For a product to be 100% vegan, it must not contain derivatives from animals. While it's true that Antipodes specializes in organic and plant-based beauty products, not all Antipodes products are 100% vegan.
The brand has 28 vegan products, but one of its products isn't fully vegan. The Manuka Honey Skin-Brightening Eye Cream has ingredients derived from bees.
This is why Antipodes carries no seal of approval from top cruelty-free organizations. Still, most of Antipodes' products are vegan.
We've gathered some of their best vegan products for you to check out.
Apostle Skin-Brightening Serum
Ananda Gentle Toner
Delight Hand and Body Cream
Chia and Kiwi Seed Serum
Heavenly Body Oil
Grace Cream Cleanser
Divine Face Oil
Namaste Hand Wash
Hallelujah Lime and Patchouli Cleanser
Halo Facial Mask
Immortal SPF 15
Hosanna H20 Plumping Serum
Joyful Hand & Body Cream
Worship Skin Defence Serum
Jubilation Hand and Body Cream
Joyous Protein-Rich Serum
Nirvana Body Wash
Resurrect Facial Toner
Summary
Antipodes is a good brand for beauty enthusiasts who want products formulated from plants. However, its products are not 100% vegan, as the brand makes use of ingredients from bees in one of its products.
However, their products are not tested on animals and are not sold in China or anywhere that products are required by law to be tested on animals.
Perhaps in the near future, the brand will look into eliminating processes that involve using derivatives from animals so that it can get the seal of approval from cruelty-free and other pet standards organizations.