Is Aquaphor Cruelty-Free and Vegan?
No, Aquaphor isn't cruelty-free or Vegan. The brand carries out testing on animals and doesn't have a certification from PETA. Also, some of their products contain lanolin, a substance derived from animals. Hence, it's difficult to see such a company as "cruelty-free".
Aquaphor is a cosmetic brand that majors in over-the-counter skin care products such as ointments. The brand was founded in 1925 and is owned by Beiersdorf AG.
Aquaphor came to the United States 90 years ago, and all their practices are in line with the FDA's regulations. Some Aquaphor products are said to be manufactured by Eucerin, another brand owned by Beiersdorf.
Is Aquaphor Cruelty-Free?
Well, it's easy to tell if a brand is cruelty-free or not these days. PETA certification is one of the clues; selling in China is another and using animal-derived elements in production is the last straw.
It's the standard checklist for identifying a cruelty-free brand.
With this, you will be surprised to know that an international brand such as Aquaphor doesn't have PETA's approval.
What's more, their product is available for sale in online and offline stores in China. Going by these requirements, there's no way Aquaphor is cruelty-free.
Are Aquaphor products tested on Animals?
Aquaphor claim that they're at the forefront of developing non-animal testing methods and are working with the Chinese government to abolish animal testing.
This statement is vague since they didn't specify whether they carry out animal tests on their current product line or not.
While they are trying to see that the Chinese government abolish this law, for now, it's in the process as the law still stands. For this reason, there's an 80% probability that this brand tests their products on animals.
Do they test Animals when required by the Law?
Of course, to sell in a country with strict animal testing law, you have to carry out tests on animals. In the United States, it's unnecessary for cosmetic products.
The same can't be said of China, where they have a strict testing policy for cosmetics items.
Are Aquaphor products sold in China?
Yes, their products are on sale in China. To crown it all, the brand released a statement recently announcing that they're in a long-term partnership with Chinese authorities. Their testing policy goes like this: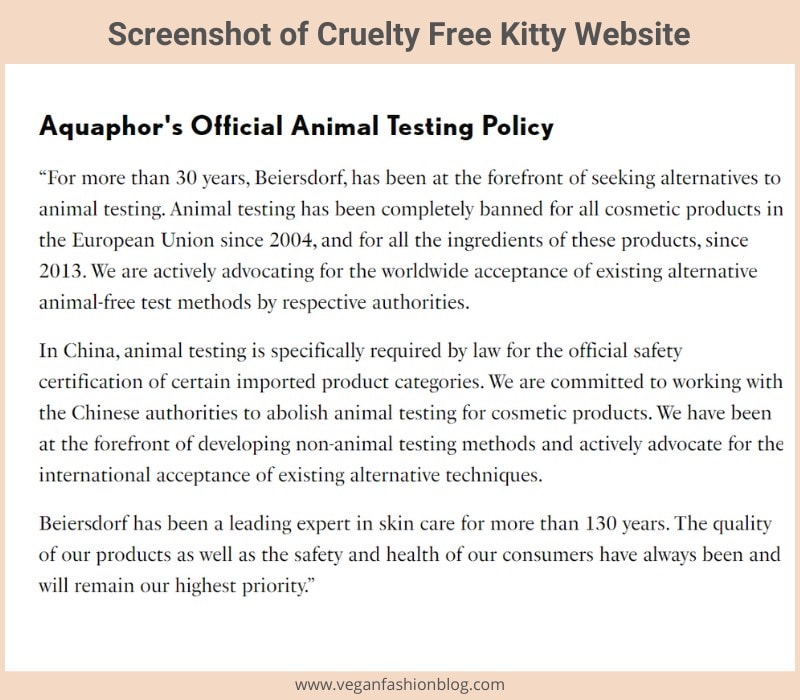 As of the time of writing this, the Chinese government hasn't abolished animal testing for cosmetics products, and non-domestically produced products such as Aquaphor's have to undergo the test.
Does Aquaphor have Cruelty free Certifications?
There's no cruelty-free policy on their website, and we doubt if they have a certification of that sort. They don't appear in Beauty without Bunnies cruelty-free list, and neither does their product spot PETA's logo.
We couldn't find any clue that suggests they're cruelty-free.
Is Aquaphor Owned by another company?
Yes, Aquaphor has a parent company. The brand is owned by Beiersdorf AG. Beiersdorf is a multinational corporation, just like Unilever.
They major in consumer goods, mostly personal and skincare products. Aquaphor isn't the only brand they own. The list includes Nivea, Eucerin, Labello, and Elastoplast.
Is Aquaphor Products Vegan?
No, it's not. Aquaphor, just like other heavyweights, claims not to use any animal-derived substance in their production. It's stated in their testing policy.
Contrary to this claim, a look at their ingredients and formulation says otherwise. We've found animal-derived substances such as lanolin listed among their ingredients.
Hence, it's difficult to take these brands at their word.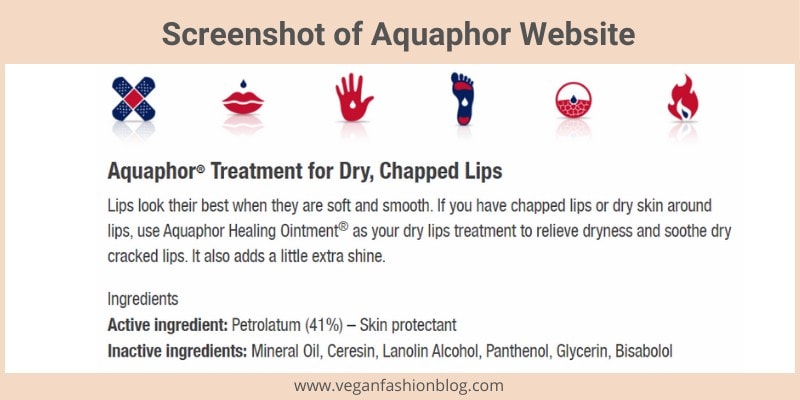 Summary
Aquaphor is one of the oldest manufacturers of over-the-counter skin care products. Their products are geared towards skin repair and pain relief. This is why they have a lot of ointments in their catalog.
Their products are available in several countries. However, what remains true is that they use some animal-derived ingredients in their formulation.
A few of them include lanolin, a substance derived from animal wool. If you love this brand but don't feel comfortable supporting a non-cruelty free brand, there are other alternatives to explore.