Is Aromi Cruelty-Free and Vegan?
Yes, Aromi is 100% cruelty-free and only uses suppliers that do not test on animals. They use plant-derived ingredients in their products and are committed to promoting a cruelty-free manufacturing process. Aromi is also vegan, and you can shop for their product with total confidence.
Aromi Beauty is a cosmetics brand founded in 2009 by Hannah Follis. The brand headquarters is in Minnesota, USA. All products are handcrafted in their laboratory and distributed to other parts of Europe. Their distribution chain also includes the USA, New Zealand, and Canada. Aromi products are plant-based. It's usually a combination of pure organic ingredients.
Aromi's products include solid cologne, perfume as well as makeup products such as lipstick. Their products are safe for the skin and free from gluten and paraben.
Is Aromi Cruelty-Free?
Aromi self-promotes as a cruelty-free brand. They also happen to have a couple of certifications to back those claims up. However, not all certifications are renewed. Hence, a brand can change its production and delivery process after getting certified.
For these reasons, we came up with a couple of parameters that help us identify a cruelty-free brand. Among which includes:
A cruelty-free brand should not test their products on animals, and neither should they use suppliers who do so.
They should not sell in countries with compulsory testing laws, and neither should they hire a third party to carry out these tests on their behalf.
After taking a look at this, we can confirm that Aromi does comply with all the criteria mentioned above and are deserving of their cruelty-free status.
Are Aromi products tested on animals?
Aromi's production process is commendable. They're a huge advocate of ending animal cruelty. The brand happens to be a lover of animals and steers clear of any activities that cause harm to these furry creatures.
Aromi does not carry out any form of animal testing, and they do not finance third-party testing when they sell in other countries. Their raw materials are also sourced from cruelty-free suppliers.
They also believe using animal-derived ingredients in cosmetics isn't necessary since there are other plant-based alternatives.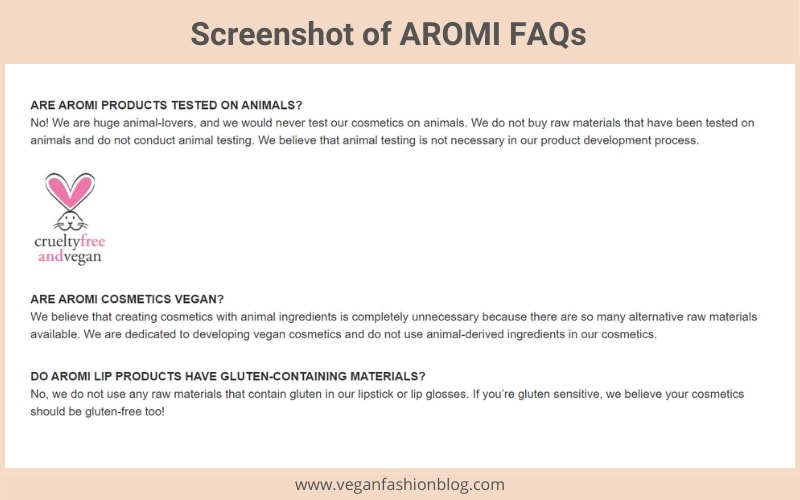 Do they test animals when required by the law?
Aromi is not compelled to comply with any strict testing law. This is because they do not sell in countries with strict testing laws.
They only distribute to countries under the European Union, and most of these countries have a fair testing policy that doesn't pose any risk to animals.
Are Aromi products sold in China?Aromi products are not sold in China. They're not available in any physical store in China. This includes Watsons and Sephora.
All their products are handmade in the US and distributed to other parts of the world such as Australia, New Zealand, and other countries under the European Union.
Does Aromi have cruelty free certifications?
Aromi is certified by both PETA and Leaping Bunny. Their product features PETA's global Beauty without Bunny's logo. They also annually recommit to Leaping Bunny's program. And we can confirm that they're a part of their 2019 recommitment list.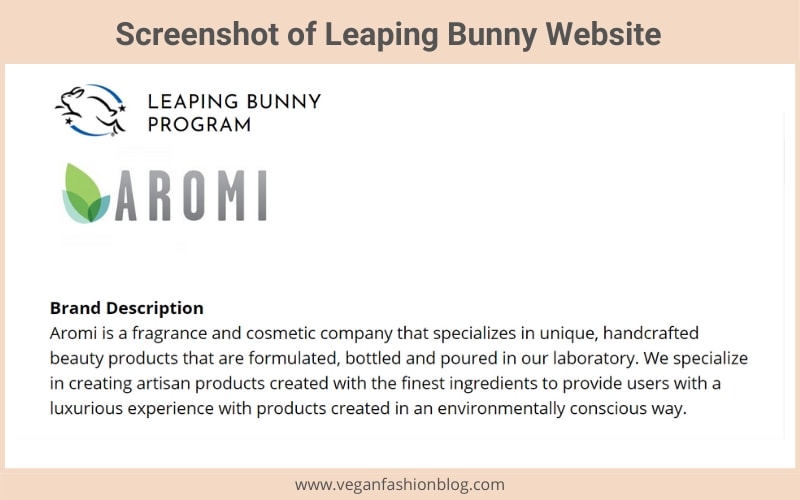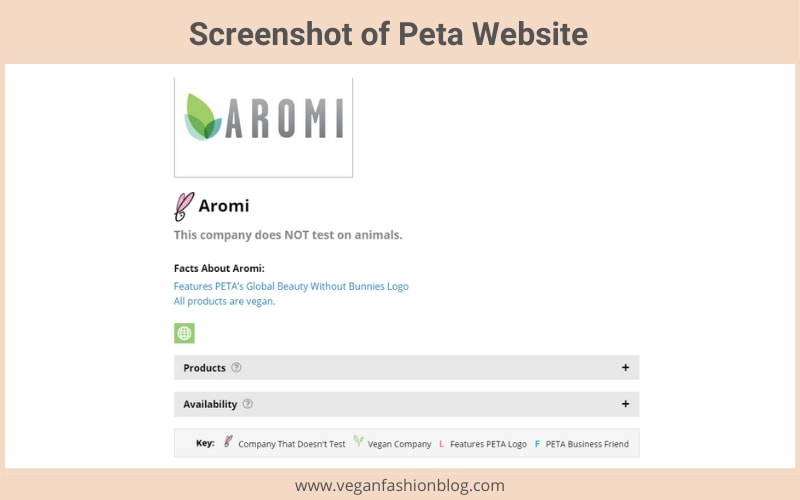 The advantage of Leaping Bunny's certification is that brands have to recommit every year rather than sticking to a one-time commitment.
Hence, it's possible to feature on Leaping Bunny's cruelty-free list in 2018 but go missing in 2019. Brands who suffer from this have implemented a change in their formulation and supply mechanism.
Is Aromi Owned by another company?
Aromi is an independent brand. The brand has not been acquired by any company.
Is Aromi Vegan?
Aromi sees no need in using animal derivatives in cosmetics when other alternative raw materials can serve the same products.
Their cosmetics and makeup line features several plant-derived ingredients such as castor oil, seed butter, acai botanical extract, and mica. Their raw materials are also sourced from brands that do not carry out animal testing.
The majority of their products are handmade in their laboratory in the US. They're also free from gluten, sulfate as well as paraben. They have a large vegan line which includes lipstick, cologne as well as perfumes.
A short collection of Aromi products is listed below.
Cologne
Manly solid cologne
Handsome solid cologne
Masculine solid cologne
Outdoor guy solid cologne
Sweet dude cologne
Sexy man cologne
Douchebag solid cologne
Alpha male cologne
Men's liquid cologne
Perfume
Vixen solid perfume
Sassy gold perfume
Hot men's solid perfume
Flawless solid perfume
Hipster solid perfume
Wild bloom perfume
Earthy botanical roll-on perfume oil
Lipstick
Nude lipstick
Iced coffee lipstick
Sassy lipstick
Nutmeg lipstick
Rosy nude lipstick
Pretty pink natural lipstick
Rich berry lipstick
Jetsetter lipstick
Lip balm
Summary
Aromi's cruelty-free claim is backed by several certifications. Aromi is the standard for vegan brands. You can look through their ingredient list to see what we mean: no lanolin, carmine, or beeswax.
All this makes for a safer option and one that can be trusted by vegans.