Is As I Am Cruelty-Free and Vegan?
Yes, As I Am is 100% cruelty-free. They utilize organic ingredients in their product formulation and do not test their finished goods on animals. However, it is not vegan, as many of their products contain animal-origin ingredients.
As I Am is an American hair care brand founded by an award-winning hair care chemist named Dr. Ali N Syed.
The brand was founded in the 2000s and came after several natural-textured hair women asked for recommendations about the best products for their natural hair.
After developing impressively effective products at Avlon, Johnson, and Soft Dheen, Dr. Syed came up with a formulation that cares for the textured hair of African women.
As I Am is marketed towards women of color and best suited for the curly natural hair of African women.
The brand has over 60 products in their catalog, and they include hair shampoo, relaxer, conditioner, and treatment oils. Most of their formulations are vegan, but a handful does contain animal derivatives.
Is As I Am Cruelty-Free?
Most brands who feature on PETA's certification list are not automatically added to ours. This is because a couple of brands, after obtaining PETA's certification, begin to default in their cruelty policy and, in some cases, venture into the Chinese market.
This is possible because PETA's certification isn't like that of Leaping Bunny, where your marketing practice is reviewed annually before you're added to their recent commitment list.
For a brand such as As I Am, we came up with specific criteria that will allow us to certify if they're cruelty-free or not.
The most important criteria state that first, a cruelty-free brand must not carry out animal testing, and secondly, they should not sell in countries with strict testing laws such as China.
Fortunately, As I Am were not found wanting in any of this, and as such, we've added them to our list of cruelty-free brands.
Are As I Am products tested on animals?
As I Am products are not tested on animals. The brand is not tied to any parent company that carries out animal testing as well. To crown it all, PETA qualifies them as a brand that does not test on animals.

Do they test animals when required by the law?
As I Am distributes to areas populated by women of color since they happen to be their target audience. Most of these countries do not require compulsory testing like they do in China. Hence, the brand has no reason to test on animals.
Are As I Am products sold in China?
As I Am products are for women with natural-textured hair. From this statement, you can tell that they will be distributed mainly in areas with a high population of African women.
The brand doesn't sell in China. Their main distribution point is the US as well as several areas in Africa.
Does As I Am have cruelty free certifications?
As I Am is part of PETA's database of brands who do not test on animals. Their products feature PETA's global Beauty without Bunnies logo. The issue, however, is that there were no search results when we searched for the brand on Leaping Bunny's database.
This shows that they're not certified by Leaping Bunny.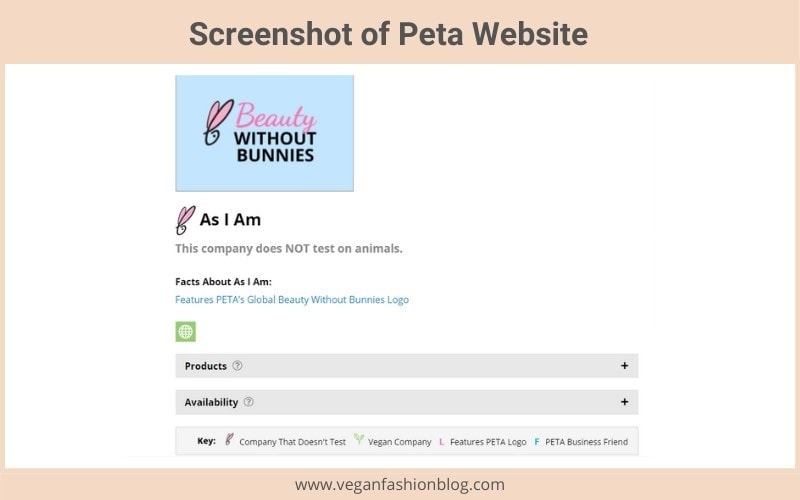 Is As I Am Owned by another company?
As I Am doesn't have a parent company. The brand is privately owned by Dr. Ali N Syed. Despite his ties with top beauty companies like Avlon, the brand hasn't been acquired yet.
Is As I Am Products Vegan?
As I Am is not considered "vegan" by PETA despite obtaining a cruelty-free certification from the authority. This is because a number of their products do contain animal derivatives such as beeswax.
However, the brand does have a separate category for their vegan line, and you can pick up any item from this list with total confidence.

Here's a list of their vegan line below.
Dry and itchy scalp care shampoo
Leave-in conditioner
Curling jelly
Dry and itchy scalp care oil treatment
Hydration Elation
JBCO leave-in conditioner
Curl color hot red
JBCO moisturizing masque
Curl color gold bold
Virgin Jamaican pure castor oil
Twist defining cream
Love & Luxe grow hair oil
Smoothing gel
JBCO shampoo
Curly clarity shampoo
Curl color cool blue
Born curly Argan leave-in conditioner
Born curly aloe shampoo and wash
Born Curly Avocado shea wash
Curl color sassy silver
Pure oils vitamin E oil
Summary
As I Am doesn't have the largest product catalog, but they do have quite an impressive line for African women's textured hair. The brand updates its list of vegan range after each product launch.