Is Atomic Makeup Cruelty-Free and Vegan?
Yes, Atomic Makeup is cruelty-free. The company does not test any of its products on animals, and its products are not found in Chinese retail stores where animal testing is required by law. It is also a vegan company with its entire line of products being 100% vegan. This is a cruelty-free company that is accredited with PETA.
Atomic Makeup is an independent beauty brand that is focused on lip balms and nail polish, and it is a cult favorite in the indie cosmetic world. The company focuses on making high-quality cosmetics, with all the unique formulas created in-house.
Their offices are currently located in Brooklyn, New York. The company's lineup of products includes more than 40 unique shades and 3 finishes. It provides cosmetics for women and men of all ages and colors.
A lot of readers have asked us to confirm whether Atomic Makeup is a cruelty-free and vegan brand. We have analyzed the brand and its products in detail.
Is Atomic Makeup cruelty-free and vegan? Keep reading to find out more details.
Is Atomic Makeup Cruelty-Free?
Cruelty-free means different things to different people. For us, cruelty-free means that the brand satisfies the three criteria that we have listed below:
None of the products should be tested on animals. The company and its suppliers must not test any products or ingredients on animals.
They should not test on animals even when the law requires it. This means that even if the legal requirement is to test on animals, the brand will not. This extends to not paying a third-party company to test for them.
The products should not be sold in China. Some governments make it mandatory to test products on animals. The brand must not retail in such countries if it wants to be a cruelty-free brand.
Are Atomic Makeup Products Tested On Animals?
Atomic Makeup does not test any of its products on animals. The screenshot below is from the FAQ page of the company's website.

Do They Test On Animals When Required By Law?
No, the company does not test on animals even when required by law. The brand also does not use third-party suppliers, as the formulas are developed in-house.
Therefore, there is zero indication that they let third-party companies test on animals on their behalf.
Are Atomic Makeup Products Sold In China?
No, they are not. Atomic Makeup does not distribute to any retail stores in mainland China. The Chinese government makes animal testing mandatory, and Atomic Makeup doesn't have any part in such testing.
Therefore, you will not find products from the brand in retail stores in China.
The only exception to this regulation is online purchases – where imported goods are delivered directly to the consumer. Therefore, any brand currently selling through retail outlets in China is not cruelty-free.
Does Atomic Makeup Have Cruelty-Free Accreditations Or Certifications?
The Atomic Makeup brand is certified to be cruelty-free by PETA. This certification indicates that the brand has promised not to engage in any form of animal testing now or in the future.
The "Beauty Without Bunnies" program is a certification that indicates whether a company deals in animal testing or is cruelty-free. This certification shows that Atomic Makeup avoids animal testing.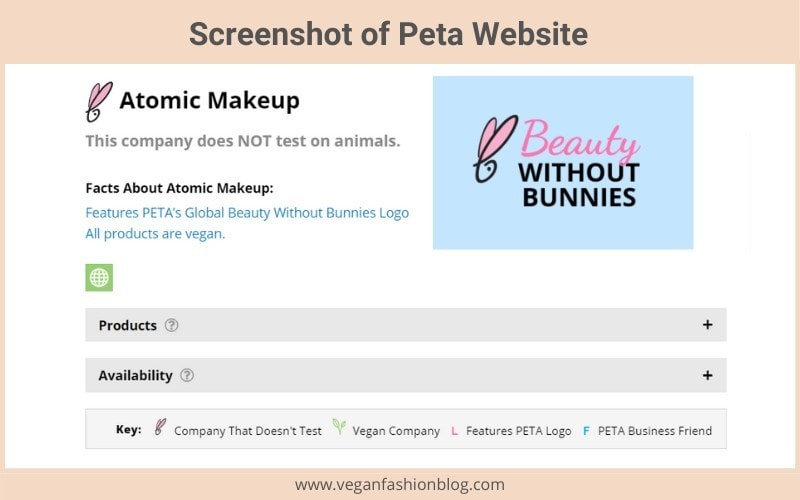 Is Atomic Makeup Owned By Another Company?
This brand is an independent brand that isn't owned by any parent company. It is a cruelty-free brand that is also vegan, as we will see in the next section.
Is Atomic Makeup Vegan?
To qualify as vegan, Atomic Makeup products must not contain any animal parts or anything derived from animals. We have assessed the brand on these criteria and found that all the products from the brand are free of animal products.
The company is certified by Vegan Action and Vegan.Org. Additionally, it is certified vegan and cruelty-free by PETA.
The screenshot below shows this, as well.

At the time of writing this article, some of the listed vegan products from the company include:
Lipsticks
Whiskey Brown
Lori
Sweet Jane
Lexington
Chelsea
Concrete Jungle
Night Out
With Love
Rumble
Atomic
Brick City
Nikki
After Party
Baby Baby
Beaches and Cream
Bungalow
Cindy
Confetti
Cyclone
Daisy
Debbie
Double Fantasy
Lip Gloss
Exploding Heart
Downtown
Iris
Grapetini
Foxy
Victorian
Shady
Revival CBD
Sting
Sunset CBD,
Spotted CBD
Summary
Atomic Makeup is an excellent brand that is making excellent progress as one of the most reliable and popular vegan and cruelty-free brands in the USA. All the ingredients and formulas are sourced in-house.
Therefore, there is no chance of third-party companies carrying out animal testing. The brand itself is PETA-certified as a cruelty-free and vegan brand. Their products can be shipped to different parts of the world and are affordable.