Quick Answer: Is Attitude Cruelty-Free and Vegan?
Yes, Attitude is cruelty-free and Vegan. None of their finished products or ingredients are tested on animals. The same case applies to their suppliers or any third-parties. They also don't physically sell their products in places like the People's Republic of China, where animal testing is required. Attitude is Certified by PETA and is 100 percent Vegan.
Attitude is a company that produces household and natural personal care products that promote healthy living. It is located in Montreal, Quebec, H2T 2A4, Canada.
Their products are available in over 55 countries, and they are owned by Bio Spectra.
A number of our readers have been asking if Attitude Products are cruelty-free and vegan, so we looked into it. We have analyzed and done some research on the brand. Read on if you would like to find out more.
Is Attitude Cruelty-free?
Yes, Attitude is cruelty-free. All the products that are made are vegan and cruelty-free. For a product to be considered cruelty free, it must meet the following conditions:
The products should not have been tested on animals
None of the products should undergo animal testing even when the law requires them to
They should not be sold in China
This is how we will analyze this brand.
Are Attitude products tested on animals?
No, Attitude does not test their products on animals. Their products are certified and cruelty-free.
Attitude's finished products or ingredients are not tested on animals. Their suppliers and other third parties also abide by this.
Does Attitude test on animals if the law requires them to? Or through a third party?
No, it does not. The U.S Food and Drug Administration (FDA) and Canada's Food and Drug Act does not necessarily require cosmetic brands to do animal testing.
This is probably because there is already enough existing data that animal testing is really unnecessary. Attitude suppliers and other third parties also follow a no animal testing policy.
The two countries where the products are widely available have put in regulations that protect animal's welfare when it comes to testing them.
Are Attitude products available in China?
Attitude products are not sold in China. This is because China requires that all cosmetics sold in retail stores in the country must be tested on animals.
Companies whose products are physically available in China are not cruelty-free.
Does Attitude have Cruelty-free certifications?
Made with natural and free from animal-derived ingredients, Attitude products are certified by PETA.
This means that they do not commission or conduct animal testing on the formulations, finished products, and even the ingredients. They also pledge not to go against this pledge in the future.
Is Attitude owned by another company?
Yes, Attitude is owned by Bio Spectra. Their products are free from animal-derived ingredients and are considered vegan.
Attitude's animal testing policy does not allow for suppliers or even third parties to harm animals.
In countries like China, cosmetics are required to be tested on animals if sold physically in stores; however, this policy does not apply if the products are sold online.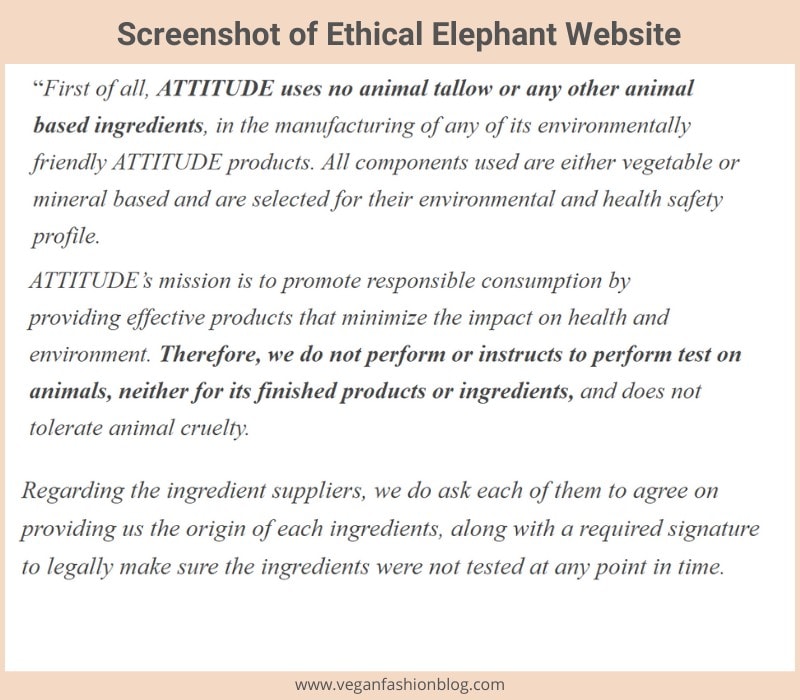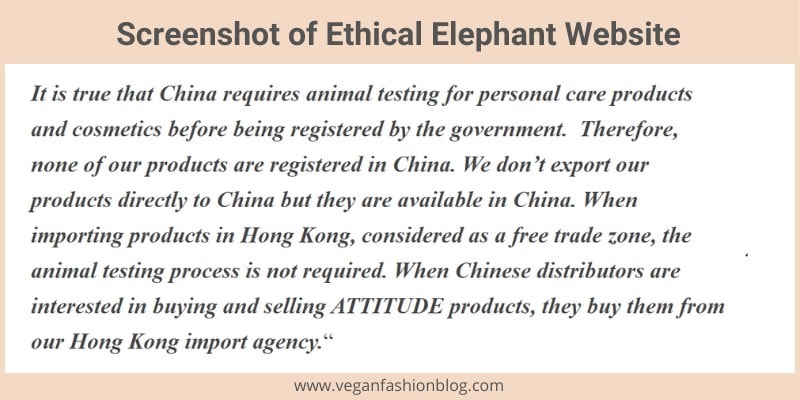 Is Attitude Vegan?
A product is referred to as vegan when the ingredients used to make it are not derived from animals. This can also mean that the product is cruelty-free.
All of Attitude products are 100% Vegan. This means any type of ingredient that comes from animals such as skin, fur, beeswax, meat, or bones is not included in making the products.
It is certified by PETA. This animal's rights organization has its own cruelty-free seal, the 'Beauty Without Bunnies program', which identifies Attitude as a product that is both vegan and cruelty-free.
The following is a list of vegan products that produced by Attitude and is certified cruelty-free.
Personal care
Olive Leaves Plastic Free Deodorant
Orange Leaves Plastic Free Deodorant
Lemon Leaves Plastic Free Deodorant
Red Vine Leaves Plastic Free Deodorant
Unscented Plastic Free Deodorant
Intense Avocado Oil Nourishing Body Cream
Soothing Chamomile Body Cream
White Leaves Body Cream
Olive Leaves Body Cream
Moisture Rich Conditioner
Extra Gentle Hand Soap
Super Leaves Conditioner
Super Leaves Shampoo
Super Leaves Body Wash Sport
Extra Gentle Shower Gel
Lemon Leaves Liquid Hand Soap
Argan Oil Skin Body Lotion
Argan Oil Shower Gel
Orange Leaves Shower Gel
Baby and Kids
Pear Nectar Calendula Body Cream
Fragrance-Free Baby Laundry Detergent
Biodegradable Baby Wipes
Almond Milk Body Wash Shampoo
Almond Milk Body Lotion
Pear Nectar Shampoo and Body Wash
Chamomile Baby Laundry Detergent
Oatmeal Enriched Hair and Body Foaming Wash
Almond milk Calendula Body Cream
Household
Phosphate-free Dishwasher Tablets
Wild Flowers Laundry Detergent
Pink Grapefruit Laundry Detergent
Wild Flowers Fabric softener
Baby Bottle Dishwashing Liquid
Citrus Zest Laundry Detergent
Citrus Zest All-purpose Cleaner
Pink Grapefruit Dish Soap
Citrus Zest Bathroom Cleaner
Pet Care
Shampoo for Pets
Deodorizing Shampoo for Pets
Mist Deodorizing Pest Spray
Pet Odor Absorber
Coco Lime Fabric Pet Odor Eliminator
Coco Lime Pet Stain and Odor Remover
Summary
Since Attitude first began, the main aim was promoting a healthy lifestyle using natural ingredients. Animal cruelty is something that they are firmly against.
Their mission is to provide their consumers with quality products and, at the same time, minimize the impact on the environment and health.
They do not test with animals, nor are their ingredients derived from animals. Most of their components include mineral-based or vegetable ingredients.