Quick Answer: Is Aussie Cruelty-Free and Vegan?
Yes, Aussie is cruelty-free and vegan. They don't carry out any form of animal testing, and neither do they pay a third-party to do so on their behalf. They have a certification from PETA and have also been added to Beauty without Bunnies' list of cruelty-free brands.
Aussie is a cosmetic brand which majors in hair care products. The brand was founded by an American businessman named Tom Redmond in 1979.
The brand is animal-friendly and uses a "kangaroo" as its logo. However, Aussie is no longer an independent brand, as it was acquired by Procter and Gamble in 2003.
The company has a vast product line, which includes both men and women shampoos, conditioners, hair sprays, and stylers. Their products are designed for all hair types and minimises hair damage.
Is Aussie Cruelty-Free?
Aussie has a clear cruelty-free policy on their site. They're certified by PETA and seem to kick against any form of animal cruelty. This explains why they adopted the kangaroo logo.
However, as we've come to know, many brands claim to be "cruelty-free" even without meeting the requirements. Hence, we had to come up with our checklist to see how this brand compares.
The company must not engage in any form of animal tests
Their products don't contain animal-derived ingredients
They don't sell their products in mainland China
They don't sell in countries where animal testing is required by law.
Fortunately, Aussie met most of the requirements. Their products are free from animal-derived ingredients and don't carry out any form of testing.
However, they do sell in China, but the products they sell are domestically manufactured and, as such, don't require animal testing.
Are Aussie products tested on Animals?
No, their products are not tested on animals, and we have a statement from the brand's official website to back that up. Even better, the brand has a glaring PETA logo on some of its products to show that they're committed to treating animals with kindness.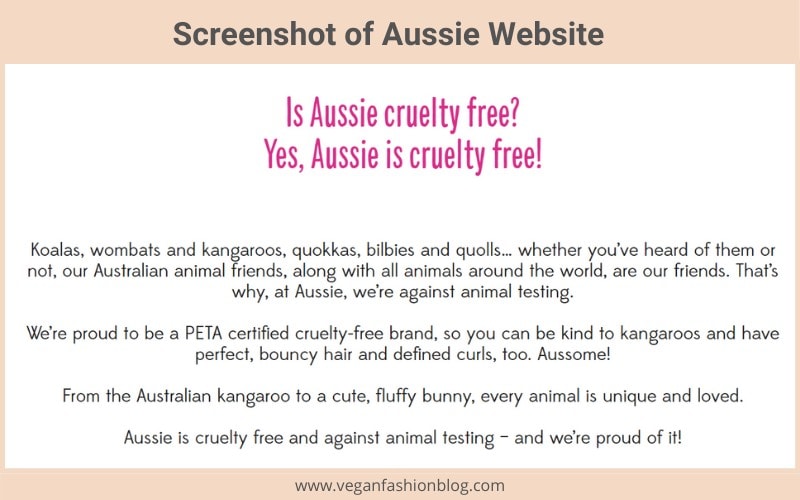 Do they test Animals when required by the Law?
Yes, in a country where animal testing is compulsory before your product is approved for sale, you have no choice but to do so. For this reason, several brands that sell their products in mainland China are not considered "cruelty-free".
Are Aussie products sold in China?
Yes, Aussie products are sold in China. We understand that brands that sell in China must carry out animal testing, which would naturally counter the brand's "cruelty-free" claim.
Well, there's a catch and PETA claims that Aussie has been able to bypass their strict testing law with this statement: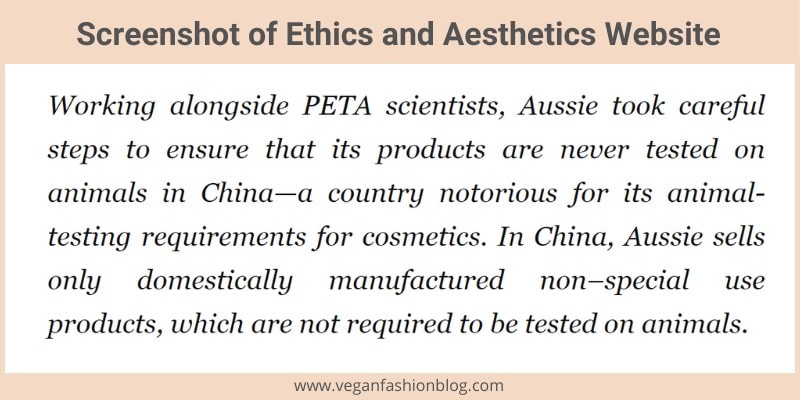 Does Aussie have Cruelty Free Certifications?
Yes, they do. Aussie is listed on PETA's website as a brand that doesn't carry out animal testing. They also don't use animal-derived ingredients. They've also been added to Beauty without Bunnies cruelty-free list.
This shows that they've publicly declared never to engage in any practice that will harm animals in their production process.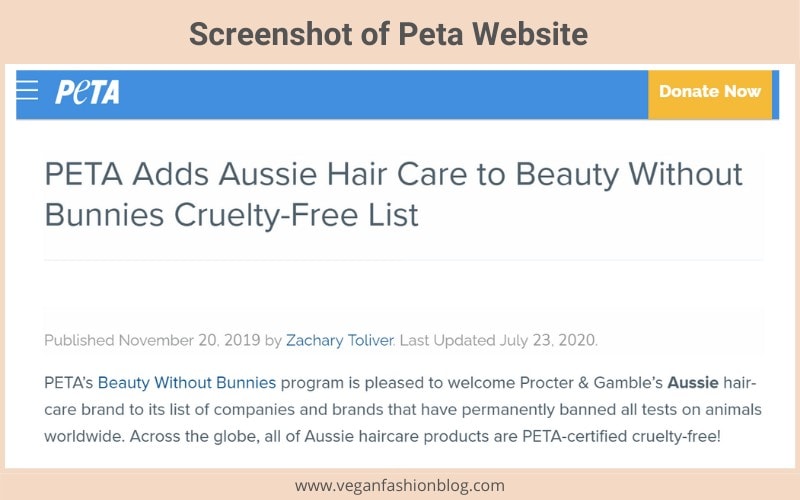 Is Aussie Owned by another Company?
Yes, Aussie has a parent company. The brand is owned by America's multinational corporation, Procter and Gamble, popularly known as P&G.
P&G acquired Aussie in 2003 when the brand was almost looking at going off the market.
Are Aussie Products Vegan?
A cruelty-free brand is often automatically said to be vegan as well, but this is a misconception.
The two are not one in the same. Aussie products are both vegan and cruelty-free, which means that they contain no animal products and they are not tested on animals either.
Aussie has always reiterated their support for PETA and its mission of creating an animal-friendly environment. Aussie has stated that they don't use any sort of animal-derived ingredients in their production process.
A short collection of Aussie vegan products is listed below.
Hair Care
Shampoo
Conditioners
Miracle curls
Deep conditioner
Hair spray
Airsprays
Stylers
Treatment
2in1
Summary
An approval from PETA is the biggest clue a customer needs to certify that a product is safe for consumption.
Well, PETA has long maintained a stance that brands whose products are on sale in China are not considered cruelty-free.
But Aussie has managed to get around those laws and are able to sell in the Chinese market, and still remain cruelty-free.
Aussie isn't just a friend of PETA but are one of few brands to confidently feature a "vegan" logo on their products. If you're all about living a complete vegan lifestyle, this brand is the best option for you.