Quick Answer: Is Australis Cruelty-Free and Vegan?
Australis is certified cruelty-free. It does not sell its products in China, where imported cosmetics are required to be tested on animals. It is not a vegan brand, but some of its products are vegan friendly.
Arguably Australia's most loved makeup brand, Australis, was founded in 1987. The brand describes itself as playful and a little bit cheeky. It's known for its innovative color palettes.
Australis has had to reinvent itself over its 33 years, migrating from its original "beachy" outdoor persona to the brink of edgy to compete with international brands entering Australia.
It appears it's been successful, as the company now ships internationally and can be found on Amazon. But our readers want to know whether Australis is cruelty-free and vegan. We have analyzed the brand and its products in detail.
Is Australis cruelty-free and vegan? Keep reading to find out the details.
Is Australis Cruelty-Free?
Cruelty-free is not a defining, legally binding term, and there are no repercussions for brands falsely claiming to be cruelty-free. So what do we regard as cruelty-free?
Well, for the Australis brand to be considered as cruelty-free, it needs to satisfy these criteria, which we will analyze one by one:
None of the products should be tested on animals. No animals should be used in the production of any part of the product.
They should not test on animals even when required by law. Should a potential market have a law requiring animal testing, the company should refuse to sell there. It cannot outsource to third parties to do it for them, either.
The products should not be sold in China. China still has laws in place that require animal testing.
Are Australis products tested on Animals?
Australis does not test on animals.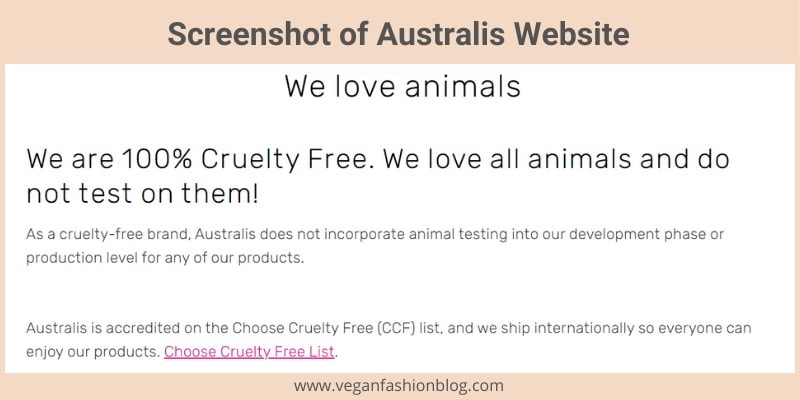 Do they Test on Animals when required by law? Or use a Third party?
No, Australis don't use third parties to test on animals, and they don't sell in regions that require testing by law.
Are Australis products sold in China?
No, Australis products are not sold in China. China makes pre-market animal testing of imported cosmetics compulsory. And at any stage, animal testing can be performed on products that receive customer complaints.
The only exception to this regulation is online purchases – where imported goods are delivered directly to the consumer. Therefore, any brand currently selling through retail outlets in China is not cruelty-free.
Does Australis have Cruelty-free Accreditations or Certifications?
Australis is certified cruelty-free by Choose Cruelty-Free List, an independent, non-profit organization based in Australia.

Is Australis's Parent company Cruelty-free?
Australis is owned by Heritage Brands (previous Creative Brands). The group owns a number of beauty and wellness brands and has a global cruelty-free certification.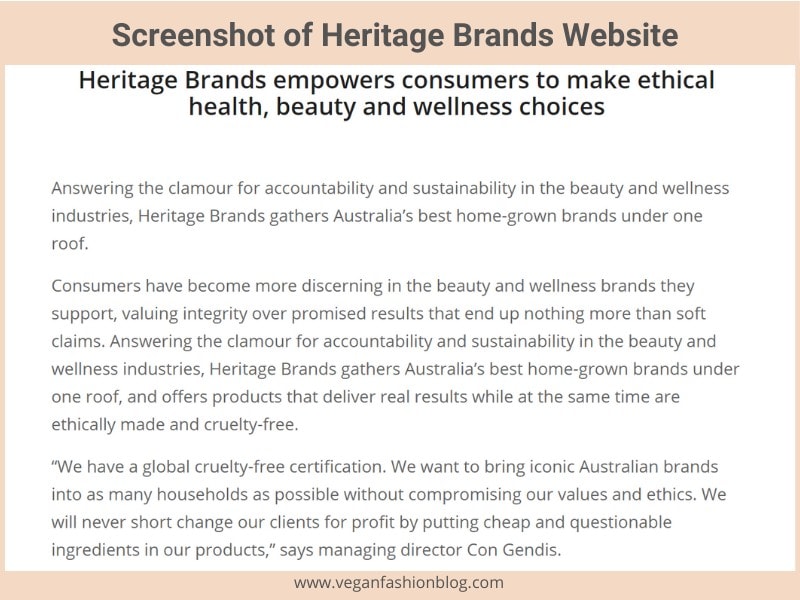 Is Australis Vegan?
To qualify as vegan, Australis products must not contain any animal parts or anything derived from animals. We have assessed the brand on these criteria.
All Australis products currently on their website are referred to as vegan friendly, as in "suitable for vegans".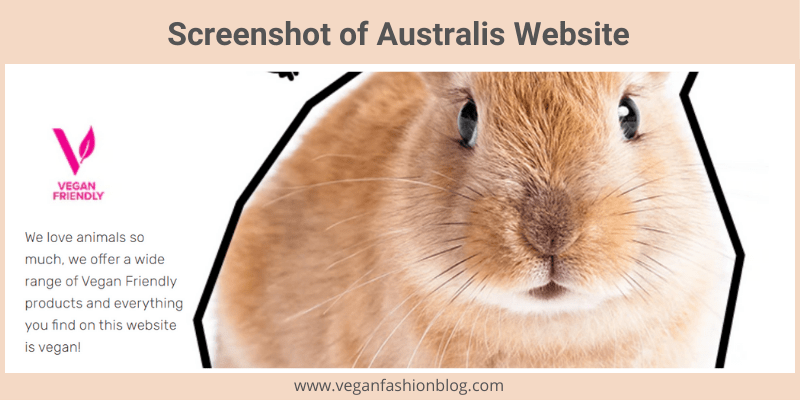 However, when we searched on ingredients, our search identified some products containing ingredients derived from animals, like this primer shown below, containing honey. (Vegans avoid all aspects of animal exploitation.)
Australis products that are vegan include; velourlips, lip pencils (except scarlet fever), eye pencils, Colour Clique CC Finishing Powder, pressed powders,
Australis has no official vegan certifications.
Summary
Australis is a proudly Australian brand that is now available internationally. They have avoided the Chinese market, despite China's interest in Australian cosmetics.
They are consciously developing vegan recipes, but their claim that all products on their website are vegan is false.
If this is one of your favorite brands, and you'd like to see them do better, contact them and respectfully explain how important it is to you to use vegan products.