Is Aveda Cruelty-free and Vegan?
Yes, Aveda is a 100% cruelty-free brand with "people tested" products. The Estée Lauder owned company doesn't test on animals, doesn't pay testers to do so, and doesn't sell in China. However, it is owned by a parent company that tests on animals, and not all its products are vegan.
Aveda is a leading cosmetics producing company with a presence in more than 20 countries around the world. The brand was established in 1978 by Horst Rechelbacher.
It was named after Ayurveda, a traditional medicine and surgery system from India, during his trip to the country in 1970.
In 1997, Estee Lauder acquired Aveda from Rechelbacher for $300 million. Estee Lauder, however, is a company that tests on animals.
Meanwhile, Aveda is still run semi-autonomously, and Estee Lauder, being an animal tester, doesn't affect Aveda's cruelty-free policy.
Is Aveda Cruelty-Free?
Since it is owned by a company that tests on animals, aspersions have been cast on Aveda's status as a cruelty-free brand. So, is Aveda cruelty-free? To qualify as a cruelty-free cosmetics producing organization, a company must not:
Test its finished products on animals
Ask third-party companies to do the above on its behalf
Sell anywhere around the world where foreign manufacturers are required to do animal testing
Based on the above, Aveda is completely cruelty-free. The company states on its website that its products are "people-tested", and it has a long-term commitment to caring for animals and wildlife.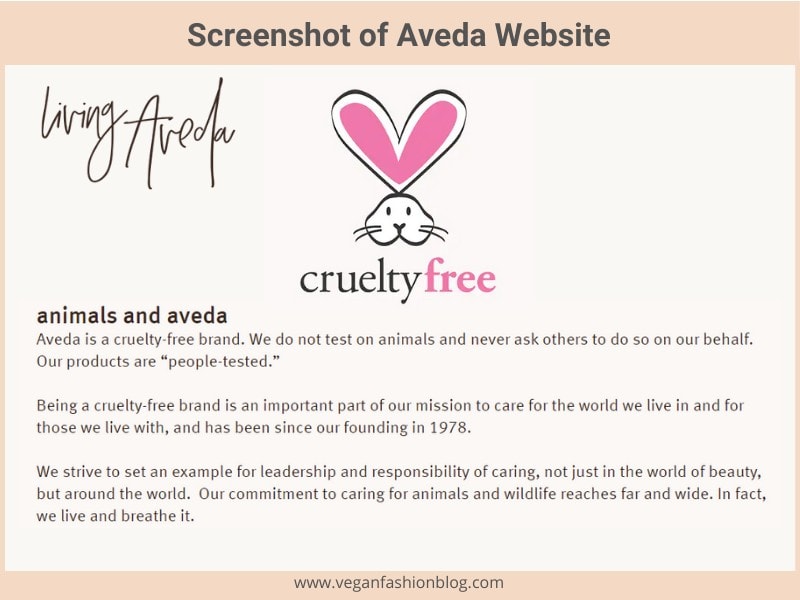 Besides, the company has a certification with PETA for being a cruelty-free brand.
Are Aveda products tested on Animals?
No, Aveda doesn't test its products on animals and doesn't see reasons to do this. Although its parent company, Estee Lauder, tests on animals, due to the brand's commitment to animal welfare and the inefficiency of animal testing, Aveda doesn't test on animals.
Additionally, it doesn't pay other companies to test on its behalf; neither do its suppliers do any animal testing.
Do they test on Animals when the law requires this?
Again, Aveda doesn't test on animals when laws of the country require this. Instead, the company avoids such countries. One of the few countries known for animal testing is China.
Although a lot of progress has been made in eliminating animal testing around the world, as of 2020, a few countries are still doing this through the backdoor.
For example, China announced it would no longer require testing before foreign companies are allowed to operate commercially.
However, in the event of complaints from users about a particular product, the country will have to resort to animal testing.
Are Aveda products sold in China?
Although Aveda sells to tons of countries around the world, it doesn't sell or ship to China due to the existing law on animal testing. So, to remain a cruelty-free brand, the right thing to do is stay away from the Chinese market, regardless of how enticing it is.
Aveda doesn't ship to China, neither does it have any store for its products in any Chinese store nor partner with Chinese stores for in-store sales.
Does Aveda have cruelty-free Certifications?
Yes, Aveda has PETA's Beauty Without Bunnies certification, as can be confirmed by any user on their search page of the organization.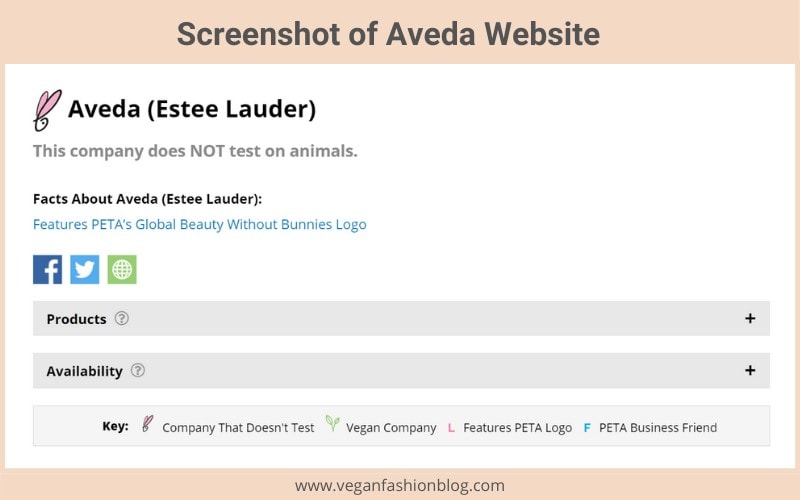 What the above means is that all Aveda products carry a rabbit certification logo. This is considered a seal of approval and a mark of quality standards.
However, we found out that Aveda isn't certified by Leaping Bunny, not because it is not cruelty-free, but perhaps because it is yet to get registered or seek approval from the Leaping Bunny Program.
Is Aveda Owned by another company?
Yes, Aveda is owned by the Estée Lauder groups of companies. It was acquired in 1997. While Estée Lauder is a company that tests on animals, Aveda remains a cruelty-free brand.
Is Aveda Products Vegan?
No. Aveda products are not 100% vegan. It has some products which have formulations and byproducts from animals. Some of these animal derivatives are beeswax, honey, and animal-based protein.
Nonetheless, Aveda is also committed to making products suitable for vegans. Vegans can discover completely vegan products with no animal ingredient below:
Aveda vegan hair products:
Cherry almond softening conditioner and shampoo
Damage remedy hair repair
Foam reset™ rinseless hair cleanser
Nutriplenish™ deep moisture conditioner
Nutriplenish™light moisture conditioner
Nutriplenish™ leave-in conditioner
Nutriplenish™ deep moisture shampoo
Shampure™ nurturing conditioner
Thickening Tonic
Texture tonic
Aveda Skin and Body Care Vegan Products
Cherry almond body scrub
Inner light™ mineral tinted moisture
Hand relief™ moisturizing creme
Tulasāra™ morning renew creme
Tulasāra™ overnight wedding masque overnight
Aveda Vegan Makeup
Brow Definer
Uruku bronzing brush
Feed my lips™ topper
Feed my lips™ lip gloss
Inner light™ mineral tinted moisture
Flax sticks™ brush set for special effects
Flax sticks™ brush set for daily effects
Summary
Although Aveda is owned by Estée Lauder, a company that tests on animals, Aveda is cruelty-free.
The company doesn't test on animals; its products are not tested by third parties and are not sold in China or any other country where brands are required to test on animals.
The company is certified by PETA and has a growing list of vegan products that vegans can choose from.