Quick Answer: Is Axe Cruelty-Free and Vegan?
No, Axe isn't cruelty-free or vegan. Even though the brand has a policy that states that they don't use animal-derived ingredients or carry out testing, this is a case of false advertising. What's more, they don't have any cruelty-free certification to back that statement up.
Axe majors in male grooming products. The company is owned by Unilever and was launched in France in 1983.
It's called "Axe" in countries like China, Australia, and the UK. However, it's branded as "Lynx" in the United States as well as Canada.
Axe is owned by the same company that owns heavy-weights like Dove, Lux as well as Rexona. The brand has a vast product portfolio that includes body wash, sprays as well as deodorants.
Is Axe Cruelty-Free?
Well, it was difficult to tell if a brand is cruelty-free in the past. We often had to rely on an official statement, which was sometimes misleading.
Well, presently, you can easily tell the cruelty status of any brand by considering these criteria:
The company must not engage in any form of animal tests
Their products don't contain animal-derived ingredients
They don't sell their products in mainland China
They don't sell in countries where animal testing is required by law.
Looking at the criteria above, you can tell that this brand is miles off in terms of being cruelty-free.
The grey area for brands has always been selling in China, a country that makes animal testing compulsory by law for cosmetics products.
Are Axe products tested on Animals?
We found an animal testing policy on their website, and it states that the brand doesn't carry out any form of animal testing. However, this is questionable since they have an affiliation with China.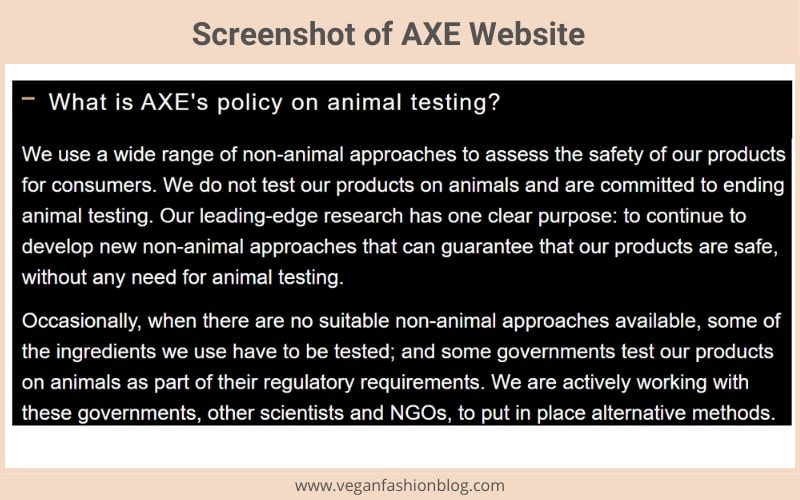 Brands who sell in China are required to carry out animal testing before their products are approved for sale. Bypassing this rule means getting on the wrong side of the law, which incurs serious consequences.
Do they test animals when required by the Law?
Of course, if you want to sell in a country, you have to abide by their law, which happens to be the case for brands who sell in China. In countries where animal testing is compulsory, there's little to be done to escape it.
In the United States, PETA tries as much as possible to regulate animal testing to the barest minimum.
They don't conceal their ill feelings towards a brand that does so and go to every extent to warn consumers about defaulted brands.
Are Axe products sold in China?
Yes, their products are on sale in mainland China. They join the illustrious list of international brands selling in the area. The Chinese market is too profitable for brands to ignore.
Also, most brands have no intention of exempting the Chinese from purchasing their products. Hence, they have to satisfy market demands.
Does Axe have Cruelty Free Certifications?
We doubt if they do. PETA is one body that's strict when it comes to animal cruelty. A seal of approval from this body is the biggest clue that a brand is "cruelty-free".
This is because PETA requires that to get their approval, you must vow never to use animal-derived products or carry out testing on any product in the future.
Is Axe Owned by another Company?
Yes, Axe has a parent company. The brand is owned by Unilever Plc, one of the biggest consumer-based companies in the world.
Their portfolio of brands is impressive. It includes multibillion-dollar brands, such as Lipton, Lux, Dermalogica, Knorr, Rexona, Magnum, and Dove.
Are Axe Products Vegan?
Axe claims not to use any animal-derived ingredients in their products and are committed to ending animal cruelty. Well, you can't take these brands by their words.
Most brands that sell perfume use beeswax in their products, which happen to be an "animal-derived" element. Axe perfumes contain this substance also. This automatically renders their vegan claim "false".
Summary
Axe is one of the oldest male grooming brands in the world. They've always had a strong market base in China, and Unilever isn't thinking of slowing down.
Taking a closer look at things, it's certain that all Unilever products are on sale in China, and the company has to carry out a lot of testing for their products to remain in the Chinese market.
If you want to purchase a 100% vegan or cruelty-free brand, all Unilever brands shouldn't be on your list.