Quick Answer: Is Balenciaga Cruelty-Free and Vegan?
No, Balenciaga is not cruelty-free because they permit the use of animal ingredients in the manufacturing of their products. The company is not completely vegan due to the above statement, plus its products are sold in China.
Balenciaga basically deals with luxurious fashion. It was closed in 1972 but reopened in 1986 under the ownership of Kering, a multinational holding company, with the headquarters based in Paris, France.
They deal with the sale of trainers, sneakers, socks, shirts, hoodies, bags, jackets, midi skirts, shorts, caps, and others.
Most of our readers have been curious to find out if the brand is cruelty-free and vegan. We have analyzed the brand in detail. Read on to see what we discovered.
Is Balenciaga Cruelty-Free?
The company is definitely not cruelty-free. There are some requirements that need to be satisfied before a company can be considered cruelty-free. Let's analyze these requirements.
Tests on animals should be prohibited even if it is required by law.
The ingredients/raw materials and finished products should not be tested on animals.
Products manufactured should not be sold in China.
Are Balenciaga Products Tested On Animals?
Yes, Balenciaga carries out tests on animals by either paying for the tests or when it is required by law. According to PETA, Balenciaga is not cruelty-free because they run tests on animals.
They are also on the PETA list of companies that test on animals.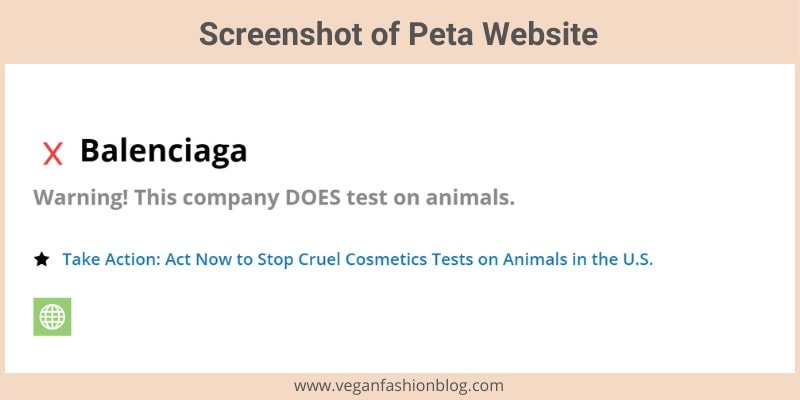 Do They Test On Animals When Required By Law?
The company does not have an official policy on animal testing on their website. This can be verified via their website.
The parent company also said nothing about animal testing but addresses issues concerning the welfare of animals. We believe they test on animals when required by law because a country like China demands this.
In cases where products do not undergo mandatory tests, the Chinese authorities can easily retrieve the products from stores and test them. Brands such as Balenciaga that sell products in China cannot be said to be cruelty-free.
Are Balenciaga Products Sold In China?
Yes, Balenciaga products are sold in China, where testing on animals is carried out on products imported into the country based on their laws.
It is the leading market for varying luxury products, and many top companies tend to keep a low profile about China's involvement in the manufacturing/selling of their products.
Balenciaga recently admitted to a client that the Triple S sneaker was outsourced to Chinese factories because they have the capacity to manufacture lighter shoes.
This surprised fans because some feel China uses inferior materials in manufacturing products. Here are some samples of products sold online in China.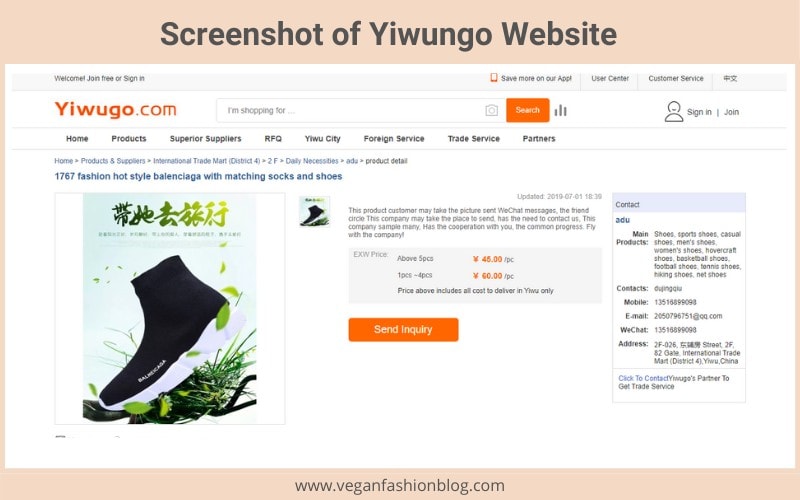 Does Balenciaga have Cruelty-Free Certifications?
No, Balenciaga is not certified by PETA, Leaping Bunny, or any other organization as cruelty-free and doesn't seem to have any plans on doing that soon. It is on the list of companies that undergo animal testing.
Is Balenciaga Owned By Another Company?
Yes, it is owned by Kering, an international industrial group that specializes in the manufacture of luxurious goods. The company's headquarters are in France.
It is a global company that deals with jewelry, watches, leather goods, and fashion. Kering has other companies under its ownership, as well.
Kering launched a welfare standard for animals that drives towards creating positive changes within the company.
A section of the group's policy is related to sourcing sustainability practices openly, which covers all the animals within the group's supply chain, including crocodile, sheep, ostrich, cattle, and python.
The standard covers issues like the treatment animals receive when used in the textile and fashion industries. The complete welfare standards for animals can be obtained from the link below.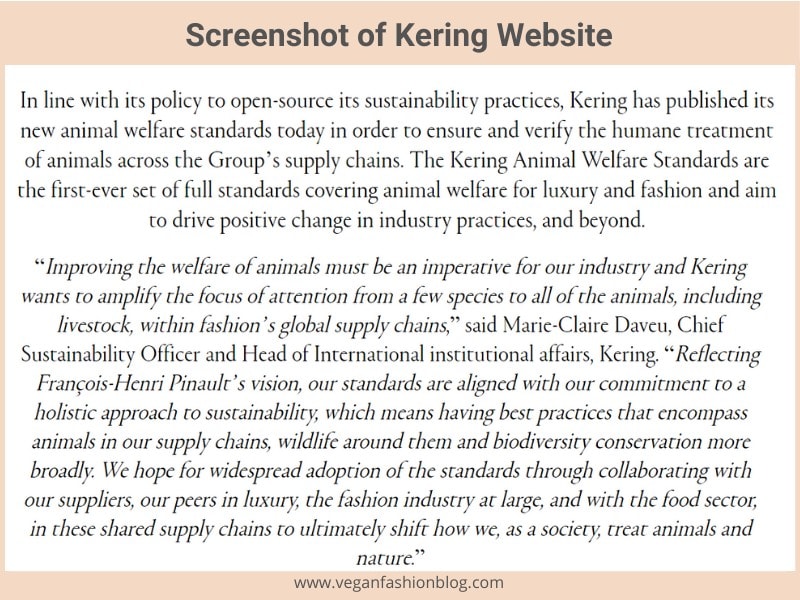 Is Balenciaga Vegan?
A product is said to be vegan when it does not contain materials or ingredients from animals or their by-products. Balenciaga is not completely vegan, but it has a few vegan products to its credit.
Some of their vegan products, such as the recently launched Zen Sneakers, were not made with pure leather but rather 100% polyurethane.
It is even featured on the PETA list of great vegan sneakers. Other materials used in producing some of their products include nylon mesh.
Their vegan products include:
Balenciaga Zen Sneakers
Balenciaga's knitted sock speed trainers
Track trainers
Vegan purse (to be launched soon)
Summary
When comfort is important to the pieces of clothing you use, and you also intend to make a statement, then Balenciaga is the right way to go.
All items from this brand are carefully designed to ensure that you are comfortable, happy, and look good all the time.
Though not cruelty-free, Balenciaga has shown responsibility by providing welfare and sustainability for animals used in their product lines.
Their products are also fairly priced and of very good quality, ensuring that you get your money's worth.