Quick Answer: Is Banila Co. Cruelty-Free and Vegan?
Banila Co.'s cruelty-free status is unclear. They don't have a testing policy and are not certified by any cruelty-free authority. For this reason, we can't consider them 100% cruelty-free. In terms of their vegan status, it's also unclear. This is because some of their formulations contain animal derivatives, and there is no vegan seal on the packaging of their items.
Banila Co. is a South Korean company that began in 2006. The brand was born to help make up and face beauty product lovers unleash their best look without hectic beauty rituals and night routines.
Their products help restore the skin's natural glow, starting with a flawless face that shouldn't be hidden under heavy makeup.
Banila Co. has an extensive product portfolio that comprises skincare and beauty options like moisturizers, lotion, brush, face primer, and lipstick.
If their products interest you but are held up by a lack of information about their cruelty-free status, this guide will bring every detail to light.
Is Banila Co. Cruelty-Free?
A cruelty-free brand by our standard is one that met all the requirements listed below:
Products must not be tested on animals by the brand or a third-party
Products should not be sold in markets where animal testing is required by law
Products should not be sold in China
Banila Co. is one of K-Beauty's subsidiaries, and they've failed to answer questions regarding their cruelty-free status.
There is no testing policy on their site, and for this reason, we're not confident adding them to our list of cruelty-free brands.
Does Banila Co.Test Its Products On Animals?
Banila Co. surprisingly doesn't have an animal-testing policy on its site. For this reason, we had to use the activity of their parent company to judge them.
We do know that animal testing is banned in Korea, but Korean brands who sell in China test on animals when required by law. Such is the fate of K-Beauty (the parent company of Banila Co.)
However, some of K-Beauty's brands still have a separate testing policy from their parent company.
We don't know how Banila Co. conducts its testing, and neither do the likes of PETA trust them enough to issue a cruelty-free certification.
Does Banila Co. Test Its Products On Animals Even When Required By Law?
Banila Co. isn't transparent. It's hard to tell if they do so or not since they've decided to withhold vital details like this.
We do know that their products are manufactured in Korea, and the testing law in the area forbids animal testing.
However, there are rumors that the brand sells in China. If that happens to be true, then the only way that could be possible is if they comply with the compulsory animal testing law in the country.
Does Banila Co. Distribute Its Products In China?
There are rumors that Banila Co. sells in China. There has been no evidence that shows the brand selling in the area. For this reason, their selling status in the Chinese market remains under investigation.
Is Banila Co. PETA-Accredited?
Banila Co. hasn't earned any certification from PETA or other cruelty-free authorities. They were missing from all of PETA, Leaping Bunny, and Choose cruelty-free databases. This isn't a good sign for new buyers.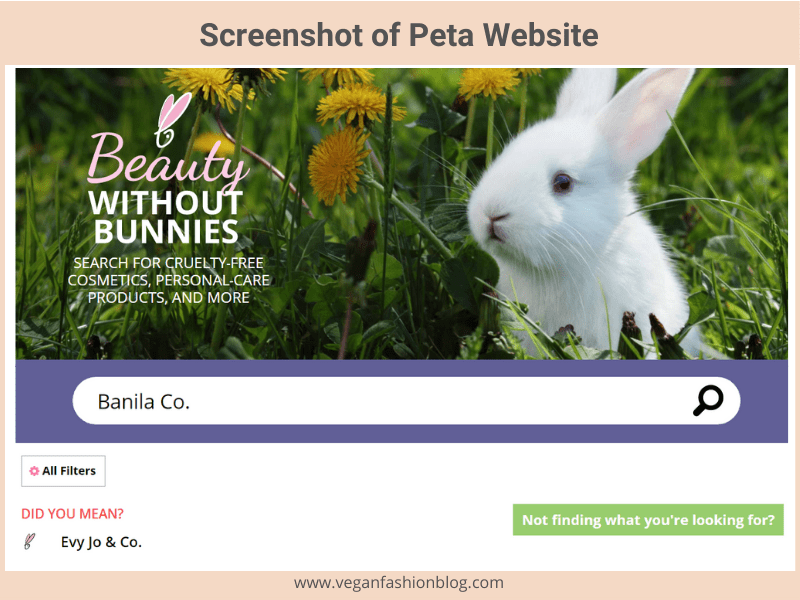 A lack of certification indicates that they've failed to pledge to maintain a cruelty-free production process.
Is Banila Co. Owned By a Parent Company?
Banila Co. is no longer independent. They're a subsidiary of K-Beauty – one of the largest multinational companies in Korea. K-Beauty's catalog includes both cruelty-free and non-cruelty-free brands.
On the other hand, there are a few whose cruelty-free status remains unclear. That's the category Banila Co. falls in.
Is Banila Co. Vegan-Friendly?
The term "vegan" by the standard of the cosmetic industry refers to products free from animal byproducts. This includes carmine, squalane, honey, and other constituents derived from animals.
The use of animal byproducts in cosmetics products is frowned upon by several vegan authorities since there is a non-organic alternative to these ingredients.
Do Banila Co. Products Contain Any Animal Parts Or Anything Derived From Animals?
Just as they've failed to put up a testing policy on their site, Banila Co. also doesn't have a vegan policy. This isn't surprising since they don't self-promote as a vegan brand in the first place.
We doubt if any of their formulations are vegan-friendly.
We're not one to trust a brand that isn't transparent, and the reason we don't consider Banila Co. to be 100% vegan and cruelty-free.
Summary
Banila Co. isn't the most transparent brand in the market. It's difficult to trust such a brand considering the amount of false advertising in the cosmetic industry.
If you are in support of a cruelty-free production process, we don't think Banila Co. fits that description.