Is Bare Republic Cruelty-Free and Vegan?
Yes, Bare Republic is 100% cruelty-free. The brand doesn't carry out any form of animal testing at any stage of its production process. They also source their raw materials from suppliers who don't test on animals. Their product features a seal from PETA, and they minimize the use of animal derivatives in their product formulation, as well.
Bare Republic is a sunscreen manufacturer based in Carlsbad.
The brand was launched in 2015 and carries out the majority of its production in a 43,500 sq. ft. factory in Carlsbad. Bare Republic is a subsidiary of Coola LLC, one of the oldest manufacturers of sunscreen products in the world.
Is Bare Republic Cruelty-Free?
Judging from their certification by PETA, you can easily conclude that they're cruelty-free. On the flip side, we're slow to rush to such a conclusion, as some brands have been found guilty of defaulting on their pledge with PETA after obtaining their certification.
Before we add a brand to our cruelty-free list, we use certain requirements to qualify them. Most of the time, we ask questions that include the following:
Do they test their products on animals?
Do they use suppliers who test on animals?
Do they sell in countries where it's compulsory to carry out animal testing?
In the case of Bare Republic, the answer to all the questions was negative. This shows that they don't engage in any production process that poses risk to animals.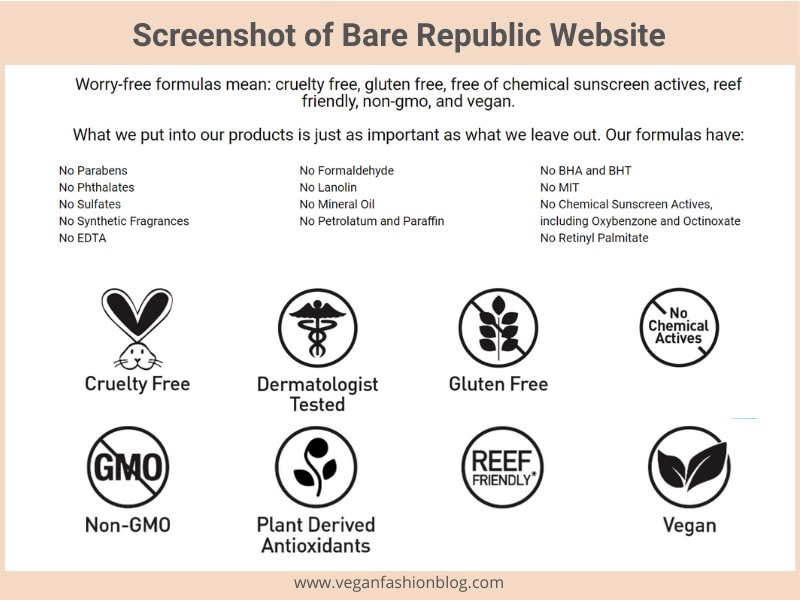 Are Bare Republic Products Tested on Animals?
PETA classifies Bare Republic as a brand that "does not test on animals". Our finding shows that this is true. The issue, however, is that Bare Republic failed to publish an animal testing policy on their site.
Consumers will need to enquire via email to get full details of their testing policy. While they've maintained that they don't test on animals, they've failed to indicate the alternative testing method they use.
Do They Test on Animals When Required by Law?
European authorities do not make animal testing compulsory for cosmetics brands. Most cosmetic brands who sell in Europe use human volunteers to test the safety of their products before launching them into the market.
In China, the law is different. Chinese authorities require brands to test their products on animals before they're accepted into the market. This is the reason why most brands that sell in the country are not cruelty-free.
Are Bare Republic Products Sold in China?
Bare Republic products are not sold in China. They are available in Sephora's store in the US, but you will find them missing from their online store that distributes in China, which is an indication that the brand doesn't sell there.
Also, their parent brand doesn't sell in the area. Hence, they're not compelled to carry out any compulsory testing as per Chinese law.
Does Bare Republic Have Cruelty-Free Certifications?
Because they've failed to put up an animal testing policy on their site, some consumers are bound to be skeptical of their claim.
However, Bare republic is certified cruelty-free by PETA and features the global Beauty Without Bunnies seal on their packaging. Bare Republic isn't Leaping Bunny-certified, though.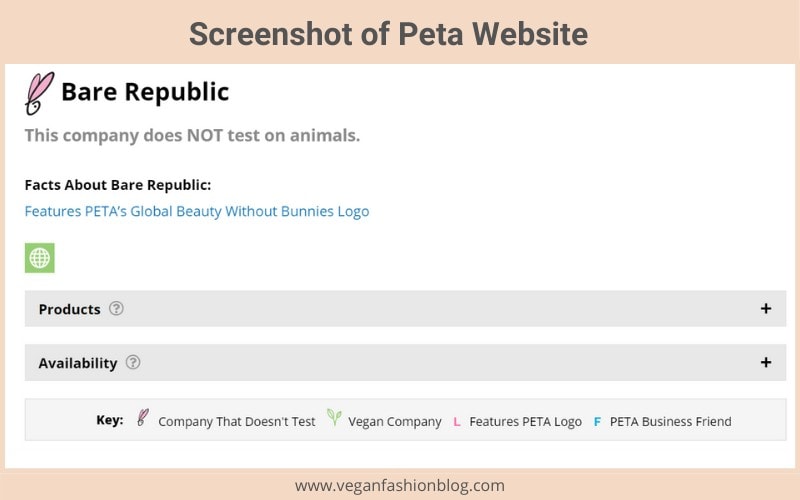 Is Bare Republic Owned by Another Company?
Coola LLC is the parent company of Bare Republic. Coola LLC is also cruelty-free and has some subsidiaries aside from Bare Republic.
The company was founded in 2004 and is headquartered in Carlsbad. Coola also produces sunscreen and has a number of its products listed on Ulta Beauty, Sephora, and Walmart.
Are Bare Republic Products Vegan?
A brand can be cruelty-free but not vegan. This is because the term "vegan" refers to products that do not contain any form of animal derivatives, while cruelty-free has to do with animal testing.
In the case of Bare Republic, at the time of writing this, they do not have a vegan policy.
The brand is fond of withholding vital information from consumers. However, they try to publish a comprehensive list of ingredients they use in all their formulation. Currently, 95% of the products in their catalog are 100% vegan. You won't find any traces of animal derivatives.
The only non-vegan line from this brand is the Mineral SPF Baby Sunscreen and the Mineral SPF Sport Sunscreen. Both products do contain beeswax.
Here's a list of their vegan line –
Sunscreen
Mineral SPF Neon sunscreen
Subset Mineral Neon sunscreen
Punk Rock Pink Mineral SPF 50 sunscreen
Electric Blue SPF 50 Neon stick
Goblin Green SPF 50 Neon stick
Lighting Yellow SPF 50 Neon stick
Hand Sanitizer
Hand sanitizer gel
Hand sanitizer continuous spray
Vanilla Coco sanitizer
Citrus Cooler sanitizer
Lotion
Mineral SPF 30 Sunscreen gel lotion
SPF 70 sunscreen gel lotion
Untinted SPF 30 sunscreen
Diamond Dust Shimmer sunscreen lotion
SPF 30 Golden Daze sunscreen lotion
Summary
Bare Republic products are aimed at skin protection. They have many sunscreens that protect the skin from harsh UV rays.
Aside from the Mineral SPF Baby sunscreen and the Sport Mineral sunscreen, the rest of their products are vegan, and you can pick them up from Ulta Beauty with total confidence.