Quick Answer: Is Beautyblender Cruelty-Free and Vegan?
Beautyblender is certified cruelty-free, and some of its products are vegan. Some of its products are sold in Mainland China. However, they are the only ones that are not required to be tested on animals by law.
Beautyblender was founded by Latino makeup artist turned business-woman Rea Ann Silva. It is most well-known for its rounded, egg-shaped makeup smoothing sponge.
Silva developed the sponge working on the set of Girlfriends, which was being filmed in high definition.
The triangle sponges available at the time left marks on the actors' skin, and she found that a better finish could be achieved by rounding the edges.
Today the brand's products include blenders, brushes, other tools, cleansers, foundations, primers, concealers, highlighters, and finishing sprays.
It is recognized for its excellence across the board, but in particular, for its success with ethnic skin. Our readers have asked that we look into whether Beautyblender is cruelty-free and vegan.
We have analyzed the brand and its products in detail.
Is Beautyblender cruelty-free and vegan? Keep reading to find out the details.
Is Beautyblender Cruelty-Free?
Cruelty-free is not a defining, legally binding term, and there are no repercussions for brands falsely claiming to be cruelty-free. So what do we regard as cruelty-free?
Well, for the Beautyblender brand to be considered as cruelty-free, it needs to satisfy these criteria, which we will analyze one by one:
None of the products should be tested on animals. This means no animals should be used in product development by the company itself or its suppliers.
They should not test on animals even when required by law. If there is a legal requirement to test a particular product or test all products for a particular region, the company must decline.
If that means they withdraw from selling particular products or operating in particular regions, then so be it. Nor can it pay a third party to test on its behalf.
The products should not be sold in China. China appears to be changing its requirements with regard to compulsory animal testing. However, any product can still be pulled off the shelves and tested post-market.
Are Beautyblender products tested on animals?
Beautyblender does not test on animals and has been certified cruelty-free by PETA. They do not display their animal-testing policy on their website.
Do they test on Animals when required by Law? Or use a third party?
No, Beautyblender doesn't use third parties to test on animals, and they do not submit to testing by law.
Are Beautyblender products sold in China?
Beautyblender sells its makeup sponges and cleansers in China. These products do not require pre- or post-market testing as they are not used on humans.
Beautyblender will only sell products there that do not need to be tested on animals in any way, including being subject to post-market animal testing.
Other products may be available online. China doesn't enforce animal-testing on products sold online and delivered directly to the customer.
Does Beautyblender have Cruelty-Free Accreditations or Certifications?
Beautyblender is certified cruelty-free by PETA.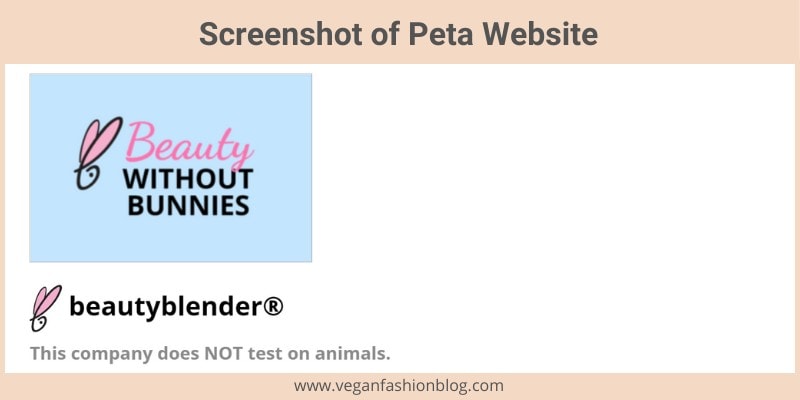 Does Beautyblender have a Parent company?
No, Beautyblender is independently owned.
Is Beautyblender Vegan?
To qualify as vegan, Beautyblender products must not contain any animal parts or anything derived from animals. We have assessed the brand on these criteria.
Not all of Beautyblender products are vegan, and Beautyblender has no official vegan certifications.
The following Beautyblender products are vegan:
All makeup sponges and brushes
All cleansers (including the dry clean Instatclean™)
Bounce ™ Concealers & Foundations
Glass Glow Shinelighter™ Highlighter
Opal Essence and Selfie Shield Primers
Summary
Beautyblender is a heart-warming success story of a single mom making good and doing good. The brand is accredited by PETA, and many of its products are vegan.
If you would like to see more vegan products from Beautyblender, please contact customer service and explain, respectfully, how important it is for you to buy vegan products.