Quick Answer: Is Becca Cruelty-Free and Vegan?
Yes, Becca is cruelty-free. The brand does not test on animals and is not for sale in China, where animal testing is required by law. It has some products that are suitable for vegans but are not 100% vegan.
Becca Cosmetics was founded in Perth, Australia, in 2001. Estée Lauder now owns it. The brand prides itself on inclusivity and has partnered with size 12 model Barbie Ferreira on a product range bearing her name.
Product development is guided by the concept of illumination and the intention of allowing customers' inner light to shine through.
Our readers have been asking if the brand is cruelty-free and vegan. Is Becca cruelty-free and vegan? Keep reading to find out the details.
Is Becca Cruelty-Free?
How do we define cruelty-free? Well, for the Becca brand to be regarded as cruelty-free, it needs to satisfy these criteria, which we will analyze:
None of the products should be tested on animals. This means no animals should be used in product development by the company itself or its suppliers. Test animals live a life of misery and are cruelly confined throughout their days. Animal testing is unnecessary and not even very effective in predicting human reaction.
They should not test on animals even when required by law. Sometimes brands will not generally perform tests on animals unless it is required by law. We find that equally unacceptable. And a company cannot bypass this just by paying a third party to test on its behalf.
The products should not be sold in China. Even though China appears to be changing its requirements regarding compulsory animal testing for cosmetics, any product can still be pulled off the shelves and tested post-market.
Are Becca products tested on Animals?
No, Becca does not test their products on animals.
Do they test Animals when required by law? Or use a Third Party?
No, Becca doesn't allow animal testing of its products if required by law.
Are Becca products sold in China?
No, Becca products are not for sale in China. China makes tests on animals for all imported cosmetics compulsory by law.
The only exception to this regulation is online purchases – where imported goods are delivered directly to the consumer. Therefore, any brand currently selling through retail outlets in China is not cruelty-free.
Does Becca have Cruelty-free Accreditations or Certifications?
Yes, Becca has been awarded PETA's Beauty without Bunnies logo.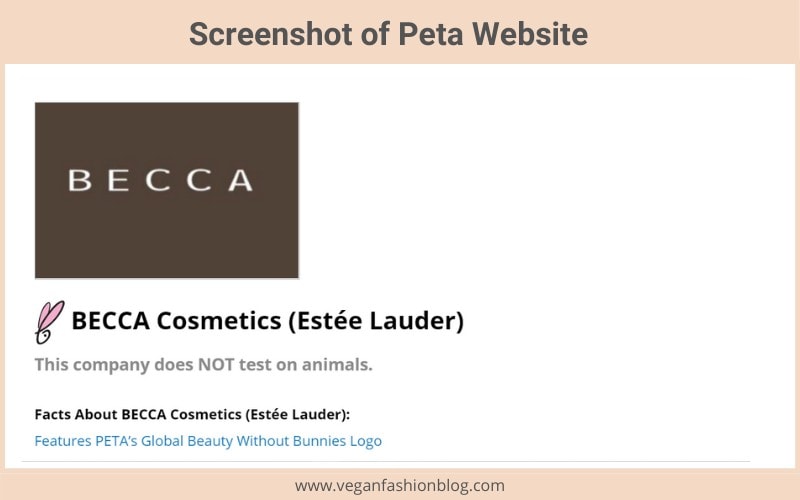 Is Becca's parent Company Cruelty-free?
Estée Lauder bought Becca in 2016. Estée Lauder is not cruelty-free because it sells its products in Mainland China, where animal testing is compulsory.
The company has, however, pledged to help ban animal testing by 2023. Their current animal-testing policy is to test only when required to by law.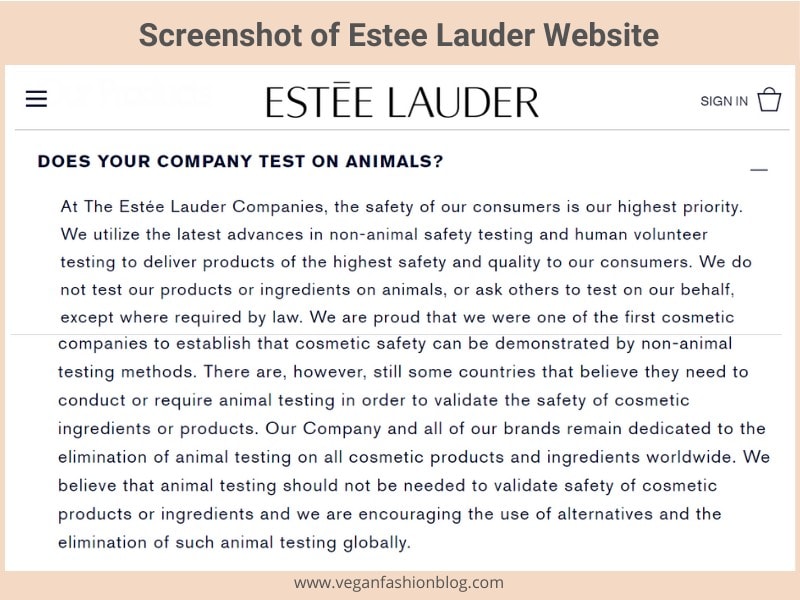 What is Becca's Animal Testing Policy?
Becca is committed to remaining a cruelty-free brand.

Is Becca Vegan?
To qualify as vegan, Becca products must not contain any animal parts or anything derived from animals. We have assessed the brand's products based on this definition.
Becca is not a vegan brand, as its products may contain animal derivatives. It does not have any vegan certifications.
However, it has several products that don't contain any animal products:
Anti-Fatigue Under Eye Primer
Barbie Ferreira Prismatica Face & Eye Palette and Lip Gloss Kit
Backlight and First Light Priming Filter Face Primers
Ever-Matte Poreless Priming Perfector
Hydra-Light Plumping Lip Balm, Mask, and Scrub
Hydra-Mist Set & Refresh Powder
Ignite Liquified Light Face & Body Highlighter (and by Barbie Ferreira)
Light Gleam™ Primer & Topper Liquid Eyeshadow
Ultimate Coverage 24 Hour Foundation
Under Eye Brightening Corrector
Zero™ No Pigment Virtual Foundation and Glass Highlighter for Face + Lip
Summary
As a brand, Becca doesn't test on animals or sell their products in China. They are owned by a group that does, however.
Consumers who wish to boycott products in any way affiliated with animal testing might want to keep that in mind. The brand has some vegan products – it's just a pity they are not clearly labeled and listed.