Quick Answer: Is Belif Cruelty-Free and Vegan?
No, Belif isn't cruelty-free or vegan. Even though the brand has been listed as "cruelty-free" in several publications in the past, recent updates show that they've expanded their market to China since 2018. Also, there are no signs of "cruelty-free" policies on their site, let alone a seal from PETA.
Belif is a subsidiary unit of LG Household & Health Care, Ltd. The company was founded in 2001 and has its headquarters in Seoul, South Korea.
Belif specializes in the manufacturing of high-end products that claim to be free from artificial fragrance, dye, or animal-derived ingredients.
Belif sells its products worldwide and has stores in over 17 countries. You will also find its products in chain stores like Sephora.
The brand was cruelty-free in the past but has since joined the list of brands expanding their business to China. This is a gray area in their cruelty status.
Is Belif Cruelty-Free?
Without an official statement from a brand, buyers are left to contemplate the cruelty status of a company on their own. Fortunately, certain criteria need to be met before a brand is certified to be cruelty-free.
The list includes:
The company must not engage in any form of animal tests.
Its products must not contain animal-derived ingredients.
It does not sell its products on China's mainland.
It does not sell in countries where animal testing is required by law.
After going through this checklist, Belif didn't meet all of these requirements. This isn't surprising, as other top brands such as Gucci, L'Oreal, and Calvin Klein have defaulted in the same area.
Are Belif Products Tested On Animals?
Yes, its products are tested on animals. However, It's difficult to find any cruelty claim on the Belif site. For clarity, most individuals had to drop into their inbox, and here's what one response from the brand looked like: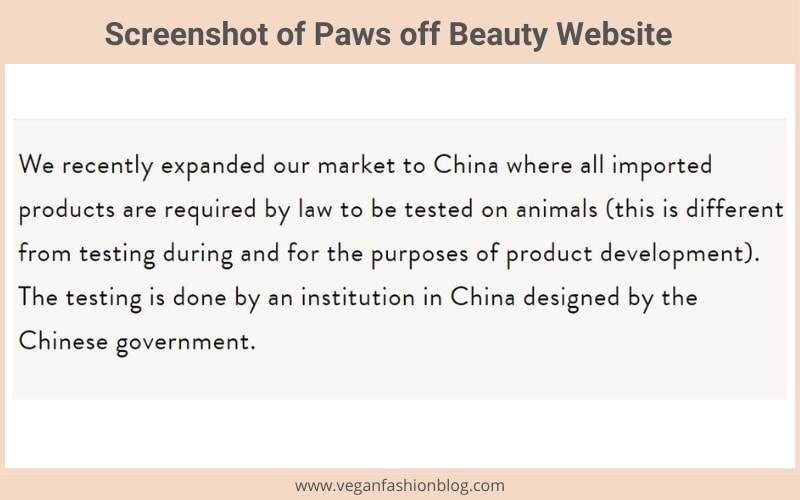 Do They Test Animals When Required By Law?
Of course, for this brand to sell its products in countries where animal testing is required by law, it simply has to abide by it.
China has recently approved a law that replaces animal testing with non-animal testing for some production processes, but that doesn't apply to the end product.
For this reason, a company who intends to sell in the city will either have to carry out the testing on their own or hire a third party to do it on their behalf.
Are Belif Products Sold In China?
Yes, Belif products are sold in China. This came after its parent company, LG Household & Health Care, Ltd., publicly announced that they will be expanding their business opportunities to China.
This was done after years of excluding China from places where its products are distributed. Since this announcement, the company has also set up new stores on the Chinese mainland.

Does Belif Have Cruelty-Free Certifications?
First off, Belif cruelty claims are vague. Even when it wasn't selling in China, it didn't put up any policy on its website to certify whether it used animal-derived ingredients in its production processes or not.
Secondly, this brand has a lot of products on sale in China, and we doubt that it has any sort of approval from PETA.
Is Belif Owned By Another Company?
Yes, Belif has a parent company. The brand is owned by South Korea's leading cosmetic and home care makers – LG Household & Health Care, Ltd.
Since it was acquired, the brand has spread its market reach to 17 countries, including Brazil and China. LG Household & Health Care, Ltd., is also the owner of OHUI and VDL.
Is Belif Products Vegan?
No, Belif products are not 100% vegan. Some of the products contain animal-derived ingredients.
While they pride themselves as a brand that uses herbal ingredients, the fact that its final products undergo animal testing is a huge blow to their "vegan" claim.
Vegan skin care
Bergamot herbal extract toner
Hungarian herbal essence
Moisturizing and firming eye cream
Creamy cleansing foam moist
True cream moisturising bomb
The products listed above have been extensively tested and confirmed to be free from parabens, sulfates and any animal origin ingredients.
Summary
Belif products are of the highest quality. They help correct any form of skin defects from wrinkles and redness to acne and discoloration.
The product portfolio is quite large and serves as a herbal solution center for several skin conditions.
If you love the brand and want to continue using its products, you could reach out to them to persuade them about the benefits of being cruelty-free.
This is the only way you can steer them into the good books of authorities like PETA. To enjoy the benefits of patronizing a cruelty-free brand, you can try out other alternatives.