Quick Answer: Is Belladonna Soaps Cruelty-Free and Vegan?
Belladonna Soaps is cruelty-free by some standards, and it is also 100% vegan. Their products are free from any form of animal derivatives, and they don't contain harmful chemicals that might be harsh on the skin. Their natural formulation cleans the pores and revitalizes the skin through exfoliation.
Belladonna Soaps was founded by Jean Mead. The brand was born out of her interest in Ayurvedic aromatherapy. Over the years, they've been producing a different range of soaps, as well as roll-on oils, infused with "dosha" balancing qualities.
The soaps are hand-made and free from paraben or sulfate. They contain plant-derived glycerin, and their formulation is approved as vegan by PETA.
Is Belladonna Soaps Cruelty-Free?
Belladonna Soaps meets the standard for a cruelty-free brand. Their products are organic, and at no stage in their production process are they subjected to animal testing.
Their products are not registered in countries where animal testing is required by law, and they don't fund any such tests.
Although they do not have a testing policy on their website, all speculation and uncertainties are put to rest thanks to a certification from PETA.
They've earned a spot on PETA's list of brands that "do not test on animals", and they feature the global Beauty Without Bunnies logo on their products.
Are Belladonna Soaps Products Tested On Animals?
No, this brand doesn't test its products on animals. If they do, they wouldn't have made it into PETA's list of cruelty-free brands.
Belladonna Soaps is distributed only in Europe, and as such, it is compelled to stick to European regulations for cosmetics products.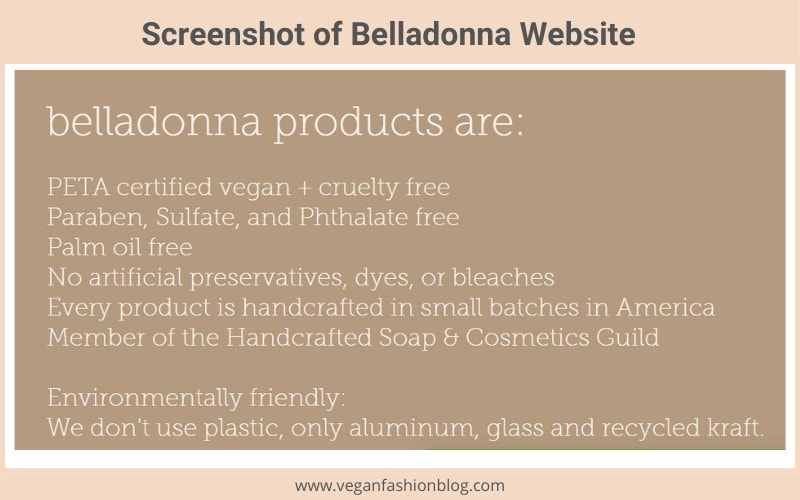 At no point in time do they test on animals. This also implies that the ingredients are sourced from suppliers who are certified by cruelty-free authorities.
A vast majority of their products are handcrafted and are free from animal derivatives.
Do They Test On Animals When Required By Law?
The only way a brand will be required to test on animals by law is if they sell in a country with compulsory animal testing policies.
This is the case with China, which is the reason why the likes of Calvin Klein, Maybelline, and L'Oreal aren't cruelty-free.
Since Belladonna Soaps is not registered in China, they have no reason to adhere to any strict testing law.
Are Belladonna Soaps Products Sold In China?
China has strict testing policies, and brands that sell here have to sign an agreement that gives Chinese authorities the freedom to carry out testing any time they deem fit.
The majority of brands that sell there have not been able to bypass this law.
Fortunately, Belladonna Soaps does not distribute to China or any other country in Asia. This puts them at no risk of compulsory testing.
Does Belladonna Soaps Have Cruelty-Free Certifications?
We can confirm that Belladonna Soaps is certified by PETA. They have a banner on their website that displays the Beauty Without Bunnies logo.
Also, they're listed on PETA's site as a brand that "does not test on animals".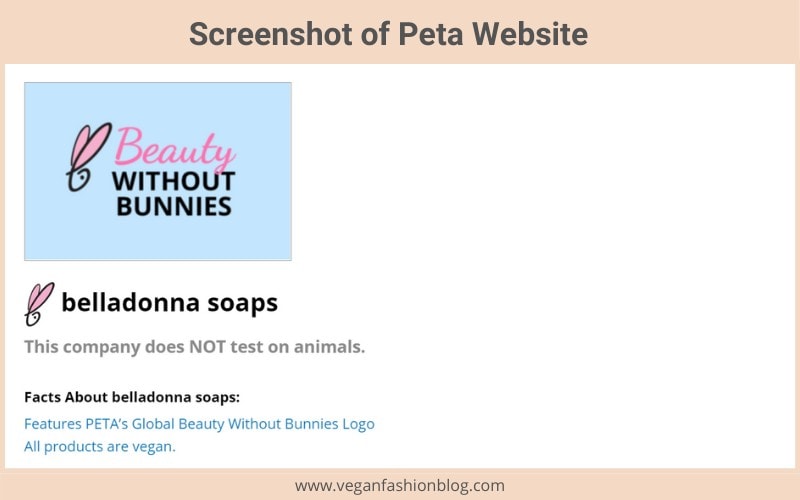 We can't confirm that they've completed Leaping Bunny's CCIC program, though. This is because we couldn't find them in their database.
Is Belladonna Soaps Owned By Another Company?
Belladonna Soaps is not a subsidiary of another company. They're an independent brand. The creator of the company – Jean mead – is still credited as the owner to this day.
This shows that they've not changed their ownership.
Are Belladonna Soaps Products Vegan?
At first glance, you can tell that Belladonna Soaps products are organic, because they don't have the smooth finish of luxurious soaps.
The brand claims that their products are vegan, which implies that they're free from animal derivatives.
For some reason, they failed to put up any sort of vegan policy on their site, though. Hence, we had to look at their ingredient list to see if these claims are true.
We noticed that most of their products feature natural ingredients, such as rosemary, lemongrass, and turmeric.
They also don't contain any form of artificial fragrance or coloring. This makes them a safe option for the skin.
Here is our favorite pick from their vegan line:
Dragon milk soap
Oatmeal stout soap
Bourbon tobacco soap
Courage affirmation soap
Protection affirmation soap
Love affirmation soap
Prosperity affirmation soap
K9 paw balm
B3 shampoo bar botanical
Renew soap
Bar soap + B2 set
Bare soap
Bay rum soap
Chai baby soap
Morning sunshine
Summary
Belladonna Soaps truly doesn't test on animals, and they gave their claim a huge boost after the discovery that they don't sell in China.
Nevertheless, withholding information isn't the way to go in times like this when new prospects want to find every detail they can before buying a product.
Publishing a testing policy on their site will make their claims more believable to the average buyer.