Quick Answer: Is Benecos Cruelty-Free and Vegan?
Benecos doesn't test on animals at any point in their production process. They also don't sell in countries with strict testing policies. All this and more makes them cruelty-free. Also, Benecos has some vegan-friendly lines and aims to minimize the use of artificial ingredients, which poses a great deal of health risk to consumers.
Benecos is a German cosmetic brand that was founded by Silke and Stephan Becker in 2008. The brand's headquarters is in Aschaffenburg, and their cosmetic range is branded as organic.
They aim to offer safe options that are affordable for everyone. Benecos eliminated the need for artificial ingredients, such as paraffin, paraben, and silicon, in their production.
They also have a large product portfolio that includes mascara, eye shadow, body wash, cleansing gel, and nail care products.
Is Benecos Cruelty-Free?
Benecos has a couple of certifications that indicate their friendliness towards animals in their production process. Aside from minimizing the use of animal derivatives, they also don't carry out testing on animals or use suppliers who do.
Also, they don't sell in countries with strict testing laws, such as China. They're an independent brand and are not in affiliation with any parent company that carries out animal testing.
With this, we can confirm that Benecos is cruelty-free, and it's backed by a certification from PETA.
Are Benecos Products Tested On Animals?
Benecos is quick to showcase its certification from PETA in a bid to put any doubt about its testing policy to bed. While this is a smart move, there are still a lot of questions left unanswered due to their failure to publish a testing policy.
We do know that they don't test on animals, as they've failed to mention the alternative testing method they use to ensure the safety of their products.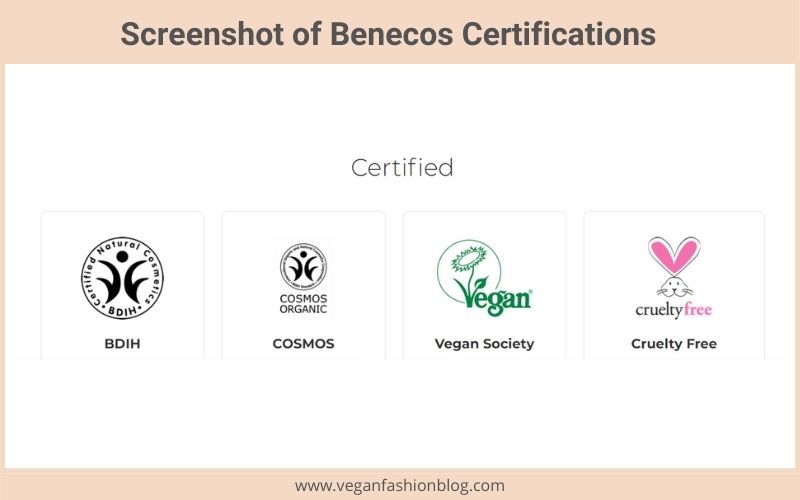 Do They Test On Animals When Required By Law?
Benecos does not sell in countries with strict testing laws. This is the major reason they don't sell in mainland China.
Are Benecos Products Sold In China?
Benecos products are not sold in mainland China. This is because they have no intention of complying with the strict testing law in the country. Also, the Chinese market has fierce competition among cosmetics brands.
Benecos distributes in Germany and some parts of Europe. Their largest customer base is concentrated in their nation of origin.
Does Benecos Have Cruelty-Free Certifications?
Benecos didn't return any search results on Leaping Bunny's database. This confirms that they're not certified by the authority and have not taken part in their cruelty-free program.
However, they are certified by PETA, and their products feature the global Beauty Without Bunnies logo.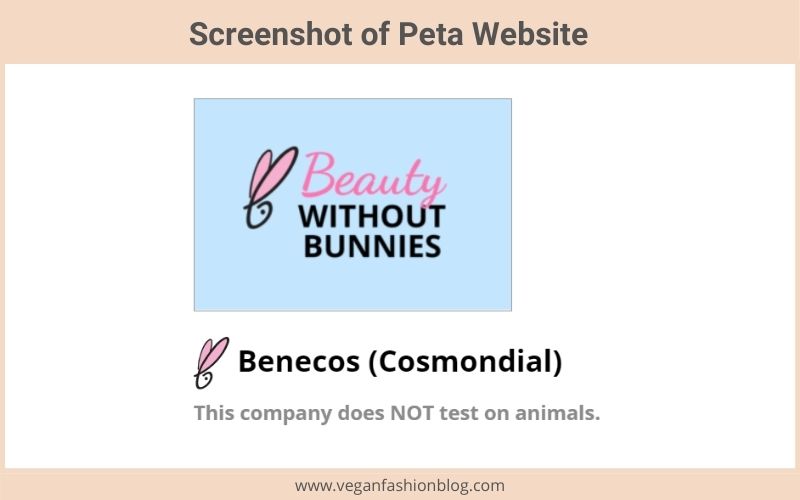 Leaping Bunny has a more comprehensive verification process than PETA. While PETA merely asks for a declaration, Leaping Bunny reviews all trading and manufacturing activities to ensure it meets their standard.
Also, Leaping Bunny requires a continuous commitment by the brand before it can be featured in their annual cruelty-free list.
Is Benecos Owned By Another Company?
No, Benecos doesn't have a parent company. The brand is still owned by Silke and Stephan Becker. They still very much operate in Germany but have managed to spread their wings all over the world.
They're also not in any form of joint partnership and have full control over every step of the production process from product design to distribution.
Are Benecos Products Vegan?
Benecos has a vegan-friendly line, but they're not entirely vegan. The brand has been issued a vegan trademark by the Vegan Society. This allows them to feature a vegan icon on some products.
What remains true, however, is that not all of Benecos products are free from animal derivatives.
They do admit that some of their products contain animal-origin ingredients. Benecos products are also free from harmful chemicals, such as paraffin. The problem with paraffin is that it's not biodegradable and can not be absorbed into the skin.
When this substance penetrates the body, it stores in the liver and kidney, posing a risk of serious health conditions.
A short collection of vegan Benecos products is listed below.
Natural Care
Natural body peeling
Deo roll-on for fresh peeling
Deo spray for fresh peeling
Hand and nail cream for happy hands
Face fluid for lucky days
Cleansing gel for clean skin
Natural conditioner for silky hair
Cleansing milk for clean skin
Nail Polish
Desire
Crystal
Be my baby
Vintage red
Peach sorbet
Cherry red
Sharp rose
Gallery
Nordic blue
Nail polish remover
Wild orchid
Licorice
Summary
Benecos has some of the best beauty products. They have a huge catalog, and your options are not limited. Their catalog features beauty products such as mascara, foundation, nail polish, eye shadow, shower gel, and lots more.
The brand is based in Germany, but they distribute to the UK and America.