Quick Answer: Is Benefit Cosmetics Cruelty Free and Vegan?
Benefit Cosmetics is not cruelty-free. Although this cosmetics brand claim not to carry out the animal test by themselves, the company allows third-party testing, particularly when required by law. They sell their products in mainland China. The non-cruelty free status of Benefit Cosmetics cast doubts on their vegan status; hence, they are considered non-vegan.
Benefit Cosmetics LLC is a subsidiary of LVMH, which was founded and headquartered in San Francisco, California. They have over 2,000 counters, and they make their products available in over 30 countries.
As advocacy for animal rights and animal protection continues to grow, a lot of attention is in the cosmetic industry. There is increasing interest in the ingredients and testing policy of various cosmetic products.
If you are wondering if Benefit Cosmetics is cruelty free and vegan, you are not alone. We have made a thorough analysis of this brand, and you will have your answer in this article.
Is Benefit Cosmetics Cruelty Free?
A product that would be certified as cruelty free must meet specific considerations, standards, and criteria. We duly consider these factors for Benefit Cosmetics products.
The products or any of its ingredients must not be tested on animals even when requested by law
Should not be sold in mainland China
Should not allow any third-party testing of their products or its ingredients on animals
Are Benefit Cosmetics Products Tested On Animals?
Benefit Cosmetics claims that they do not test any of their products or ingredients on animals. Nevertheless, they do not hide their permission for third-party animal-testing of their products, particularly by-laws and authorities.
"Benefit does not test our products on animals.

Since 1989, the Perfumes & Cosmetics companies of LVMH group (including Benefit Cosmetics) have not performed any tests on animals for our products – this was implemented long before the 2013 official ban set by the European Union.

We are deeply committed to the elimination of animal testing. We're playing a leading role in developing alternative methods through our support of the "Fund for Alternatives to Animal Testing" in the United States.

We also actively participate in validation studies of new alternative tests in the framework of the European cosmetics association, Cosmetics Europe.

We are one of only a few companies to have invested in creating our own internal department to test raw materials and ingredients to further ensure the quality of our products and the satisfaction of our customers, which is our top priority.

As a result, all Benefit products undergo very strict tolerance tests using non-animal methods during the development of each product to ensure quality and safety prior to market.

Some customers expressed concern regarding the situation in China.

Our products are made in Europe and for imported cosmetics, the Chinese health authorities order some test on animals: they require companies to make their products available to be tested in state-certified laboratories for registration purposes only, as it is currently their only recognized method to demonstrate product safety.

We are hopeful that alternative testing methods will be adopted worldwide and we will see an end to animal testing
"
The above statement explains the stance of Benefit Cosmetics on the animal testing policy.
As much as they don't carry out animal testing on their own, they permit animal-testing when requested by authorities in certain regions like China.
Nevertheless, this doesn't mean the company offers support for the animal testing policy.
Benefit Cosmetics and their parent company LVMH are active participants in efforts to research and establish alternative testing to animal testing.
Do they test animals when required by law? Or use a third party?
Benefit Cosmetics usually allow their products to be tested on animals when requested by law. Despite claims that they do not test the products on animals by themselves, they allow these tests when requested by law.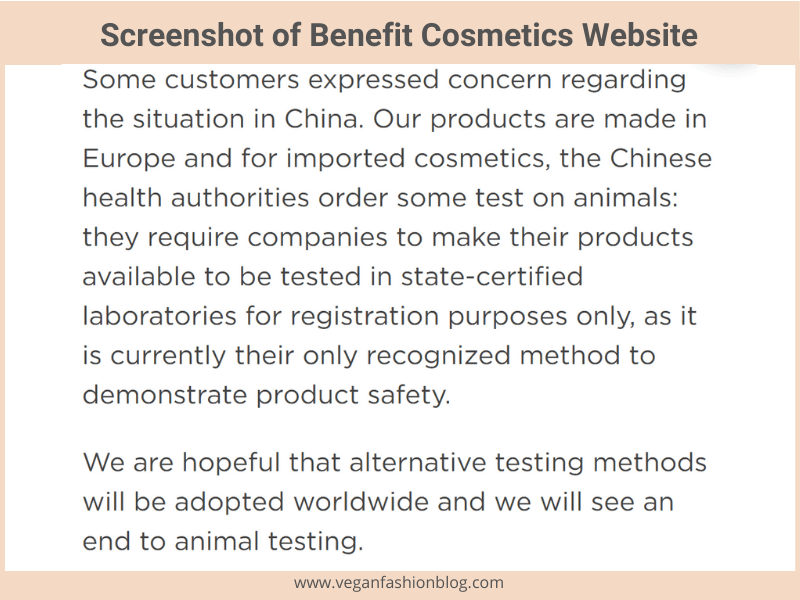 The statement above validates that Benefit Cosmetics submits and pays for their products to be tested on animals because it is requested by law.
Are Benefit Cosmetics products sold in China?
Benefit Cosmetics freely sells its products in mainland China. They compromise their stand against animal testing by submitting and paying for their products tested on animals by Chinese health authorities.
Animal testing is the only way Chinese test cosmetic products before giving it a certification of safety.
Does Benefit Cosmetics have Cruelty free accreditations certifications?
Benefit Cosmetics do not have cruelty free accreditation certifications because they fail to meet some of the criteria for these accreditations.
First, they allow their products to be tested on animals when requested by law. Secondly, their products are sold in mainland China.
Is Benefit Cosmetics Parent company LVMH Group cruelty free?
Both Benefit Cosmetics and their parent company LVMH share a similar fate. LVMH is not cruelty free because they permit animal testing when requested by law.
However, they claim not to test their products on several animals themselves, and they have a massive commitment towards research to provide alternative testing to animal testing.
Is Benefit Cosmetics Vegan?
Vegan products are products that are devoid of any animal ingredients or animal-derived ingredients. Benefit Cosmetics products are not vegan-friendly.
Although Benefit Cosmetics do not have any statement about their vegan status, their cruelty-free status influenced the consideration that their products are not vegan.
You can go through their list of ingredients to identify if the product you want to buy is vegan or not. Benefit Cosmetics has no vegan certification.
Summary
Benefit Cosmetics is one of the fastest-growing cosmetic brands in the world. However, they are not certified to be cruelty free because they submit their product for animal testing when requested by law.
Likewise, they are not considered vegan due to their unclear stand about animal-derived ingredients.