Quick Answer: Is Bioderma Cruelty-free and Vegan?
No, Bioderma is not cruelty-free; they test their products on animals. Their products are also sold in the People's Republic of China, where all cosmetics must be tested on animals according to the law. Bioderma is also not 100 percent vegan, as some of its ingredients are derived from animals or their by-products.
Bioderma is a privately owned Pharmaceutical company that specializes in skincare. The company was founded in 1977 by Jean-Noel Thorel. Bioderma is headquartered in Aix en Provence in France and has up to 1000 employees.
In 2001, the company opened a specialized bio metrology laboratory for the development and research of skincare in Lyon.
They have produced products like Atoderm, ABCDerm, Hyrabio, Matricium, Secure for skincare, and Node for hair care, among others.
Is Bioderma Cruelty-free?
No, Bioderma is not cruelty-free. Until recently, customers could not tell if a brand was cruelty-free or not. They could know if the brand released an official statement to declare their cruelty-free status.
Today, you can easily tell the cruelty-free status of a product just by considering some criteria and looking at their production process.
The following are some of the criteria you should look at:
The company does not engage in any form of animal testing
None of their ingredients include or contain any traces of animal products
They do not allow third-parties to test their products on their behalf
The company does not sell its products in China
They don't sell in countries where animal testing is required by law
After looking into Bioderma, we found out that they sell their products in China. This means that their products will be tested on animals before they are approved for selling in stores.
Are Bioderma products tested on Animals?
Bioderma does not test on animals during the making of their cosmetics products. Their products follow a strict formulation chart for efficient dermatological security.
However, when they sell their product to China, the Chinese authorities test their products on animals in order to ensure that they are safe for public use.
The following is Bioderma's response when asked about their animal testing policy: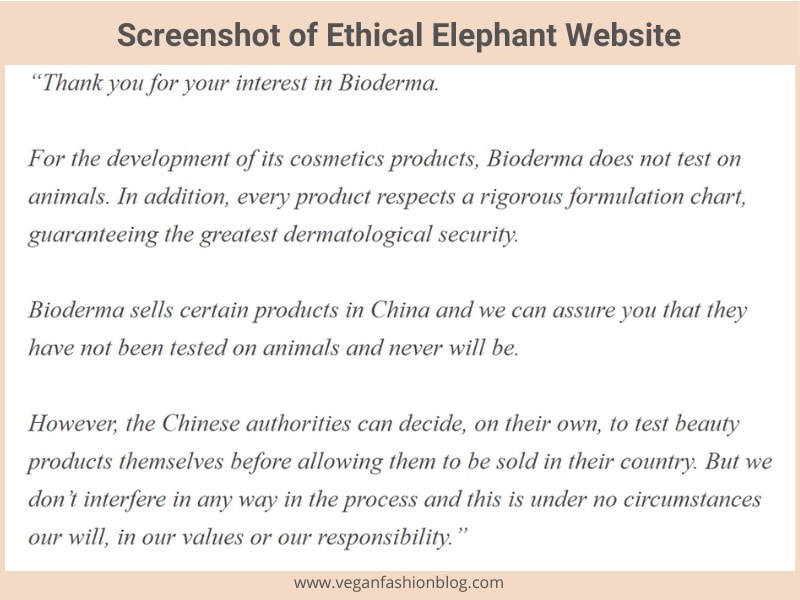 Are Bioderma products sold in China?
Yes, Bioderma Products are available in China. This means that their products go through animal tests before being approved and released into the market.
Many cruelty-free companies are against selling in China because of their animal testing laws.
Bioderma, however, markets its products in China, and as a result, animals are harmed and even killed even though there are alternative methods of ensuring product safety.
Does Bioderma have Cruelty-Free Certifications?
We highly doubt it. We looked them up on PETA's page to see if they are certified, but we didn't see them on the accredited list.
It is doubtful that they would be certified by PETA or any other animal rights organization since they market their products in China, where animal testing must be conducted.
Is Bioderma owned by another Company?
No, it is not. Bioderma Laboratories is an independent company. It is known for its medications suited for skin, hair, and scalp conditions. The company also specializes in cell regeneration and pediatry.
Are Bioderma products Vegan?
No Bioderma products are not entirely vegan. Some of their products contain animal-derived ingredients or their by-products.
A brand is only recognized as vegan when they do not use any animal-derived ingredients in their production process. This includes hair, beeswax, or honey.
You should also remember that vegan does not always mean cruelty-free. A product can be made without animal-derived ingredients, but the final product can be tested on animals.
Some companies fail to state all the ingredients they use during the production process. It may turn out that the product is not actually vegan.
It is important to research and look up the products you want to buy. Companies can, at times, claim they are vegan or cruelty-free when they are actually not.
Always look for certifications from well-known organizations such as PETA and Leaping Bunny.
Summary
Bioderma produces quality products with the right ingredients; however, when they sell their products overseas, especially to China, innocent animals are hurt at the expense of making sure that the product is safe for human use.
They pay the Chinese government to conduct these tests for them so their products can be sold in stores all over China.
Bioderma does not feel like letting go of all that profit even if it cost some animals their lives. We can only hope their animal testing policies change.