Quick Answer: Is Biolage Cruelty-Free and Vegan?
Biolage is not cruelty-free. This is because they adopt 100% of their parent company's animal testing policy. Their parent company tests on animals, and as such, their policies rub off on the brand. Biolage is also not a completely vegan brand. They have a decent amount of vegan options, but some of their products contain animal-origin ingredients.
Biolage was started in 1990 by Arnie Miller. The brand was born out of the need for an innovative solution that focused on all-natural formulas. Today, Biolage is known worldwide for its botanical formulas.
Aside from hair products like shampoo, relaxer, conditioner, and hair color, they also offer professional hair care services. Biolage also has some hair salons in the US.
Most of our readers complained that they couldn't shop for Biolage under the Matrix Cosmetics website. This is because they're now an independent brand and have a separate identity.
If you're curious to know if they're cruelty-free, you will have to keep reading below to find out.
Is Biolage Cruelty-Free?
For a brand to be considered cruelty-free, it must meet every requirement set by cruelty-free authorities, and the requirements are mentioned below:
No products should be tested on animals, even when required by law.
No products should be sold in China.
Recent updates from cruelty-free authorities also mention that these brands must not use suppliers who test their formulation on animals.
Does Biolage Test Its Products On Animals?
All Biolage products were formerly listed on Matrix Cosmetics' website. Matrix happens to be a subsidiary of L'Oreal, a company that claims not to test on animals but does sell in China.
The majority of brands owned by L'Oreal are not considered cruelty-free.
Biolage doesn't have a testing policy of its own. They simply adopted that from their parent company. Hence, it's highly likely that they test on animals when required by law.
Does Biolage Test Its Products On Animals Even When Required By Law?
While Biolage now has a separate identity, their production process is still very much combined with that of Matrix. Matrix claims not to test on animals anywhere in the world, but these claims have not been verified.
There have been rumors that Matrix sells in China and pays for animal testing. If that happens to be true, Biolage may be subjected to the same treatment. Without any confirmation, these claims remain mere speculation.
Does Biolage Distribute Its Products In China?
Biolage is still in the shadow of Matrix despite trying to build its own identity, and their market activity in China is not well documented. It's difficult to tell if they sell in the area or not due to a lack of information from the brand.
Biolage withholds a lot of vital information, which is not professional. While there are rumors that their products are sold in China, there is no substantial proof to back it up.
Is Biolage PETA-Accredited?
Not everyone knows that Biolage is now a separate entity on its own. Most authorities still assume that they're under Matrix, which isn't a friend of PETA.
Our search on PETA's database didn't return any search results for Biolage. The same goes for Leaping Bunny and Choose Cruelty-free.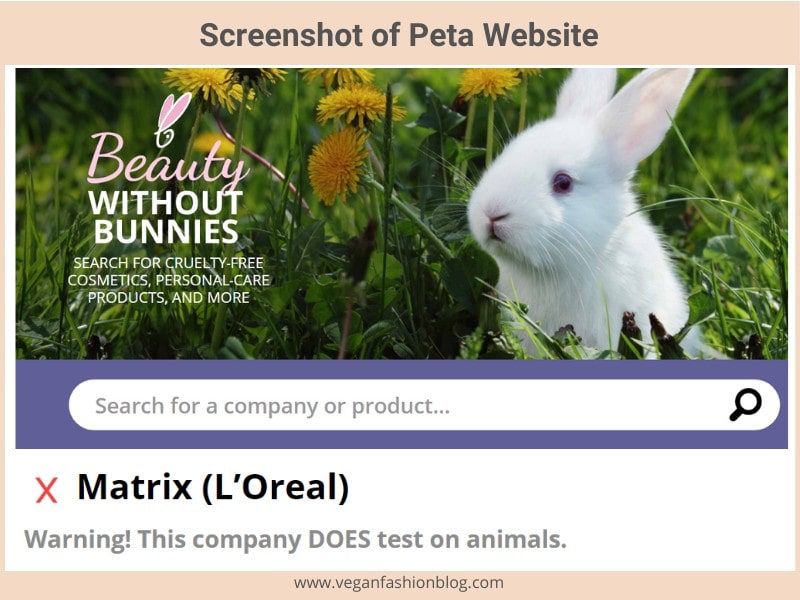 Without any certification, it's difficult to convince buyers if L'Oreal's testing policy is what they rely on.
Is Biolage Owned By a Parent Company?
Biolage products were previously distributed by Matrix. Matrix happens to be a subsidiary of French multinational corporation L'Oreal.
L'oreal is not a friend of PETA, either, despite claiming not to test on animals. Most brands under this company have not been certified cruelty-free by either PETA or Leaping Bunny.
Is Biolage Vegan-Friendly?
A brand that's considered vegan-friendly must not use animal byproducts in their formulation. For credibility, it's recommended to have a vegan seal, as well as certification from a vegan authority.
Unfortunately, Biolage does not have any of those. Aside from that, they don't have a vegan policy to start with. Even though they claim to use plant-based formulas, they don't promote themselves as vegan.
Do Biolage Products Contain Any Animal Parts Or Anything Derived From Animals?
Biolage does have some products that are free from animal derivatives. Their formulation eliminates harmful chemicals but still leaves room for animal byproducts.
They claim that their hair colors are organic, clean, and vegan. You will find their hair colors under the category – Biolage R.A.W. Some of the products under this category include: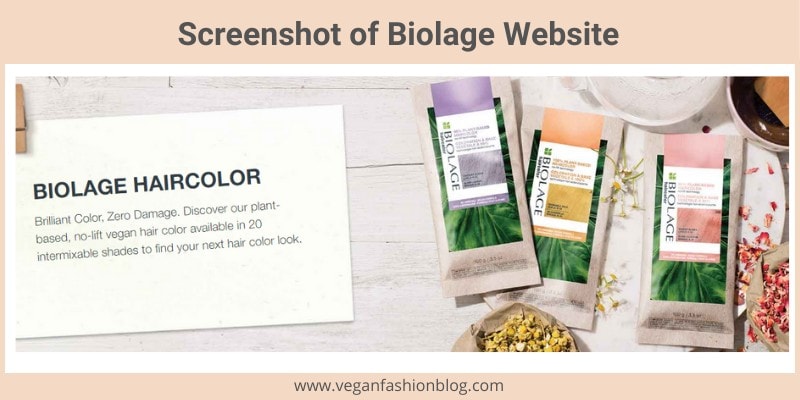 R.A.W color care (Biolage R.A.W)
R.A.W styling (Biolage R.A.W)
R.A.W recover shampoo (Biolage R.A.W)
You can shop the Biolage R.A.W collection on Biolage's official website
Summary
Taking a look at Biolage's production process, they depend heavily on Matrix. This is no surprise, considering that the Biolage product line was previously distributed by Matrix.
What this means is that the majority of their policies are adopted from L'Oreal.