Quick Answer: Is Biotherm Cruelty-Free and Vegan?
No, Biotherm isn't cruelty-free, and some of their products contain animal-derivatives, which means they're not vegan either. They don't have any animal testing policy, and they're not accredited by PETA or Leaping Bunny.
Biotherm is a subsidiary unit of popular skincare company L'oreal. Biotherm products evolve around Plankton, a thermal substance that promotes healthy skin.
The brand was launched in 1952 but was acquired by L'oreal in 1970. The change in ownership helped them expand their market beyond France into Asia and the US.
The brand specifically launched into Asia in 1990, but it's quite unclear when they ventured into the Chinese market.
Their product line ranges from face care products such as foundation, moisturizer, and serums to skin improvement products like anti-aging masks.
Is Biotherm Cruelty-Free?
Well, there's no sign that Biotherm is cruelty-free. Brands with no animal testing policy are indifferent to creating an animal-friendly environment, which is the case with Biotherm.
Also, they didn't meet any of the requirements that make a brand cruelty-free.
By this we mean, they sell in countries where animal testing is made compulsory for cosmetics products. This automatically means they test their products on animals when required by law.
This is contrary to the requirement set by PETA for a cruelty-free brand.
Are Biotherm products tested on Animals?
The essence of testing a product is to certify that they're safe for human consumption. In the US, this testing is done by human volunteers. However, in China, the products have to be tested on animals.
Now, the problem is, when people hear animal testing, they assume the products will be tested on rodents, but that's not the case. Some brands test their products on cats as well as dogs.
This makes their production process harmful to animals.
Now to the question, the answer is – yes, they test their products on animals when they sell in China.
Do they test Animals when required by the law?
Not every country requires compulsory animal tests for cosmetics products. Most countries in Europe don't support this law.
However, Asian countries such as China made these compulsory on all foreign brands selling in the country.
Are Biotherm products sold in China?
Yes, we can confirm that Biotherm sells its products in China. They join the illustrious list of top brands that sell in the country.
Their products are listed for sale on Sephora's Chinese site, and they also have a dedicated Chinese website where their customers make their purchase.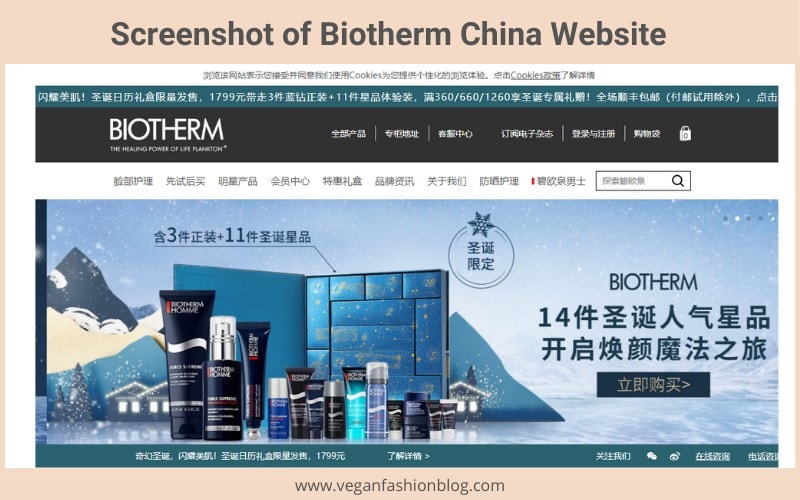 Apart from this top store, you will also find them in other small retail cosmetic stores in the country.
Does Biotherm have Cruelty free Certifications?
Biotherm doesn't have any cruelty-free certification, and this was expected since they failed to put up an animal testing policy on their site. We had to look up their cruelty status on PETA's site, and here was the result: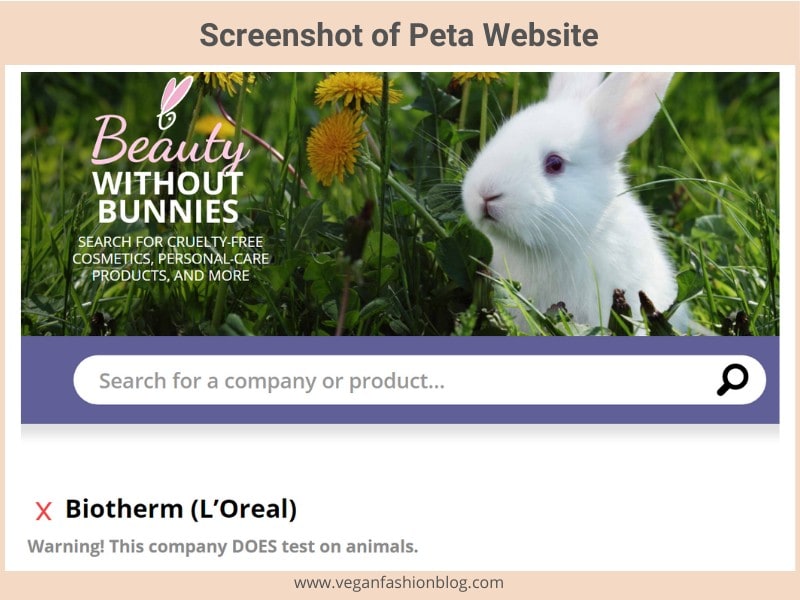 This all but confirms that their production process poses a lot of risk to animals. They earn a place in PETA's list of brands to avoid. PETA isn't their only problem; they're also not certified by Leaping Bunny.
Is Biotherm Owned by another company?
Biotherm is not an independent brand. The brand is owned by a popular personal care company – L'Oréal. L'oreal is a French company and has its headquarters in Paris.
The company has been in the industry for more than a century and remains one of the few old brands that stick to the standard set by European authorities for cosmetic brands.
L'oreal has been able to acquire some world-class brands in the past decades. The list includes Essie, Diesel, Garnier, Nyx cosmetics as well as Ambi.
The majority of their brands focus on skincare and provide a wide range of options for people to choose from.
Is Biotherm Products Vegan?
Biotherm is not a vegan company, and they don't have a cruelty-free policy as well. There's little information about their ingredients, and they fail to clarify if their products are completely organic or not.
We're aware that the majority of their products originate from thermal planktons, which were thought to improve healthy skin.
We don't find their products safe for vegans and individuals who want to maintain a 100% vegan lifestyle.
If you're a diehard fan of this company but can't support a brand that practices cruelty towards animals, you can reach out to their representative.
If you run out of patience, just remember that there are other cruelty-free brands to check out.
Summary
Biotherm products are versatile and effective, as well. They create products for all kinds of skin types, and their chain of distribution is worldwide.
Their affiliation with China is their major Achilles heel and can only be rectified once they end their association with the Chinese market.