Is blendSMART Cruelty-Free and Vegan?
BlendSMART is a cosmetic brand that makes makeup brushes that are cruelty-free and 100% vegan. The products from this brand are free from any animal derivatives, and the ingredients used are sourced from third-party sellers that do not carry out animal testing, either.
BlendSMART is a brand of the Worth Beauty Company. The company aims to combine technology and design to make products that users will find very easy to handle and that are more effective than conventional tools on the market.
The company's flagship product is blendSMART, which is a rotating brush for makeup application. The company is currently headquartered in Houston, Texas.
The company does not have a huge product portfolio. However, each interchangeable brush is cruelty-free and vegan.
Many of our readers have asked if blendSMART is cruelty-free and vegan. We have analyzed the brand and its products in detail to give you the correct and most up-to-date answer. Is blendSMART cruelty-free and vegan? Keep reading to find out the details.
Is blendSMART Cruelty-Free?
BlendSMART claims to follow a cruelty-free production process. According to the company, none of the ingredients or materials used in their products are from animals. Also, they do not test any of the products on animals.
To answer the question of whether or not blendSMART is cruelty-free, we carried out extensive research to learn the origins of these products before adding them to our list of products that are cruelty-free. How do we determine if a company is cruelty-free?
There are some factors that are considered. The company must meet all the requirements listed below.
The brand doesn't test on animals. This means that none of their products should be tested on any animals, and they must not pay third-party companies to test for them.
They must not sell their products in countries that require animal testing by law. The company also must not patronize suppliers that carry out any form of animal testing.
The product must not be sold in China and should be unavailable in Chinese retail stores like Sephora.
We carried out a detailed analysis of the company and sought to learn whether the company satisfied all of these requirements. We can confirm that blendSMART does not test its products on animals or use animal parts in creating their products.
Are blendSMART Products Tested On Animals?
BlendSMART does not test their products on animals. All the brush heads from the brand are made of synthetic fiber materials, are antimicrobial, and are cruelty-free.
Furthermore, the company ensures that the ingredients come from suppliers that are also cruelty-free.
This is an image from the page that confirms that their brushes are synthetic and cruelty-free.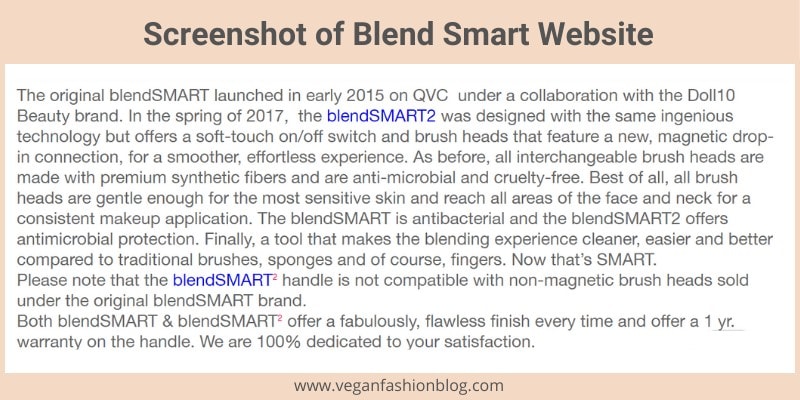 Do They Test Animals When Required By Law?
BlendSMART does not use any third-party company to test its products. This is why you will not find their products in countries with strict testing policies. China is one such country.
Here, you are required to test your cosmetic products on animals before they can be approved for sale. Therefore, blendSMART doesn't allow animal testing even when it is required by the law.
Are blendSMART Products Sold In China?
BlendSMART products are not sold in China or Chinese retail stores. This is because the Chinese government mandates a strict testing policy that sees all cosmetic products sold in the country to be tested on animals.
BlendSMART is opposed to this. At the time of this report, the company only ships and sells products in the USA and is looking to expand into cruelty-free markets around Europe.
Does blendSMART Have Cruelty-Free Certifications?
No, there are no certifications that reveal whether this is a cruelty-free brand or not. This is likely because of the nature of the product.
It is a rotating brush that mimics the motion of makeup artists. From our research, it doesn't have any PETA or Leaping Bunny certifications.
Is Worthy Beauty Cruelty-Free?
BlendSMART is registered under Worth Beauty. Worth Beauty is a relatively new brand, and it also indicates that its products are cruelty-free and are devoid of any animal parts.
The company aims to combine technology with innovative design to create beauty products.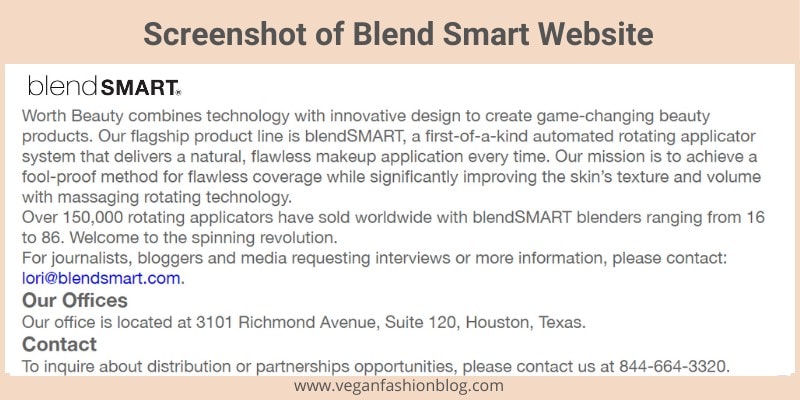 Are blendSMART Products Vegan?
BlendSMART's brushes are made from synthetic fibers. If the brushes are made of natural fibers, then the products are not vegan and cruelty-free, since the hairs have to be harvested from animals.
The brushes from this brand are made from synthetic materials that only imitate animal hairs.
Some of the vegan products from the brand are:
blendSMART (V1) Metallic Gold 6-Piece Set
blendSMART (V1) Everyday Beauty Kit 3-Brush Set
blendSMART Beauty Maven 3-Brush Set
blendSMART Double Foundation Brushes
blendSMART Full Coverage Pro Blending Brush
blendSMART Black Kabuki Short Brush
blendSMART Blush Brush
blendSMART Foundation Brush
blendSMART Skincare
blendSMART Black Definer Brush
Summary
BlendSMART is a trusted and reliable cruelty-free company that offers unique makeup brushes. The materials used for the brushes are all synthetic and aren't sourced from animals.