Quick Answer: Is Bliss Cruelty-Free and Vegan?
Yes! Bliss is cruelty-free and vegan. The company has confirmed that they do not test any of their products on animals, nor do they pay or allow third-party companies to test on their behalf. Bliss is also certified with PETA and does not sell in mainland China where animal testing is mandatory by the law. Not all of their products are vegan as some have animal-derived ingredients like honey and lanolin. They, however, have some vegan options.
Bliss is a famous cosmetic brand offering skincare, body care, and other personal care products. The company launched in 1996 as a multichannel spa in downtown New York and has since been its headquarters.
Marcia Kilgore, the founder, set up this line of personal care products because she suffered from acne during her pre-teen years. She decided to take a course in professional skincare, and that's how it started.
The company now operates its line of body care products through the Bliss Catalog, its website, Bliss Spa Stores, and through other international retailers like Target, Ulta, and Kohls.
A lot of our readers have been asking whether Bliss is cruelty-free. We have studied the brand and all of its products.
Is Bliss Cruelty-free? Keep reading to find out the details.
Is Bliss Cruelty-Free?
To gain a cruelty-free status, it has to satisfy the following criteria that we will discuss one-by-one.
They should not test on animals – Cruelty-free companies do not subject to animal testing of any form on any of their products or ingredients.
They should not test on animals even when required by the law – In countries where animal testing is mandatory by the law, a cruelty-free company should not subject to animal testing by using its suppliers or third-party companies.
Their products should not be sold in mainland China – China is the one country that still requires animal testing on all cosmetic products shipping into the country. The company should not trade in mainland China if they are cruelty-free.
If a company meets all three criteria, then it's regarded as cruelty-free.
Are Bliss Products Tested on animals?
No! The Bliss Spa has confirmed that they do not test any of their finished products or ingredients they use in production on animals. Below is a screenshot of their official animal testing policy.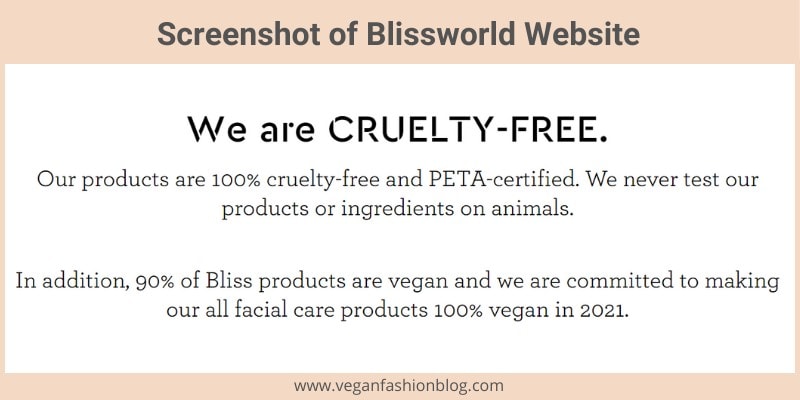 This is the first step towards being a cruelty-free company.
Do They Test When Required by the Law? Or Using a Third Party?
While some companies might not test their products on animals, they can pay to have them tested on animals by third-party companies to gain access to certain markets.
Bliss has confirmed that they don't allow animal testing on their products by any third-party affiliate or external suppliers. They also do not sell in stores in countries where the law requires animal testing.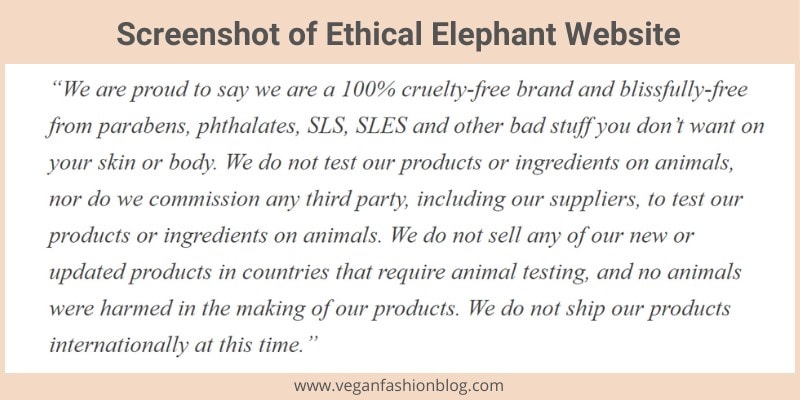 Are Bliss products sold in China?
China requires that all cosmetic products shipping into the country be tested on animals before selling for human use. Bliss, however, does not sell in China.
They pulled out from the Chinese market and ended all animal testing previously conducted on its products. Bliss meets all our criteria for cruelty-free companies, so they have been included in our list of cruelty-free companies.
Does Bliss Have Cruelty-free Accreditations and Certifications?
There are certain legal certifications that a company needs to meet to be officially declared cruelty free.
PETA and Leaping Bunny are among the most renowned accreditation entities for the regulation of animal cruelty. Bliss is accredited with PETA.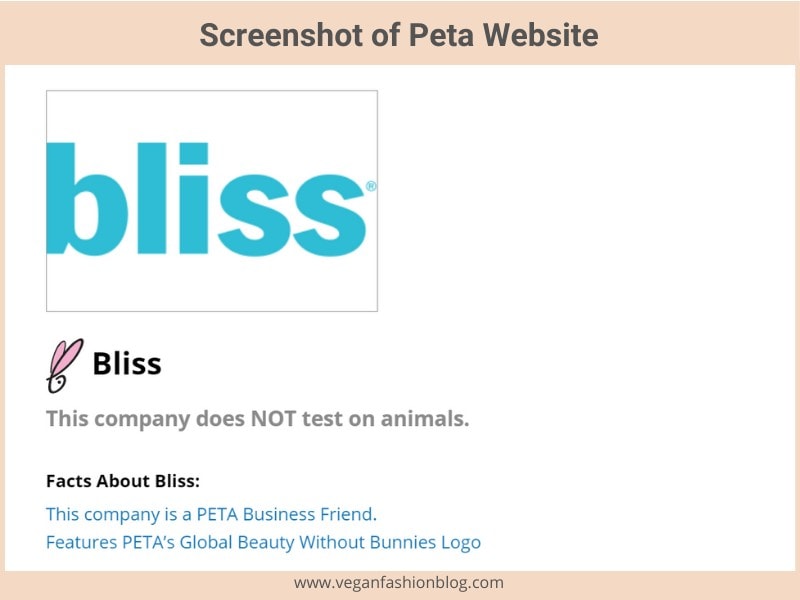 Is Bliss Owned by a Parent Company?
Since its launch, Bliss has been privately owned. It's not owned by a parent company that tests on animals.
Is Bliss Vegan?
For a company to be 100% vegan, none of their products should contain traces of animal-derived ingredients or by-products, including animal hair. We will analyze the products based on this definition.
While all Bliss products are not all vegan, they do have some vegan products in categories like vegan cleansers, makeup removers, vegan masks, moisturizers, and vegan haircare. Some examples are:
Makeup Melt Oil-Free Eye Makeup Remover (Vegan Cleansers & Makeup Removers)
Micro Magic Microdermabrasion Scrub (Vegan Masks & Treatments)
Ex-glow-sion Brightening Moisturizer (Vegan Moisturizers – Bliss)
Fabgirl Firm Skin Tightening Body Cream (Vegan Body Care – Bliss)
Lemon & Sage Conditioning Rinse (Vegan Hair Care – Bliss)
Lemon & Sage Supershine Shampoo (Vegan Hair Care – Bliss)
Feel free to check their vegan offerings from the Bliss company website www.blissworld.com or www.blissworld.com/shop
Summary
Bliss is your trusted brand if you don't want to feel guilty when using your favorite eyeliner or hair care product.
Currently, the brand has not gone entirely vegan but still has some vegan options you could use if so interested. All in all, we can say Bliss Spa is 100% cruelty-free.