Quick Answer: Is Blistex Cruelty-Free and Vegan?
No. Blistex is not a cruelty-free cosmetic company as it pays and allows animal testing on their products where the law requires it. The company has also been found to stock its products in mainland China where the government requires animal testing on all imported cosmetic products.
Blistex is an American based cosmetic company that produces and markets personal grooming products. The company was founded in 1947 as a small family-run business in the lip-care products manufacturing industry.
The company has its headquarters in Oak Brook, Illinois.
Through consistent innovation and striving to manufacture, test, and market their own products, Blistex has improved and moved into the worldwide lip care cosmetic market.
Currently, they also make moisturizing lotions, foot care products, and skincare products.
Many of our readers are asking whether Blistex is a cruelty-free company. We have analyzed the brand and have come with a solution to these questions. Is Blistex cruelty-free and vegan? Keep reading to find out the details.
Is Blistex Cruelty-free?
Currently, three leading recognized accreditation organizations need to certify a company to be cruelty-free. They include PETA, Leaping Bunny, and Free the Bunny.
A company has to satisfy the following criteria for a company to be cruelty-free, which we will discuss one-by-one.
No testing on animals – None of the products from a cruelty-free company should be tested on animals before, during, or after production.
No testing even when required by the law – It's mandatory that cosmetic products be tested on animals before entry into the market in some countries. Even in such cases, a cruelty-free company should not submit their products to animal testing.
The products should not be sold in China – China is widely known for its mandatory animal testing laws. They also do not allow cruelty-free companies to ship cosmetics into their market.
Are Blistex Products Tested on Animals?
While Blistex may not conducts animal testing on their products, they have been found to pay and allow animal testing on their products where the law requires it.
Research on its website for animal testing policies has proven futile, which is never a good sign. Until there is credible information regarding animal testing, we cannot testify that the company is cruelty-free.
Do They Test on Animals Where the law requires it? Or Using a Third-Party?
Yes. Blistex does conform to animal testing on their cosmetic products when required by the law.
Below is a screenshot of an email response from the company regarding animal testing given to Ethical Elephant where required by the law or when third parties are involved: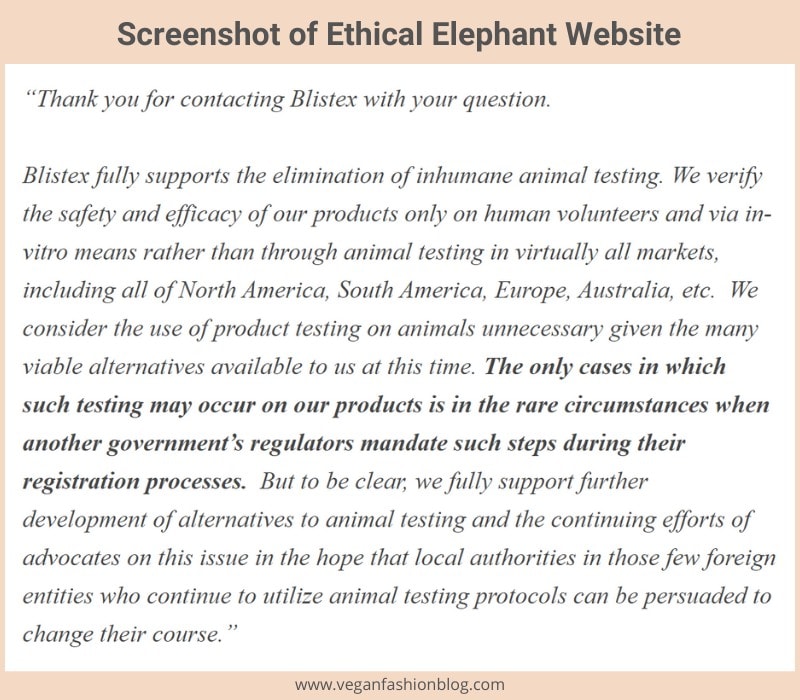 Blistex says that they only test on human volunteers and using other non-animal testing means. However, the policy also states that there may be testing on animals when another government mandates it.
Therefore, we can't classify Blistex as being cruelty-free in 2020.
Are Blistex Products Sold in China?
There is evidence that Blistex sells its products in China. This is seen from their Chinese website, where they state that they are honored to have an opportunity to serve the Chinese consumer market with their latest products.
Here is a screenshot from their Chinese website.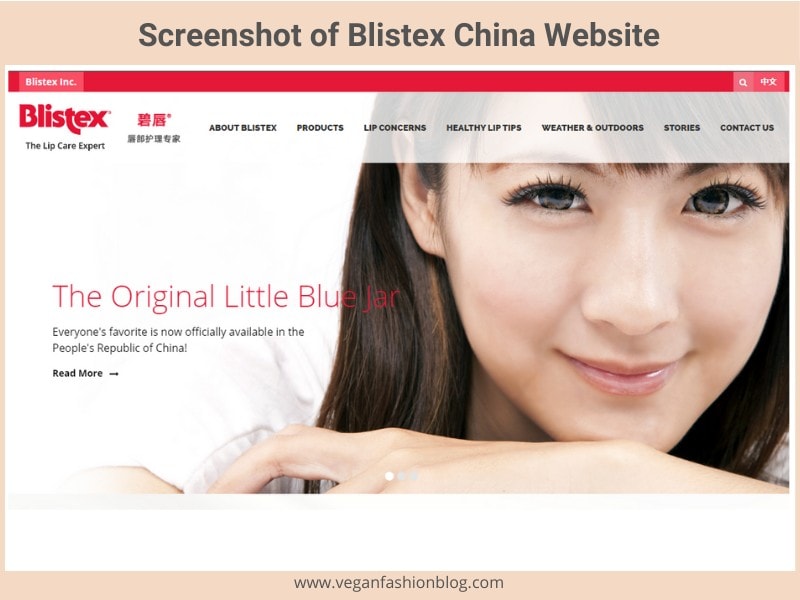 Because Blistex decided to sell in mainland China, they must submit to have their products undergo animal testing. For this reason, any company selling its products in mainland China cannot be regarded as cruelty-free.
Don't get us wrong, the company may not be individually conducting animal tests, but they knowingly allow Chinese authorities to conduct animal tests.
Most, if not all, genuinely cruelty-free companies choose not to tap into the Chinese market due to the country's animal testing laws.
Does Blistex Have Cruelty Free Accreditations and Certifications?
To be regarded cruelty-free, a company must be accredited by PETA, Leaping Bunny, or Free the Bunny accreditation organizations.
They require that any company appearing on their cruelty-free list have met the criteria mentioned above.
Blistex does not appear on any of the above cruelty-free certification organizations' lists.
Is Blistex owned by Another Company?
No. Blistex is owned by The Charles Arch family since its founding.
Is Blistex Vegan?
Vegan means that none of the products from that particular company contains animal-derived products. There is a wide range of products from Blistex, but the most popular is their medicated lip balm.
However, the lip balm is not undoubtedly vegan, as it contains ingredients like beeswax and lanolin.
Plus, since we cannot classify Blistex as being cruelty-free in any way, none of the company's products can be trusted to be entirely vegan.
Moreover, the company does not have any vegan certifications, which confirms its non-vegan status.
Summary
We have enough evidence that this lip care product manufacturer is not cruelty-free or vegan. It doesn't mean that you should quit buying from the company if you love their products.
There are, however, other alternatives for you if you want cruelty-free and 100% vegan options to Blistex, including Hurraw! Lip balms, Ellovi, Pacifica Lip Balms, and more.