Quick Answer: Is Boscia Cruelty-Free and Vegan?
Presently, it cannot be confirmed that Boscia is cruelty-free and vegan. This is because the brand claims to be cruelty-free through its most recent update on its site, but there are no certifications from cruelty-free bodies such as PETA that support this claim. Leaping Bunny, however, lists the brand as an animal-free brand.
Boscia as a brand began in 2002 in the heart of the United States of America, from a Japanese owned company, known as Fancl Group. The headquarters of this brand is located in Irvine, California, USA.
It is the first company to have launched preservative-free skincare products for sensitive skin and has a wide range of products that are predominantly plant based.
The name Boscia is a combination of the two words "botanical" and "Science", indicating strongly that most of their products are plants based.
A lot of our readers have wondered if Boscia products are cruelty-free and vegan, so we decided to research and find out. Let's see what we discovered.
Is Boscia Cruelty-Free?
There are certain criteria used in judging the cruelty-free state of any product, and these are what we shall be using to ascertain the cruelty-free status of Boscia.
A product can only be said to be cruelty-free if it complies entirely with the following criteria:
It must not be tested on animals
Product should not be tested on animals even when required by law
The product must not be sold in China
We analyze Boscia on these three guiding rules to ascertain if it is actually a cruelty-free brand or not.
Are Boscia Products Tested On Animals?
As a brand of its own, Boscia does not test its products on animals, as stated on their currently updated website.
However, this does not indicate if their entire process is cruelty-free. It does not tell us if its raw products are tested on animals.
In the past, their products have been sold in countries like China that demand animal testing, and a statement before their current update stated that animal testing could be allowed if necessitated by law.

Do They Test Animals When Required By The Law?
In the past, Boscia had tested on animals when requested by law, as seen from research. Presently, the Boscia site clearly states that they do not test on animals, but it remains unclear if they test when the law requires it.
It is therefore highly probable that the brand may still test when the law requires it to.
Are Boscia Products Sold In China?
Up until late 2019, Boscia products were sold in China. However, in early 2020, the company chose to remove all its products from the Chinese market.
This could mean that they are pursuing a cruelty-free status, but this cannot be confirmed until cruelty-free bodies such as PETA give them the nod by certifying them.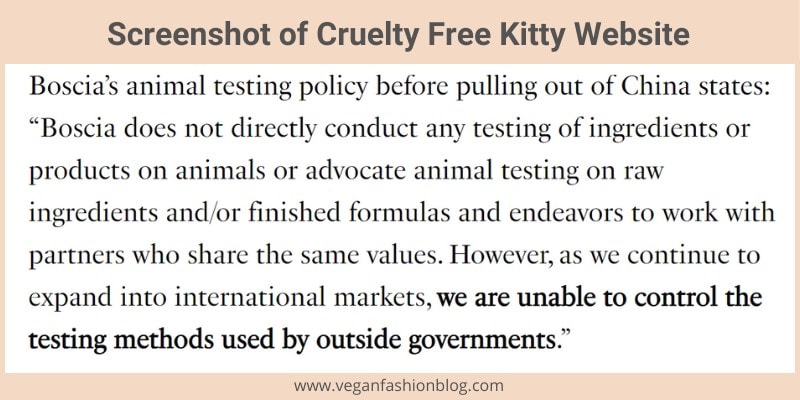 Does Boscia Have Cruelty Free Certifications?
Currently, Boscia has no cruelty free certifications as PETA clearly indicates on their site that Boscia is not cruelty-free. The brand is, however, listed on Leaping Bunny as an animal-free brand.
This is a very high indication that Boscia may be going for a cruelty-free position in the near future, especially as it has completely removed its products from China.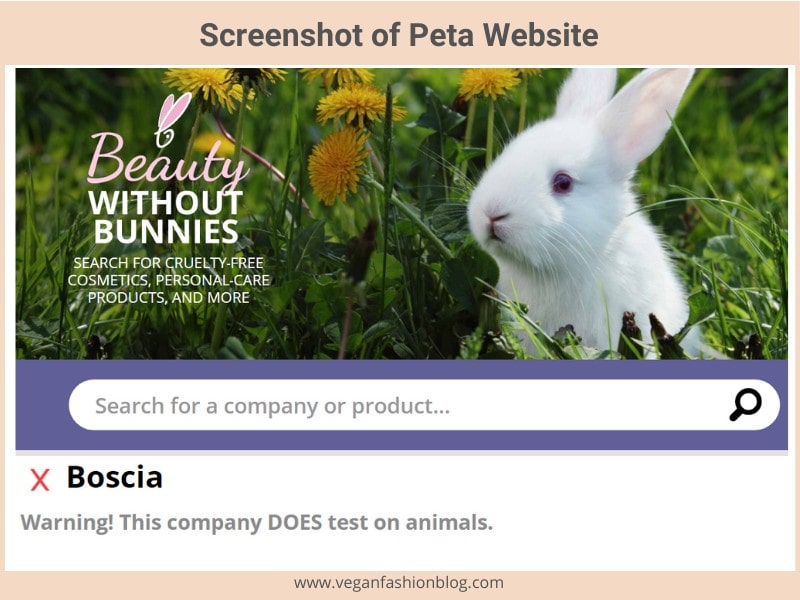 Is Boscia Owned By Another Company?
Boscia is parented by the FANCL group, a Japanese owned company that prides itself in producing skincare that requires no preservatives that is especially good for sensitive skin.
The FANCL group began some 32 years ago while Boscia was born from it in 2002.
FANCL clearly states that they do not test on animals and also try to work with clients who hold the same values.
However, when they are compelled by law, they do allow animal testing, especially as they are sold in the international markets.

Is Boscia Works Vegan?
For any product to be vegan, it must not contain any form of animal derivatives. Based on research, it is quite clear that Boscia is not 100% vegan, though they have a wide range of completely vegan products.
Some of the products from Boscia that are vegan include the following.
Skin Care
Vegan Collagen Serum Booster
Vitamin C With Caviar Lime Booster Serum
Vitamin B12 Hydration Booster Serum
Cactus water Moisturizer
Detoxifying Black Charcoal Cleanser
Indigo Eye Cream
Vegan Collagen Micro Crystal Eye Mask
Purifying Cleansing Gel
Cactus Water Peel Off Mask
Sake Treatment water
Summary
Boscia prides itself on being the foremost formulators of preservative-free skincare products for the most sensitive of skin.
They do so by combining botanical sciences and Japanese technology to ensure that your skin is well pampered and brought to the best glow.
The brand has a wide range of affordable and effective products, even for the most sensitive skin. It also may be on the way to becoming a cruelty-free brand.