Is Bulldog Skincare Cruelty-Free and Vegan?
Yes, Bulldog Skincare is a 100% cruelty-free and vegan skincare products manufacturing company. Certified by Leaping Bunny, Bulldog produces in the United Kingdom and distributes to many countries around the world. In October 2019, Bulldog Skincare became the first company to maintain its standard as a cruelty-free brand and sell in China.
Bulldog Skincare was founded in 2006 by Bulldog Skincare Holdings Limited. It's a brand that produces men's skincare products, including moisturizers, wash, and shave gels.
The brand produces its products in the UK, where it has two companies. It was recently acquired by Edgewell Personal Care, a company that doesn't do animal testing.
A lot of our readers have asked if Bulldog Skincare is cruelty-free and vegan. We have analyzed the British brand as well as its skincare products in detail. Continue reading to know the status of the company.
Is Bulldog Skincare Cruelty-Free?
Animal testing is a cruel method of testing a product's potency by subjecting animals to risks of pain, distress, and, worse, death.
Not only that, animal testing has been proven to be ineffective as animals don't get most of the diseases that humans are not immune to. These include HIV, cancer, schizophrenia, and Parkinson's.
For the reasons stated above, pharmaceutical and cosmetics products need to be cruelty-free. This is the reason we've come up with a list of criteria for a brand to be considered cruelty free.
To be considered cruelty free, the checklist states that a brand must not.
Conduct any of its finished products on any animal
Sell in any country where brands are required to test on animals by law
Pay a third party to test on their behalf
A quick visit to the FAQ page on the Bulldog Skincare website shows that the brand produces cruelty-free products.

Although Bulldog Skincare sells its products in China, all its products are not only made with respect to animal welfare (no animal test, no animal derivatives) but also gluten-free and certified by Leaping Bunny.

Are Bulldog Skincare products tested on animals?
Bulldog Skincare products are not tested on animals; neither does the company do so when the law in the operating country requires this in the post-production stage.
All its cosmetics are vegan and carry the logo of Leaping Bunny, the only internationally recognized organization which certifies cruelty free brands and its products. However, they do sell their products in China.
Do they test Animals when required by the law?
As earlier mentioned, one of the criteria that qualifies a brand to be a cruelty-free company is that it doesn't test or hand over its products to authorities for testing when this is required by law to operate.
Also, it must not use a third party for this.
China is one of the countries which requires foreign companies to do animal testing before their products can be available on the market commercially.
In this regard, even though Bulldog Skincare sells its products in China, it doesn't do or agree to the above legislation (testing when required by law).
This came about as a result of a rare agreement, which we will explain in the next section.
Are Bulldog Skincare products sold in China?
Yes, Bulldog Skincare products are sold in China. Bulldog Skincare, although it produces from the UK, also packs and distributes its products to the United States, Australia, Canada, Czech Republic, Denmark, Finland, France, among others, and including China.
You are probably wondering why they are made in China and cruelty-free appearing in the same line.
Well, in 2019, Bulldog Skincare became the first brand of its kind to reach an agreement to sell its products in Shanghai, China, while still keeping its cruelty-free status.
This agreement, which involved the Shanghai Fengpu Industrial Park, Oriental Beauty Valley, Cruelty-Free International (CFI), and Knudsen&CRC, meant that the brand could produce in the UK, fill and pack in Shanghai, and sell to its municipalities.
After all, China is a big market, and Bulldog Skincare is a unique men skincare brand.
Does Bulldog Skincare have Cruelty-Free Certifications?
Bulldog Skincare moisturizers and gels are certified by Leaping Bunny. That is, they carry the logo of the certification organization, which serves as a seal of approval.
Also, the certification of Bulldog by Leaping Bunny is why they are listed on the latter's website, as we found out below:
Is Bulldog Skincare Owned by another Company?
Sometimes, it occurs that while a brand may advertise that it is cruelty-free, its parent company may not be, which often brings the status of the brand to question.
In 2016, Edgewell Personal Care Company, a brand listed on the NYSE as EPC, announced that it had acquired Bulldog Skincare Holdings Limited.
Edgewell produces various consumer products. However, it doesn't accede to animal testing as it is a brand with high ethical values.
Is Bulldog Skincare Products Vegan?
Yes, all Bulldog Skincare products are 100% vegan and gluten-free, according to the website of the brand and Leaping Bunny.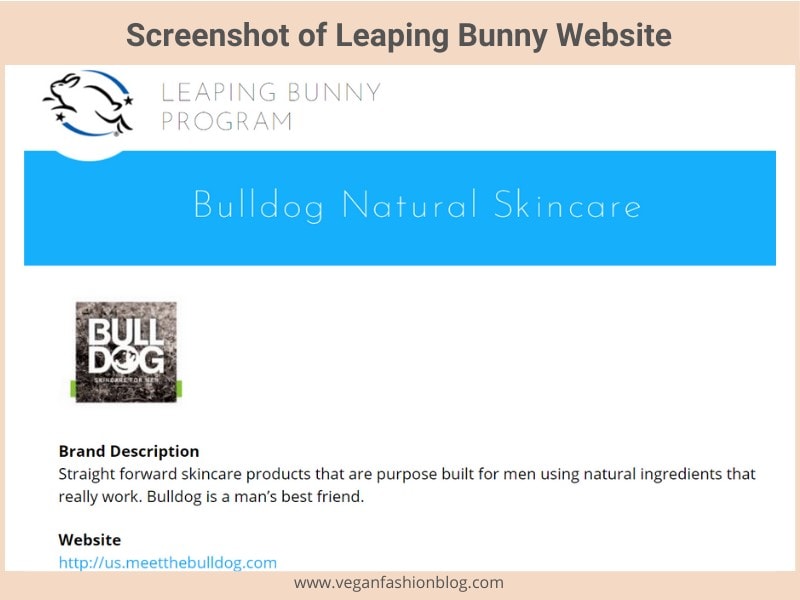 The brands' products are not derived from animal derivatives, parabens, artificial colors, sodium laureth sulfate, or synthetic fragrances. Its products are natural and made from plants.
Some of its bestselling vegan products include:
Age Defense Eye Roll-On
Oil Control Full Face Kit
Age Defense Moisturizer
Sensitive Starter Kit
Vetiver and Black Pepper Body Wash
Summary
Bulldog Skincare is considered a man and animals' best friend.
The brand and its parent company, Edgewell, are long-standing companies that are holding out in markets where there is continued pressure of going against unethical practices, all for the welfare of animals.
Bulldog Skincare products are completely vegan, gluten-free, cruelty-free, and certified by Leaping Bunny.
The brand made a seemingly unachievable feat by becoming the first foreign company to sell in China without resorting to animal testing. Hopefully, many other cosmetics companies will follow in their footsteps.