Quick Answer: Is Bumble and Bumble Cruelty-Free and Vegan?
Yes; Bumble and bumble is cruelty-free. The brand does not test on animals and is not for sale in China, where animal testing is required by law. It is not 100% vegan, but some of its products are vegan.
Bumble and bumble is internationally known for its revolutionary hair products. English-born founder Michael Gordon left school at fifteen to work in a London hair salon in the mid-'60s.
He named his New York salon Bumble in protest against the stuffy name-branded salons of the time. The Bumble and bumble hair care product company was launched in 1996. It is now owned by Estée Lauder.
Our readers have been asking if the brand is cruelty-free and vegan. Is Bumble and bumble cruelty-free and vegan? Keep reading to find out the details.
Is Bumble and Bumble Cruelty-free?
How do we define cruelty-free? Well, for the Bumble and bumble brand to be regarded as cruelty-free, it needs to satisfy these criteria, which we will analyze one by one:
None of the products should be tested on animals. This means no animals should be used in product development by the company itself or its suppliers. Test animals live a life of misery and are cruelly confined throughout their days. Animal testing is unnecessary and not even very effective in predicting human reaction.
They should not test on animals even when required by law. Sometimes brands will not generally perform tests on animals unless it is required by law. We find that equally unacceptable. And a company cannot bypass this just by paying a third party to test on its behalf.
The products should not be sold in China. Even though China appears to be changing its requirements regarding compulsory animal testing for cosmetics, any product can still be pulled off the shelves and tested post-market.
Are Bumble and Bumble products tested on Animals?
Bumble and bumble do not test their products on animals or ask anyone else to do it for them.

Do They Test Animals When Required by Law? Or Use a Third Party?
No, Bumble and bumble don't allow animal testing of their products if required by law.
Are Bumble and Bumble products sold in China?
No, Bumble and bumble products are not for sale in China. China makes tests on animals for all imported cosmetics compulsory by law.
The only exception to this regulation is online purchases – where imported goods are delivered directly to the consumer. Therefore, any brand currently selling through retail outlets in China is not cruelty-free.
Does Bumble and Bumble have Cruelty-free Accreditations or Certifications?
Yes, Bumble and bumble has been awarded PETA's Beauty without Bunnies logo.

Is Bumble and Bumble's Parent company Cruelty-free?
The company Bumble and bumble was formed in 1996. In 2000, Estée Lauder bought a significant stake in it, eventually buying Gordon out entirely.
Estée Lauder is not cruelty-free and sells its products in Mainland China. The company has however, pledged to help ban animal testing by 2023. Their current animal-testing policy is to test only when required to by law.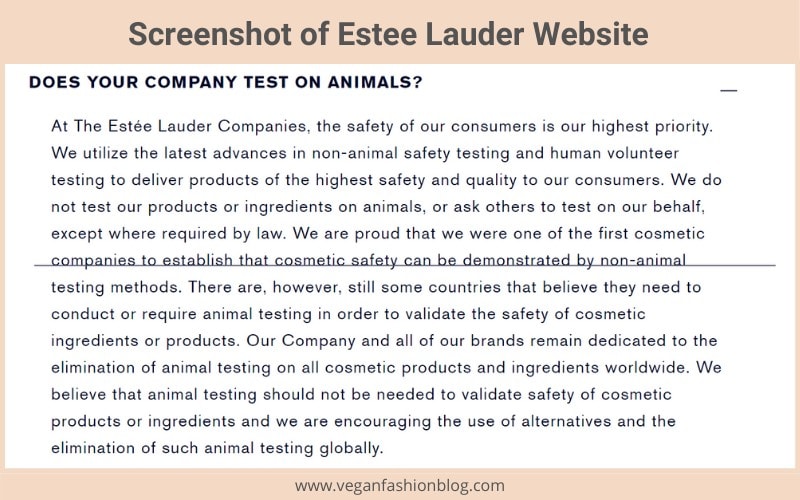 What is Bumble and Bumble's Animal Testing Policy?
Bumble and bumble's animal testing policy is available on its website, but there is a conflict between the U.S. (.com) site and the U.K. (.co.uk) site.
The U.S. site says only that it doesn't test on animals, whereas the U.K. site qualifies this by saying it tests only if required by law. The latter policy is the Estée Lauder Group policy, which sells in China.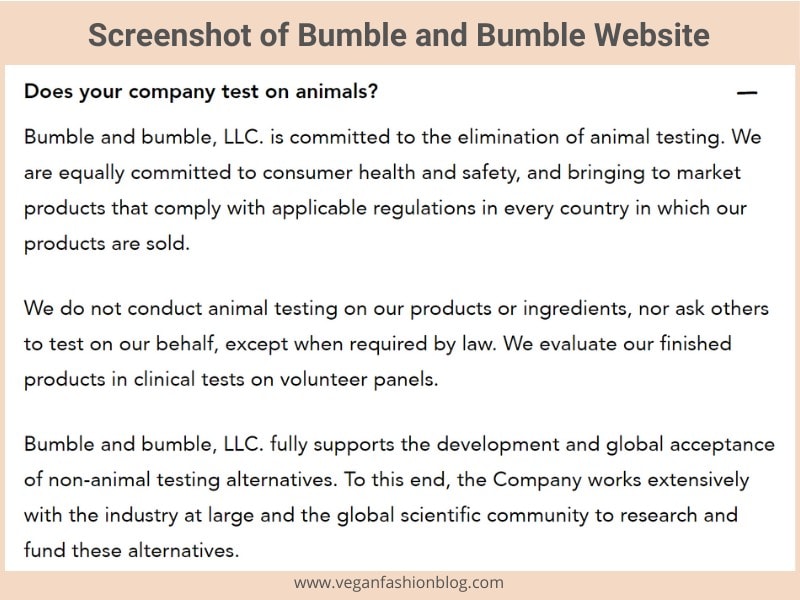 Is Bumble and Bumble Vegan?
To qualify as vegan, Bumble and bumble products must not contain any animal parts or anything derived from animals. We have assessed the brand's products based on this definition.
Bumble and bumble is not a vegan brand as its products may contain animal derivatives. It does not have any vegan certifications. However, it has a large number of products that don't contain any animal products:
Blondish Hair Powder
Brownish Hair Powder
Hairdresser's Invisible Oil
Hairdresser's Invisible Oil Shampoo
Hairdresser's Invisible Oil Conditioner
Hairdresser's Invisible Oil Dry Oil Finishing Spray
Super Rich Conditioner
Gentle Shampoo
Prêt-à-Powder
Pret-a-Powder Tres Invisible Nourishing Dry Shampoo with Hibiscus Extract
Don't Blow It Fine Hair Air Dry Styler
Don't Blow It Thick Hair Styler
Creme de Coco Shampoo
Creme de Coco Conditioner
Surf Spray
Surf Foam Wash Shampoo
Surf Creme Rinse Conditioner
Surf Styling Leave-In
Surf Foam Spray Blow Dry
Surf Infusion
Seaweed Shampoo
Seaweed Conditioner
Color Minded Shampoo
Color Minded Conditioner
Thickening Volume Shampoo
Thickening Full Form Soft Mousse
Thickening Go Big Volumizing Treatment
Thickening Great Body Blow Dry Crème
Tonic Lotion Primer
Prep Primer
Sumogel
Sumoclay
Styling Creme
Grooming Creme
While You Sleep Overnight Damage Repair Masque
Save The Day Daytime Protective Repair Fluid
Curl (Care) Shampoo
Curl (Style) Conditioning Mousse
Color Stick
All-Style Blow Dry
Quenching Shampoo
Summary
As a brand, Bumble and bumble don't test on animals or sell their products in China. They are owned by a group that does, however.
Consumers who wish to boycott products in any way affiliated with animal testing might want to keep that in mind.
The brand has used alternatives to animal derivatives in several of its products – it's just a pity they are not clearly labeled and listed.