Is Buxom Cruelty-Free and Vegan?
Buxom is 100% cruelty-free, but they are not vegan. They do not carry out any form of animal testing, but their products feature some animal-origin ingredients. Buxom is certified as cruelty-free by PETA.
Buxom is a beauty brand that was founded in 2007. The brand is owned by a Japanese multinational cosmetics company – Shiseido. Buxom products are manufactured in the US and distributed to other parts of the world.
They have a large product portfolio that consists of mascara, lipstick, blush, bronzer, and highlighter. Buxom products are not 100% vegan-friendly, though. This is because they contain animal derivatives like beeswax.
Buxom products are known for helping with plump lips. They're listed for sale on their official website and other cosmetics stores such as Ulta.
Is Buxom Cruelty-Free?
The confusion with a brand such as Buxom is that, most of the time, their parent company engages in animal testing.
For this reason, it's difficult to believe their subsidiaries do not engage in such practices, as well. In the case of Buxom, the activities of their parent company, Shiseido, don't rub off on them.
While Shiseido sells in China, Buxom does not. Buxom doesn't test its products on animals in any country at any stage of its production process. They also ensure their ingredients are sourced from cruelty-free suppliers.
Are Buxom Products Tested On Animals?
Buxom does not carry out animal testing in any form. It's stated in their testing policy that they don't test their products on animals at any stage of their production process, from product development to delivery.
They also ensure the manufacturers and suppliers they source their ingredients from are cruelty-free.
Do They Test Animals When Required By Law?
Buxom is not subjected to any strict testing law. This is because they don't sell in countries where animal testing is required by law, nor do they pay a third party to carry out these tests on their behalf.
All Buxom products are manufactured in the US. Fortunately, testing bodies in the country don't deem animal testing compulsory for cosmetics brands.
Are Buxom Products Sold In China?
Buxom products are not sold in China due to the mandatory testing laws in the country. All Buxom products are manufactured in the US and distributed to other parts of the world.
China is excluded from its chain of distribution.
Does Buxom Have Cruelty-Free Certifications?
Buxom met our requirement for a cruelty-free brand, but it's difficult to convince customers if you don't have any certification to back up your claims. Fortunately, Buxom is recognized by PETA.
However, they're absent from Leaping Bunny's list of cruelty-free brands. This could be a result of their affiliation with Shiseido, a company that's not cruelty-free.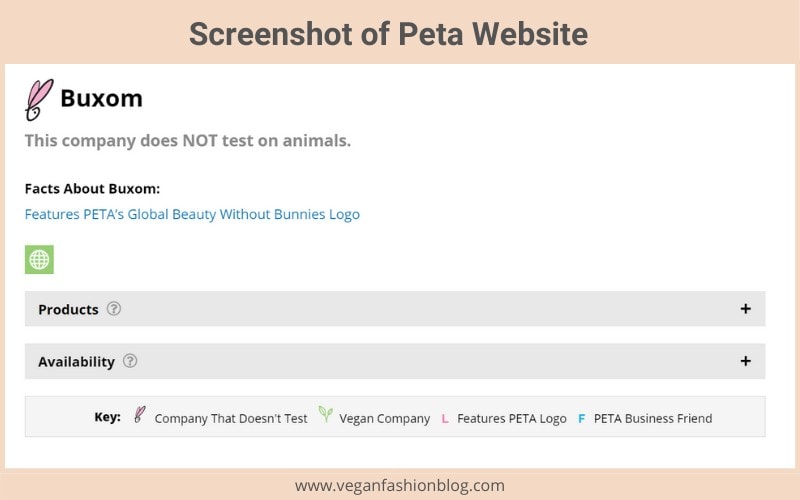 Is Buxom Owned By Another Company?
Buxom is not an independent brand. The brand is a subsidiary of Shiseido, which is one of the largest multinational beauty companies in Japan.
Shiseido has acquired a lot of beauty brands from all corners of the world. The list includes NARS Cosmetics, Revive, and Laura Mercier.
Shiseido is clear about distributing its products to wherever its customers live, including China.
We can confirm that Shiseido is not a cruelty-free company. A number of their products are listed for sale in China, and we found a couple of them on Sephora's Chinese site.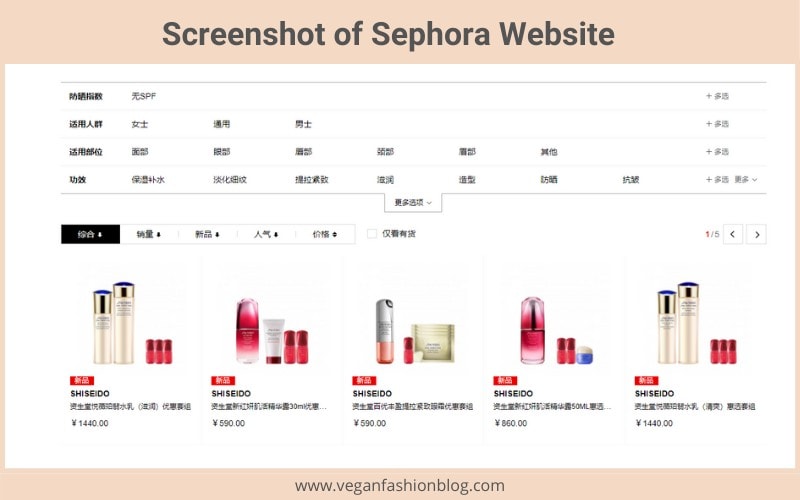 Are Buxom Products Vegan?
We've seen a couple of publications claiming Buxom is vegan, but being cruelty-free doesn't automatically make a brand vegan. They don't mean the same thing.
In the case of Buxom, they don't engage in any form of animal testing, but the brand uses animal derivatives in their product formulation.
To confirm this, we looked through their website and hovered to their FAQ session, where they gave more details about their vegan policy.
Ironically, the brand confirmed that they use animal-origin ingredients, such as carmine, lanolin, and beeswax.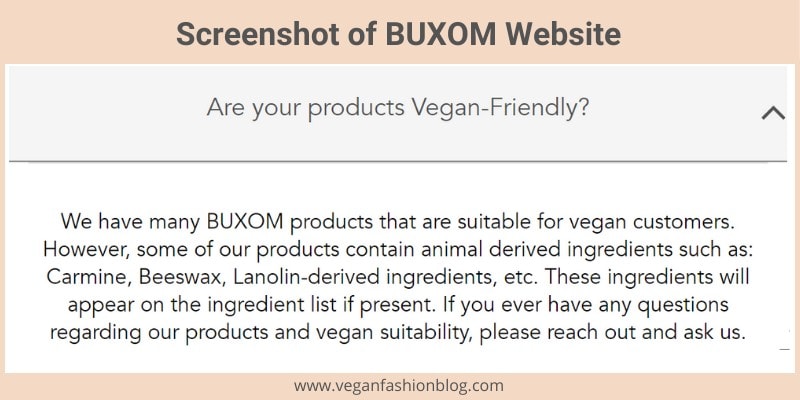 If that isn't enough to convince you that the brand is non-vegan, how about the fact that some of their makeup brushes are made from goat and pony hair?

We love the fact that the brand isn't holding any details back. Also, you should know that their products aren't 100% organic.
Their formulation is a blend of organic and synthetic substances. One thing we can promise you, however, is that their products are free from paraben and gluten.
For now, the only Buxom product that's 100% vegan is their lash waterproof mascara. This product doesn't contain any traces of animal derivatives.
Summary
Not every brand is as transparent as Buxom in their dealings. We love the fact that they're honest with customers and are not trying to deceive them into buying their products through false advertising.
Buxom is one of the pioneers of lip plump products, and if reviews are anything to go by, it truly works.