Quick Answer: Is Bvlgari Cruelty-Free and Vegan?
No, Bvlgari isn't cruelty-free or Vegan. The term cruelty-free is unregulated. Some brands claim to be cruelty-free since they don't use any animal-derived ingredient in their production, but this is just a case of false advertising. It's impossible to classify a brand that sells in China to be "cruelty-free" since animal testing is made compulsory by law in the country.
Bvlgari is a luxury international brand founded by Sotirios Voulgaris in 1884 and has its headquarters in Rome, Italy. The Italian brand specializes in luxury products such as watches, bags, fragrances, and jewelry.
As of 2010, the brand boost over 3,815 employees spread across several departments.
Bvlgari handles the majority of the production process, but the brand often has to partner with other entities if needed. However, Bvlgari was acquired by LVMH in 2011.
Is Bvlgari Cruelty-Free?
Bvlgari claims to follow all European regulations set for cosmetic products. We looked through the company's site, and there was no sign of "cruelty-free" regulations, which is a big red flag.
Hence, we had to come up with a checklist that qualifies a cruelty-free brand.
Among which includes:
The company don't engage in any form of animal testing
They don't allow third-parties to test their products on their behalf
They don't sell cosmetics in China mainland
They don't sell in countries where animal testing is required by law.
Unfortunately, Bvlgari sells in China and carries out animal testing or pays third-party companies to do so on their behalf.
Lately, China is trying to review this law, which will allow brands to sell their products without animal testing, but the process still awaits approval.
Are Bvlgari products tested on animals?
The biggest clue that a brand carries out animal testing is if they sell their products in countries where animal testing is required by law. This is the case with selling in China.
Bvlgari products are sold in mainland China, which is the biggest clue that they carry out testing.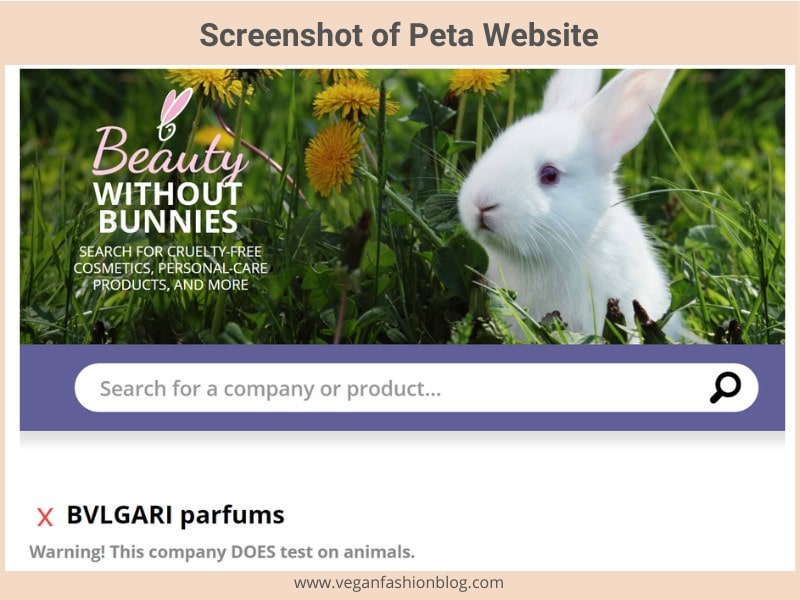 In the US, certain products have to go through animal testing to get approval from the FDA. This isn't necessary for cosmetic or fashion products. In some countries, the rules are different.
To sell in such countries where it's stated that animal testing should be carried out, there are little brands can do to bypass this exercise.
Are Bvlgari products sold in China?
Yes, Bvlgari products are sold in China. Their perfumes are seen as luxury items and sold in high-end stores in the country. The brand has a high demand in China, and they capture a large percentage of the fragrance market.
Does Bvlgari have Cruelty free Certifications?
For a brand to be listed as cruelty-free by PETA, they must have undergone an animal test–free by PETA's Beauty Without Bunnies program.
Companies approved by PETA pledge not to use animal-derived products in their ingredients at any time in the future.
We searched through PETA's website and got a statement that clearly shows that "Bvlgari does animal testing". For this reason, it's difficult to see any way they can get PETA's approval.
Is Bvlgari Owned by another company?
Yes, Bvlgari is owned by another company and is no longer an independent brand. The company was acquired in 2011 by the luxurious French group LVMH.
LVMH is the same company that acquired Moet, Louis Vuitton, Hennessey, and Hublot. The acquisition of Bvlgari cost billions and aims to spread its reach, which is why they sell in China.
Is Bvlgari Products Vegan?
No, Bvlgari products are not 100% vegan. Some of their products contain animal-derived ingredients, especially in the case of their perfumes and leather goods. This is more reason why they're not cruelty-free in any way.
This isn't the right fit for individuals who want to enjoy products from brands who don't hurt animals in any way. Luckily, there are many cruelty-free brands out there, and we hope the list grows soon.
Summary
The biggest brands have been found wanting in their cruelty status. Brands like Maybelline, Gucci, and L'oreal are unwilling to let go of their Chinese partnership, which is where most of their customer base is concentrated.
Bypassing the Chinese market will have a huge blow to their profits.
Bvlgari is in the same category as the likes of Gucci, and its acquisition by LVMH has every indication that the brand won't be willing to let go of profits in favor of principles.