Quick Answer: Is By Terry Cruelty-Free and Vegan?
No, By Terry isn't cruelty-free or Vegan. In 2014, they used to be one of the few cosmetics brands with zero-tolerance for animal testing. However, they've since joined the list of cosmetic brands that market their products in China, especially Hong Kong. For this reason, they can't be considered a cruelty-free brand since they've extended its market to the Republic of China who happens to have strict laws regarding animal testing.
By Terry is a luxury international brand founded by Terry de Gunzburg in 2000. The company has its headquarters in Paris, France, and has an extensive product portfolio that cuts across 20 markets.
By Terry products are featured in stores such as Barneys, Sephora, and Space NK.
By Terry is still relatively a new kid in the block when compared with other brands such as Maybelline and Nyx in the cosmetics world.
But where they stand out is their ability to craft long-lasting products even with an underwhelming number of employees.
The company's products are distributed across several channels, including China and the USA, where the competition among beauty brands is fierce.
Is By Terry Cruelty-Free?
We looked through the company's website to see if there's any cruelty-free certification, but we couldn't find any.
This is always a red flag, so we had no choice but to come up with a checklist that certifies a cruelty-free product, and here's what they include:
The company don't engage in any form of animal testing
Their ingredients do not contain any traces of animal products
They don't allow third-parties to test their products on their behalf
They don't sell cosmetics in China mainland
They don't sell in countries where animal testing is required by law.
For this reason, we can't name By Terry among the list of cruelty-free brands. Their products are on sale in the Chinese market, and the company has reiterated their desire to satisfy their Chinese customers.
As of 2020, China still requires animal testing for products sold in the country, and there's no clue that anyone can bypass it.
Are By Terry products tested on Animals?
There is little information about their certification on their website. We had a hard time trying to figure out if the brand is certified by PETA. Given their history with China, we doubt if that's possible.
However, we found a cruelty policy on their website, and here's what it says: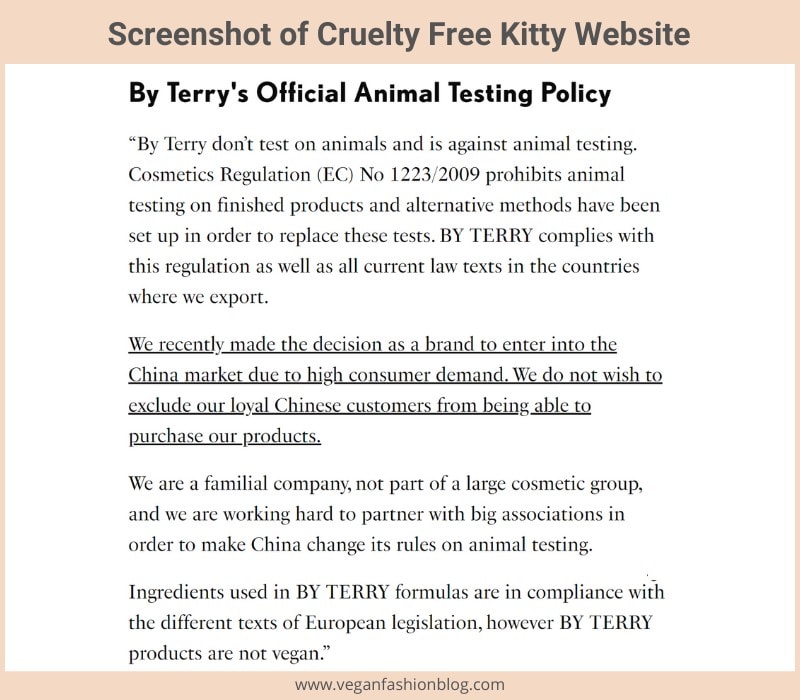 However, it's hard to believe, given the requirement that needs to be met, to be called "cruelty-free". Also, we didn't find any sort of "cruelty-free" certification on the site either.
Do they test animals when required by the Law?
The FDA does not require that animal testing should be carried out on cosmetic or fashion products that are sold in the country. In countries Like China, it's a necessity and can't be bypassed.
The hope is that this law will be revised sooner than later, so we can have more cruelty-free brands on PETA's good books.
Are By Terry products sold in China?
By Terry products are sold in China. In its cruelty-free policy, the company stated that they decided to enter the Chinese market due to huge demands and don't intend to exclude their Chinese buyers from purchasing their products.
This further puts their "cruelty-free" claim in doubt since most brands who sell in China must carry out animal testing before their products are allowed for sale in the market.
Does By Terry have cruelty free Certifications?
The biggest clue that a brand is cruelty-free is if they're certified by PETA. PETA certification means that the brand doesn't conduct any form of animal testing or use animal products in their ingredients.
Getting a seal from PETA also means you plan to abide by this rule in the future.
We didn't find any form of PETA certification on the By Terry site or those of other agencies similar to PETA.
Is By Terry Owned by another Company?
No, By Terry isn't owned by another company. The brand is owned by Terry de Gunzburg, a cosmetics expert with 30+ years of experience. Their products are manufactured in China and boast of 51-200 employees.
Is By Terry Products Vegan?
Most non-cruelty-free brands claim to be vegan. However, this is just a case of false advertisement. It's difficult to find a product that defaults in terms of cruelty to be vegan compliant.
By Terry, products are not vegan, and the brand is clear about it.
Summary
By Terry was founded on the principle of creating cosmetics products that produce long-lasting results. They claim to meet all the European regulations for commercial brands.
Its non-cruelty status might not be taken lightly by vegans, but we have to understand that all businesses are built to meet the demands of customers, especially where the largest percentage of your market is based.