Quick Answer: Is Byredo Cruelty-Free and Vegan?
Byredo is not a cruelty-free brand. The brand sells in areas where animal testing is required by law. They've also failed to take part in both PETA and Leaping Bunny's certification programs. Byredo also uses animal byproducts in some of their formulations, and as such, they are not 100% vegan.
Byredo was founded by Ben Gorham, a Swedish gentleman whose dream of making his perfume line came to light after meeting perfumer Pierre Wulff.
Graham launched Byredo in 2006, and most of the fragrances were inspired by the scent of incense and the aroma of spices.
It's no surprise that Byredo doesn't have the exotic smell of modern perfume. Instead, they're calming and contain natural raw materials.
Byredo's headquarters are in Stockholm, Sweden, and it sells in 40 countries worldwide. Its catalog has increased over the past few years, and it expanded into leather goods in 2017.
Aside from perfumes, scented candles, and incense, Byredo also sells bags, makeup, and body care items.
Is Byredo Cruelty-Free?
By our standard, Byredo isn't cruelty-free. The brand engages in several activities that indicate that they test on animals. After doing intense research, we can confirm that Byredo sells in China.
That translates to two things – they sell when required by law, and they carry out post-market testing as mandated by Chinese authorities.
A brand that wants to be cruelty-free will take its goods out of the Chinese market or not sell there in the first place. For the reasons mentioned above, we can't call Byredo cruelty-free.
Are Byredo Products Tested On Animals?
Byredo products are tested on animals when they sell in China. The deal with the Chinese government is that every foreign product imported into the country must undergo post-market testing.
Agreeing to this law means relinquishing the freedom for them to test their products on animals at a later date.
Byredo doesn't have an animal testing policy and hasn't discussed its testing method even when they sell in Europe. This is always a red flag and one that eats into their credibility.
Do They Test On Animals When Required By Law?
Yes, they test on animals when required by law. This is necessary when they sell in China. Byredo products do not undergo animal testing when they sell across European countries.
This is because European bodies banished animal testing for cosmetics products in 2013. Hence, most brands that distribute solely in Europe use human volunteers.
Are Byredo Products Sold In China?
Byredo products are very much on sale in several stores in mainland China. The brand doesn't even hide this fact. On their website, they mentioned the locations in China where their products are listed.
This includes Shanghai, Beijing, and Hong Kong, all of which are in mainland China, where the testing policy is in full effect. They're also listed on some retail online stores in the country.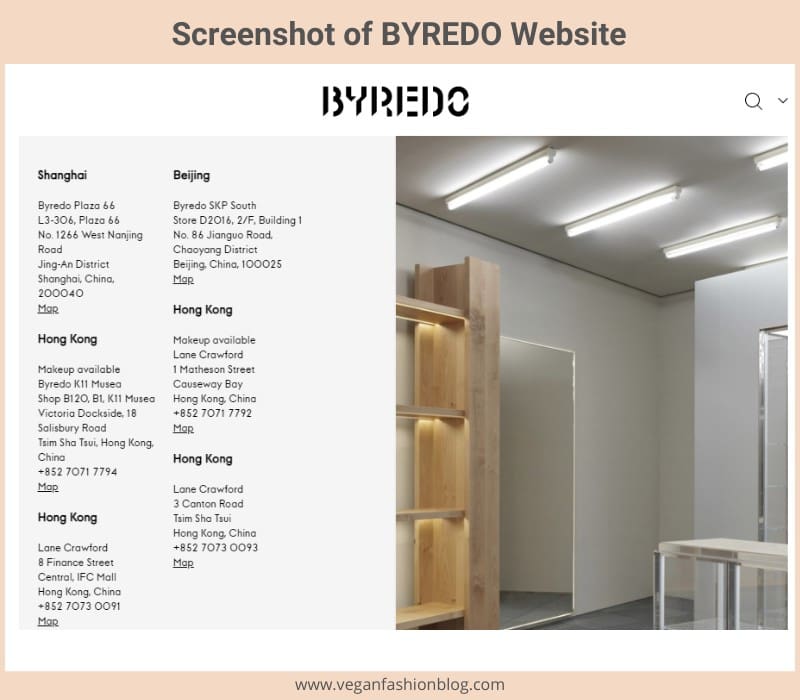 Does Byredo Have Cruelty-Free Certifications?
Byredo doesn't have any cruelty-free certifications. Byredo hasn't taken part in PETA and Leaping Bunny's cruelty-free programs.
Both programs ask brands to pledge not to indulge in any form of animal testing in their production in the future.
PETA's pledge is a one-time thing. Leaping Bunny ensures the pledge is renewed yearly due to the deceptive attitude of most brands after obtaining their certification.
Is Byredo Owned By Another Company?
Byredo is still an independent brand. It's still very much owned by Ben Gorham and has seen fast growth over the last couple of years.
It's inevitable that a bigger company will come calling soon. For now, the brand hasn't witnessed a change in ownership.
Are Byredo Products Vegan?
Cruelty-free and vegan are related but mean two different things. A brand can be cruelty-free but not vegan. When this happens, it means they don't carry out animal testing but do use animal derivatives, and vice versa.
In the case of Byredo, they're neither cruelty-free nor 100% vegan. This is due to how they treat animals during production.
Byredo doesn't promote their products as vegan, either. They don't display any vegan seal, and for that reason, we have no reason to believe that they don't use animal derivatives.
They do claim to use a vegan formula for their lipstick and mascara.
However, there are a lot of questions that need to be answered before we can add them to our list of vegan brands. For now, their vegan status is uncertain.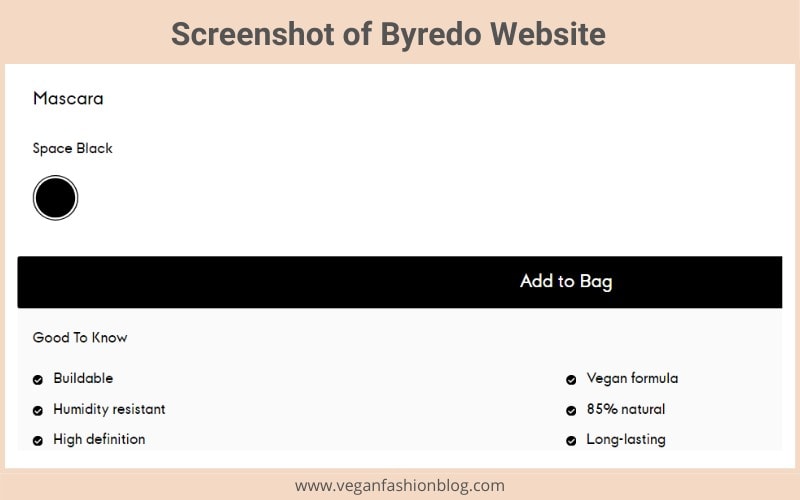 Summary
Byredo claims that they use organic materials, but they failed to put up a testing policy, which is unprofessional. We don't think they're transparent.
Hence, we urge vegans to be careful of such brands. Always crosscheck their ingredient list before buying a product from them.