Quick Answer: Is C.A.K.E Cruelty-Free and Vegan?
C.A.K.E Cosmetics is cruelty-free by some standards, but it is not 100% vegan. Their products contain animal derivatives, and they don't have a vegan or animal testing policy on their site. They don't sell in China, but they do lack certifications.
C.A.K.E Cosmetics is a mid-range skincare brand that was founded in 2013. The brand specializes in the production of makeup products, such as mascara, eye shadow, foundation, and powder.
Their main areas of distribution are Europe, the US, and Canada. Their products are free from harmful ingredients, like paraben, sulfate, and gluten.
Is C.A.K.E Cruelty-Free?
C.A.K.E Cosmetics isn't a popular name in the industry. Perhaps, this could be because they have a brand name that is similar to Cake Beauty. Unfortunately, this brand doesn't have the same exposure as Cake Beauty.
For instance, they're not present in PETA's database, let alone recognized as a cruelty-free brand. For this reason, we had to come up with a checklist to see how they compare with other cruelty-free brands in our database.
C.A.K.E doesn't have quite the market reach that a huge brand should have. Hence, they don't sell in China. Secondly, they don't carry out animal testing, as the region where they sell doesn't require such. At this point, it's safe to say they're cruelty-free.
Are C.A.K.E Products Tested On Animals?
For now, we see no reason why C.A.K.E Cosmetics would test on animals. They sell in Europe, and animal testing isn't a necessity for brands that sell here.
Our guess is that they use human volunteers to test their products, just as other cruelty-free brands do.
This is just a mere assumption, though, as the brand has failed to provide its customers with substantial information about their cruelty status.
They don't have any animal testing policy on their site, and a vast majority of their customers have to look at review sites to know their status.
Do They Test On Animals When Required By Law?
The majority of brands that sell in China have to comply with the strict testing law enacted by the Chinese government.
This law says that every foreign brand that sells in the country must submit its products for post-market testing.
In Europe, this law doesn't apply. European authorities deem this as unnecessary for cosmetic products. Since C.A.K.E products are primarily distributed in Europe, they're not at risk of any forceful testing.
Are C.A.K.E Products Sold In China?
China has a lot of demands for cosmetics products, and the numbers keep growing daily. Nevertheless, C.A.K.E Cosmetics doesn't distribute their goods to the country, and we doubt if they distribute to any part of Asia at all.
We looked through numerous Chinese sites, and these products were not available there. This also includes popular retail stores like Alibaba and Aliexpress. This means they're not sold in physical stores in the country.
Does C.A.K.E Have Cruelty-Free Certifications?
C.A.K.E has been in the cosmetic world for over 7 years, but they are not certified by any cruelty-free authority. They're missing from PETA's database, and they haven't taken Leaping Bunny's cruelty-free program, either.
They do not feature any cruelty-free logo on their site, and this could be a red flag for new consumers. Not having a cruelty policy also increases the uncertainty surrounding them.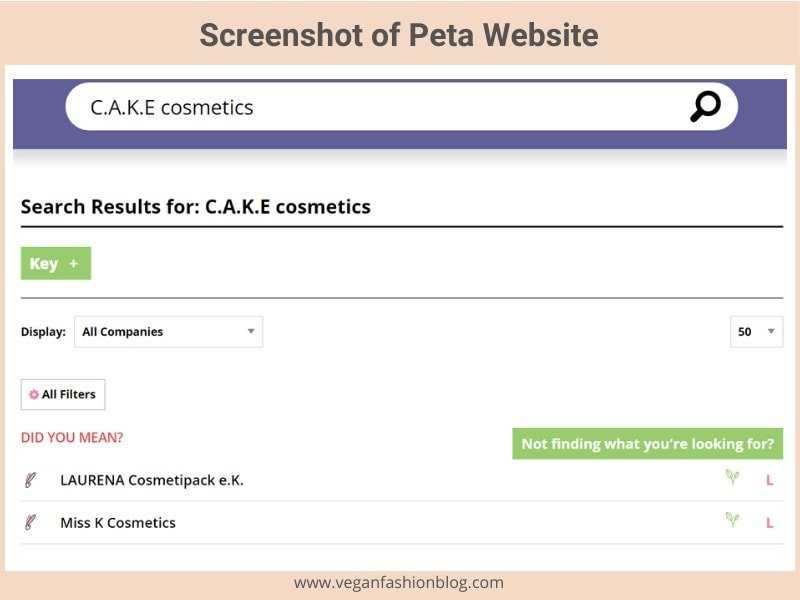 Is C.A.K.E Owned By Another Company?
C.A.K.E is not a subsidiary of any company. They're an independent brand. The identity of the founder is anonymous, as are other details we would have loved to know.
What remains true is that their ownership hasn't changed since the date it was founded.
Are C.A.K.E Products Vegan?
A brand can be cruelty-free but non-vegan. This is because these terms don't mean the same thing. Cruelty-free has to do with animal testing, while vegan refers to the substances used during production.
A vegan brand shouldn't use any sort of animal derivatives in its production process. This includes honey, beeswax, lanolin, or carmine.
Some of these derivatives can cause some sort of allergic reaction that puts the skin at risk. As for now, we can't certify that C.A.K.E Cosmetics products are vegan.
This is because we're wary of brands who withhold vital information as they do. Secondly, the brand hasn't claimed that any of their products are vegan.
While C.A.K.E might not meet the standard for a vegan brand, there are other alternatives to explore. However, if you're a fan of the brand and would love to know more about their testing policy, you can enquire via email.
Summary
C.A.K.E Cosmetics is not transparent in their dealings, which is the reason why we do not recommend them, despite meeting all the requirements for a cruelty-free brand.
We were left unimpressed with the lack of information on their site.
Failing to clarify issues such as this, consumers are left to draw up their own conclusion. Nevertheless, they still have an impressive product catalog, and they're cost-savvy, as well.