Quick Answer: Is Cake Beauty Cruelty-Free and Vegan?
Cake Beauty is both cruelty-free and vegan. There are no animal derivatives present in their products, and they swear not to test their products on animals. They're also certified by renowned cruelty-free authorities such as PETA.
Cake Beauty is a cosmetic brand that started in Heather Reier's kitchen in 2003. 17 years later, the brand has grown into a global entity that distributes its products to several countries.
The brand has been acquired by Marc Anthony Cosmetics and has expanded its catalog to provide both skin and hair care solutions.
Is Cake Beauty Cruelty-Free?
Funnily enough, Cake Beauty was founded out of the need for a brand whose product line is completely free from animal derivatives.
The founder thought of a way to match the quality of top cosmetics brands without bringing any animal-origin ingredients into the production process.
It is hard to believe the claims of most brands these days, but Cake Beauty is a welcome exception. Their products are not tested on animals, and they don't finance third-party testing.
All products are manufactured in their factory and distributed across the globe. There are certain places their products are not distributed to, one of them being China.
You have probably already guessed the reason why. China's strict animal testing rule would have destroyed the company's reputation.
Are Cake Beauty Products Tested On Animals?
Cake Beauty products are not tested on animals, and they do not consent to any activity that will endanger the safety of animals. The brand has been on PETA's good books for a while and features a vegan logo.

To show how committed they are to sticking with practices that do not pose any risks to animals, they put up a statement on their website.
This statement implies that animal testing is not done at any stage of its production process. This includes both pre-market and post-market.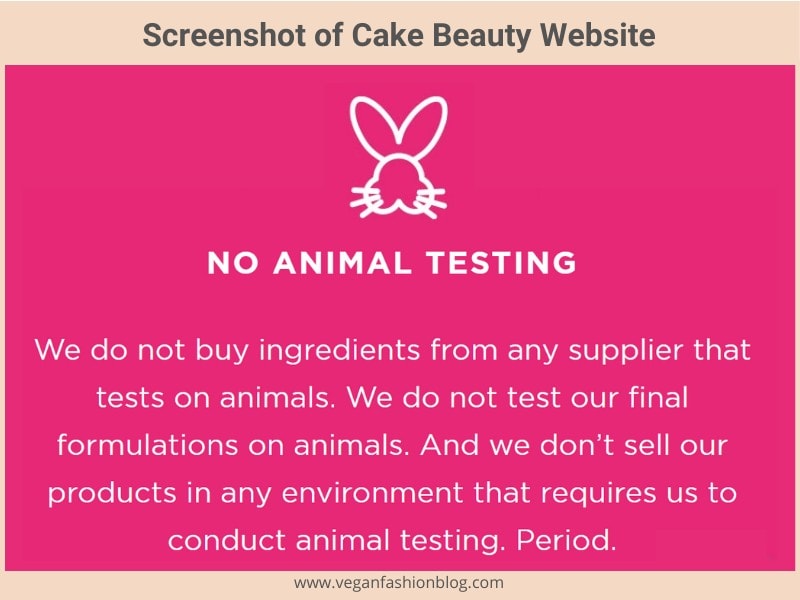 Do They Test On Animals When Required By Law?
No, Cake Beauty does not test on animals when required by law. In the first place, they do not sell in countries with strict animal testing policies.
They've managed to centralize their products in areas with friendly policies towards animal testing.
This is why they're not in close connection with the Chinese market and have only recently announced that they will be distributing to the UK.
Are Cake Beauty Products Sold In China?
Cake Beauty pledged to a 100% "cruelty-free" marketing approach. The brand doesn't sell in China or any area that would compel them to submit their products for testing.
You won't find their products listed on Sephora's Chinese site, nor do they have a Chinese website.
They're also missing from popular Chinese retail portals, such as Aliexpress and Alibaba. The brand has maintained that they do not intend to go into any partnership with Chinese authorities.
For Cake Beauty, it's always about upholding their principles.
Does Cake Beauty Have Cruelty-Free Certifications?
Cake Beauty is certified as cruelty-free by some authorities. Their products feature PETA's Beauty Without Bunnies logo, and this is one of the most important seals of approval needed to convince customers about the safety of their products.
Also, they're certified by Leaping Bunny, and this is an indication that they've completed their CCIC program. Even though the program is free, some brands have steered clear.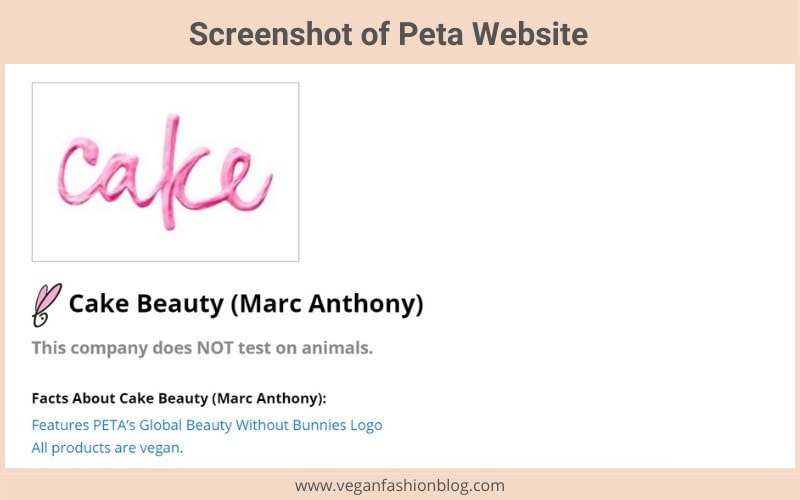 Is Cake Beauty Owned By Another Company?
Cake Beauty is a subsidiary of Marc Anthony, which is a cosmetics company founded by one of the most popular celebrity hair stylists in the world.
The company was founded in 1995 by Marc Anthony Venere, and it specializes in personal care products, such as body lotion, hair treatment, and facial care.
Are Cake Beauty Products Vegan?
You can pick up any of Cake Beauty's products with complete peace of mind. This is because all their products are free from animal derivatives. They don't contain the usual suspects, like lanolin, carmine, or beeswax.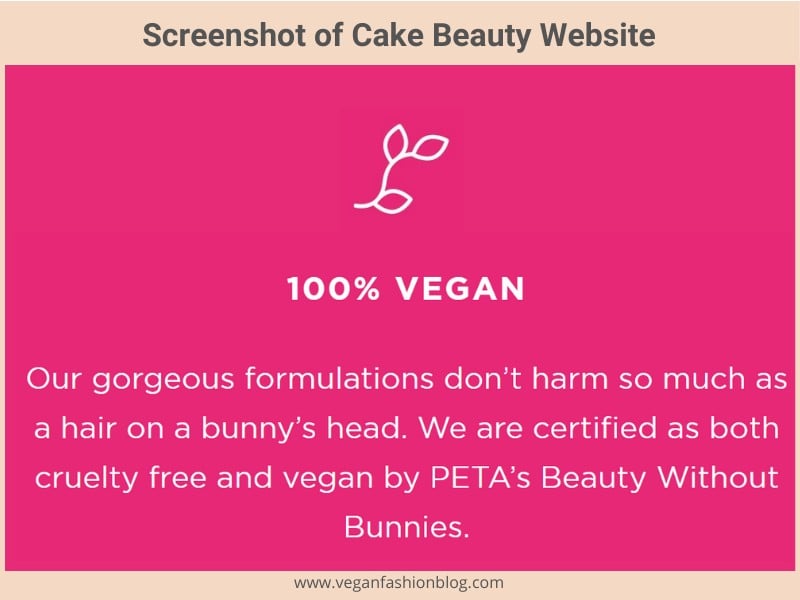 All ingredients used during their production are organic, so they're fast in action but won't cause any allergic reactions.
This is a good time to check out their catalog, as they look to expand their reach to the UK. Here are some of their best-selling items:
Whip-smart hair mask
Hot mess hair foam
Mane manager hair conditioner
Milk indulgent body cream
Gloss boss styling oil
Cakewalk revitalizing foot cream
6-second morning mask
Baby skin facial bubble
The curl next door
The two-timer cleansing conditioner
Summary
Cake Beauty does have some impressive personal care products, and they're one of few brands that have stuck to their cruelty-free pledge.
There are no traces of animal derivatives, and they do everything possible to ensure that their products are not subjected to any form of testing when they sell in western countries.