Quick Answer: Is Calvin Klein Cruelty-Free and Vegan?
No, Calvin Klein isn't cruelty-free or Vegan. Sure, they're certified by PETA and, just in September, banned the use of animal products. Even at that, all of Calvin Klein products are distributed to mainland China where every final product needs to go through animal testing. The company does not use animal products such as fur in the manufacturing process, but the end product needs to go through animal testing, a practice that makes it non-cruelty free.
Calvin Klein specializes in producing and distributing items such as underwear, watches, perfumes, and apparel. They have a wide chain of distribution that cuts across countries in Asia, Europe, and Africa.
Their largest distribution chain is in the UK, US, Brazil, and China. The company has its headquarters in New York, USA.
A lot of customers are itching to know whether Calvin Klein is vegan or not since they repeatedly state "vegan" on the pack of their products, especially the perfumes. Well, we will provide you with every fact you need.
Is Calvin Klein Cruelty-Free?
We looked at the products offered by Calvin Klein and compared them with the requirements that certify a cruelty-free product. The requirements include:
The product shouldn't undergo animal testing
The company shouldn't test the product on animals or employ a third party to do the testing
They do not sell the product in countries where animal testing is compulsory by law
The products are not sold in china
After making this comparison, you might be surprised to know that Calvin Klein didn't meet any of the requirements. This is a red flag for individuals who only want to purchase from cruelty-free brands.
Are Calvin Klein products tested on Animals?
There's no denying it, Calvin Klein products are not cruelty-free. Below is an image from PETA's official website.

However, they're approved by PETA. For this reason, you won't find any product made with fur or animal leather among their production line.
But at the end of the production process, the final products are tested on animals. Recent research on their website found China as one of their distribution networks.
A country in which bylaws require every product to go through animal testing.
Do they test animals when required by the Law?
In the United States, the FDA and other health authorities do not make animal testing compulsory for cosmetic and fashion items. The same cannot be said in other countries, especially China.
Since Calvin Klein has a large customer base in China, they have to comply with the animal testing law to continue expanding its market.
Are Calvin Klein products sold in China?
Calvin Klein products are sold in China. This is because their products are very affordable compared to rival brands such as Chanel, Versace, or Lacoste.
The Republic of China has a law that makes animal testing compulsory for all cosmetics and fashion items.
Automatically, companies whose products are available in China are not cruelty-free or 100% vegan.
Does Calvin Klein have Cruelty Free Certifications?
Yes, we understand that Calvin Klein is certified by PETA. However, you should know that PETA certification does not include animal testing.
It only takes into account the ingredients and strives to ensure no animal product is used in the creation process.
Calvin Klein has always strived to be on the good books of PETA and recently banned the use of animal skin in their product line. A move that was wildly celebrated by PETA on their site and social media handles.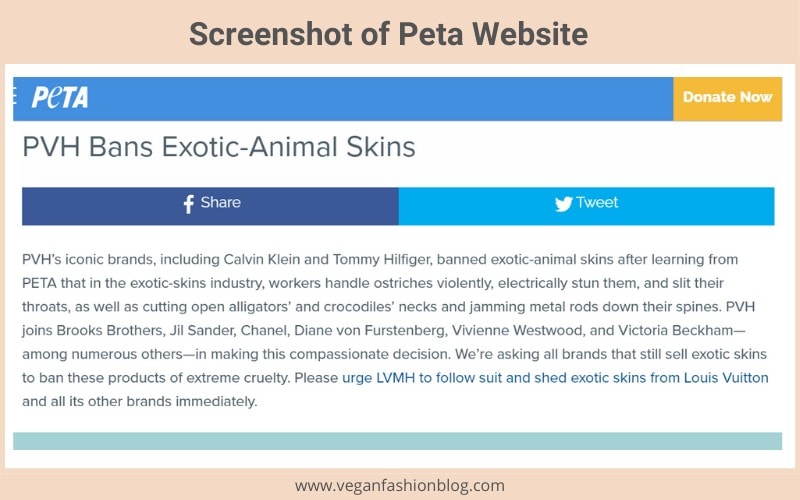 Is Calvin Klein Owned by another Company?
Yes, Calvin Klein is owned by another company. It has a parent company called PVH Corp, the same company that owns Tommy Hilfiger, Arrows, Warner's, and Olga.
Just like Calvin Klein, Tommy Hilfiger products are also available in China. Hence, the company doesn't have a solid cruelty-free policy.
Is Calvin Klein Vegan?
Most Calvin Klein products, especially their cosmetic products, come with a "vegan" logo.
For a product to be certified as "vegan", they must certify two requirements: the product has to be free from animal-derived ingredients and should not involve any form of animal cruelty.
This is why we disagree with Calvin Klein's "100% vegan" claim.
So, if you want a 100% vegan product, this brand can't be trusted to meet that requirement.
However, we hope to see some changes soon since China is relaxing their stance on animal testing. For now, we still await their approval. So far, the only Calvin Klein product that's 100% vegan is – CK everyone.
Summary
Despite failing the non-cruelty test, Calvin Klein is a classy brand with high-quality products. They're the top pick of international stars such as Justin Bieber, Kendall Jenner, and Lewis Hamilton.
They have the best range of undergarments and have recently pulled down their high-end product line in favor of cost-savvy options. The goal is to provide affordable fashion items for fashionistas all over the globe.