Is Chantecaille Cruelty-Free and Vegan?
Yes, Chantecaille is cruelty-free. They do not test their products on animals. The company is certified cruelty-free and accredited by PETA. Their products are not sold in the People's Republic of China, where animal testing is required by law. Chantecaille products are not 100% vegan, though, as some of them contain animal-derived ingredients or by-products.
Chantecaille is a beauty and cosmetics company that is also a family business passed down from one generation to the next. The company was founded in 1997 and is privately held.
It is headquartered at 584 Broadway Suite 1111, New York. They specialize in makeup, fragrance, philanthropy, and skincare.
We have seen a lot of readers inquiring about the cruelty-free status of Chantecaille, so we analyzed and researched the brand's products. After a thorough and in-depth look at their products, we came to a conclusion.
Is Chantecaille cruelty-free? Keep reading to find out the details.
Is Chantecaille Cruelty-Free?
Yes, it's cruelty-free. For a product to be considered cruelty-free, there are certain criteria it has to meet first. We have listed the mentioned criteria below, and we will analyze them one by one.
The products are not tested on animals.
Their products are not tested on animals even when the law requires them to.
The company does not sell its products in stores in China.
Does Chantecaille Test Their Products On Animals?
No, Chantecaille does not test their products on animals.

They have a strict no animal testing policy.
The company believes in making high-quality products with natural ingredients rather than harming animals. Chantecaille also supports environmental conservation and creates awareness of it.
The following statement is from their website:
Chantecaille sets a luxurious standard in the world of modern, botanical skincare and cosmetics. Our obsession with flowers and their amazing natural abilities to heal and work in harmony with the body is at the heart of our passion for skincare. Through ground-breaking scientific advancement, meticulous formulation and personal commitment, we use beauty as a tool to effect change in the world. By creating purposeful, obsession-worthy beauty products crafted from the purest ingredients, we've raised the bar for the beauty industry. We've also created a philanthropy platform which shines a spotlight on global environmental issues and supports conservation efforts around the globe.
Does Chantecaille Test Their Products On Animals When the Law Requires Them To?
No, Chantecaille is 100% cruelty-free. The company does not test its products on animals, nor do they allow third parties or suppliers to do so.
If a country's law or a regulatory body demands that their products have to be tested on animals, Chantecaille will not sell in that country. The company sticks by its cruelty-free policy.
Are Chantecaille Products Available In China?
No, Chantecaille products are not sold in China. This is because the People's Republic of China has harsh animal rules for all foreign cosmetic products.
The Chinese authorities must test all foreign cosmetic products on animals to ensure they are safe for public use.
This is made compulsory, even though there are other methods of testing cosmetics without having to harm innocent animals. Cosmetic companies that test their products in China are not cruelty-free.
Does Chantecaille Have Any Cruelty-Free Certifications?
Chantecaille is certified by PETA. When a company goes into an agreement with PETA, they promise not to conduct animal tests on their final products or their formulations and ingredients, both now and in the future.
Chantecaille is certified by PETA.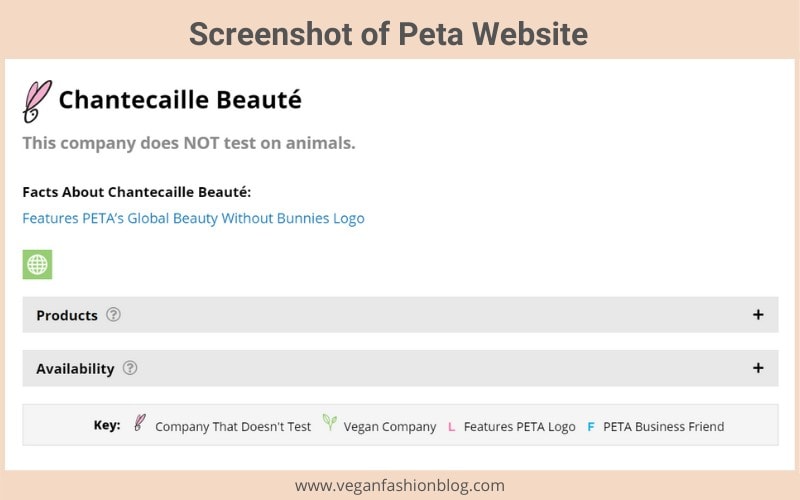 Is Chantecaille Owned By Another Company?
No, it is an independently owned cruelty-free company.
Chantecaille's animal testing policy
Is Chantecaille Vegan?
For a product or a brand to be considered vegan, all the ingredients used in making it, from the manufacturing to the final product, have to be free from animal-derived ingredients.
Vegan-friendly products are also cruelty-free l, as using an animal's by-product is a form of animal cruelty.
Chantecaille products are not 100% vegan, as some of them contain animal-derived ingredients and byproducts. However, they have some vegan options. The following are some of the vegan products from Chantecaille:
Cleansers
Bamboo and Hibiscus Exfoliating Cream
Flower Infused Cleansing Milk
Rice and Geranium Foaming Cleanser
Moisturizers
Anti-Pollution Mattifying Cream
Bio Lifting Cream+
Bio Lifting Neck Cream
Bio Lifting Oil Free Fluid+
Bio Lifting Serum
Blanc Gardenia Brightening Emulsion
Flower Harmonizing Cream
Magnolia, Jasmine, and Lily Healing Emulsion
Retinol Hand Cream
Retinol Body Treatment
Retinol Intense+
Rose de Mai Cream
Ultra Sun Protection Sunscreen
Water Flower Fluid
Serums/Oils
Anti-Pollution Finishing Essence
Blanc Gardenia Brightening Essence
Blue Light Protection Hyaluronic Serum
Pure Rosewater
Radiance Elixir
Rose de Mai Body Oil
Rose de Mai Face Oil
Vital Essence
Masks
Bio Lifting Mask
Hibiscus Smoothing Mask
Jasmine and Lily Healing Mask
Eye Care
Lip Care
Lip Potion
Bébé Line
Bébé Flower Petal Hair & Body Wash
Bébé Orange Blossom Face Cream
Bébé Wild Moss Rose Body Lotion
Fragrance – Chantecaille Vegan
Frangipane
Kalimantan
Oud Fumé
Pétales
Tiare
Makeup – Chantecaille Vegan
Face Makeup
Future Skin Gel Foundation
HD Perfecting Powder
HD Perfecting Loose Powder
Just Skin Tinted Moisturizer
Le Camouflage Stylo Concealer
Real Skin+ Eye and Face Stick
Compact Makeup Powder Foundation
Talc Free Loose Powder
Blush, Bronzer, & Highlighter
Aqua Blush
Cheek Geleé
Liquid Lumiere
Philanthropy Cheek Shade
Coral (Laughter)
Butterfly (Bliss)
Bee (Emotion)
Horse (Joy)
Radiance Gel Bronzer
Real Bronze
Eyes & Brows Makeup
Brightening Eye Kajal – Nude
Brow Lift Éclat
Faux Cils Longest Lash Mascara
Faux Cils Mascara
Full Brow Perfecting Gel
Le Stylo Ultra Slim
Les Perles Metallic Eye Liner
Luminescent Eye Shade
Mermaid Eye Color
Mermaid Eye Matte
Waterproof Brow Definers
Lips
Brilliant Lip Gloss
Lip Chic
Lip Sleek
Lip Stick
Lip Veil
Supporting Elephant Family
Supporting Space for Giants
Nail Polish
Summary
Chantecaille is a cruelty-free cosmetics company that is based in New York. The company believes in making quality products from natural sources rather than having to hurt innocent animals.
They do not sell their products in China because of the nation's cruel animal testing laws. Chantecaille products are not 100% vegan, but they do offer vegan options. They are certified by PETA.