Is Charlotte Tilbury Cruelty Free and Vegan?
Charlotte Tilbury's cruelty-free status was never in doubt until early 2020 when its products were seen in China. The brand responded by saying it only stored inventory for testers and for use on their clients and that the products were never for retail, which may have exposed their products for animal testing. Further, some of the products are vegan.
Founded in 2013, Charlotte Tilbury is owned by Charlotte Tilbury Beauty Ltd, a company owned by British make-up artist and contributing editor to the British Vogue magazine, Charlotte Tilbury MBE.
After warding off competition from Estee Lauder, a Spanish company, Puig acquired a majority stake of Charlotte Tilbury in June 2020.
While Charlotte Tilbury still keeps its cruelty-free status, Puig, also known as Paco Rabanne, is not cruelty-free.
This year, a lot has been said about Charlotte Tilbury's cruelty-free status and the possibility or not of having their product tested on animals.
We have analyzed this brand and its products in detail. Keep reading to get updated information on the company's status.
Is Charlotte Tilbury Cruelty-Free?
For a brand to be cruelty-free, its production processes and after-market activities must be done with respect to the welfare of animals.
That is, it must not conduct animal testing in any form. For a brand to be considered cruelty-free, it must ensure that:
None of its products is tested on animals
It's not selling in countries where foreign companies are required to test by law
It must not finance third party companies to test on its behalf.
Although the brand is still approved by Logical Harmony to be a cruelty-free cosmetics company, we can only move them to the grey area as there is a little possibility that, with their products having appeared physically in China in 2019 and 2020, they may have been tested on animals as this is a requirement according to the Chinese law.
While Logical Harmony still approves Charlotte Tilbury to be cruelty-free, it has been removed from the list of many cruelty-free brands. Also, its products are not 100% vegan.
Are Charlotte Tilbury products tested on animals?
While Charlotte Tilbury's involvement with Little B means playing in muddied water, it's still yet to be proven that its products are tested on animals.
However, one of the criteria a company must fulfill or maintain cruelty-free status is that it mustn't sell in countries like China, where it is required by law to do animal testing.
However, the brand only does cross-border sales to China. Technically, this is one of the ways foreign companies can sell in China while still keeping their cruelty-free status.
Do they test animals when required by the law?
Again, this is a complicated question to answer. China is one of the few countries which, as of 2020, are still conducting animal testing.
It happened that Charlotte Tilbury couldn't keep its eyes away from the commercial opportunities in China.
While many foreign companies are keeping off from China as they wouldn't like to lose their ethical values and reputation, unfortunately, Charlotte Tilbury isn't doing so.
While the fact that China-based consumers can order their products online and have them shipped to them doesn't disqualify a brand from getting or keeping its status, there's still a chance that one of their products could end up in the hands of authorities for testing.
However, it appears that Logical Harmony is the only organization (as of October 2020) which still vouches that Charlotte Tilbury remains cruelty-free.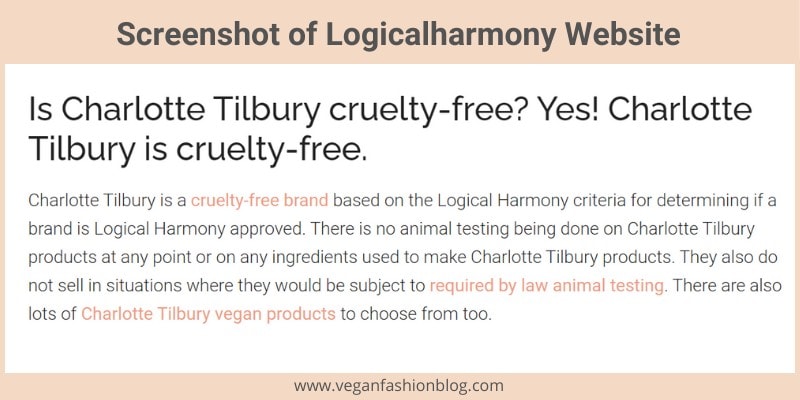 What this means is that, in addition to making no tests on animals, no animal ingredients or derivatives are used in making their products.
Are Charlotte Tilbury products sold in China?
Yes, Charlotte Tilbury products are sold in China. However, its products are not sold in stores (although they appeared on multiple occasions in pop-up stores belonging to Little B), but they do cross border sales via shipping.
Does Charlotte Tilbury have cruelty-free certifications?
Although the brand claims it is cruelty-free, Charlotte Tilbury doesn't have any cruelty-free certification, which is strange. It is not certified by PETA's Beauty Without Bunnies or Leaping Bunny.
As can be seen below, the brand is not in PETA's database of cruelty-free brands.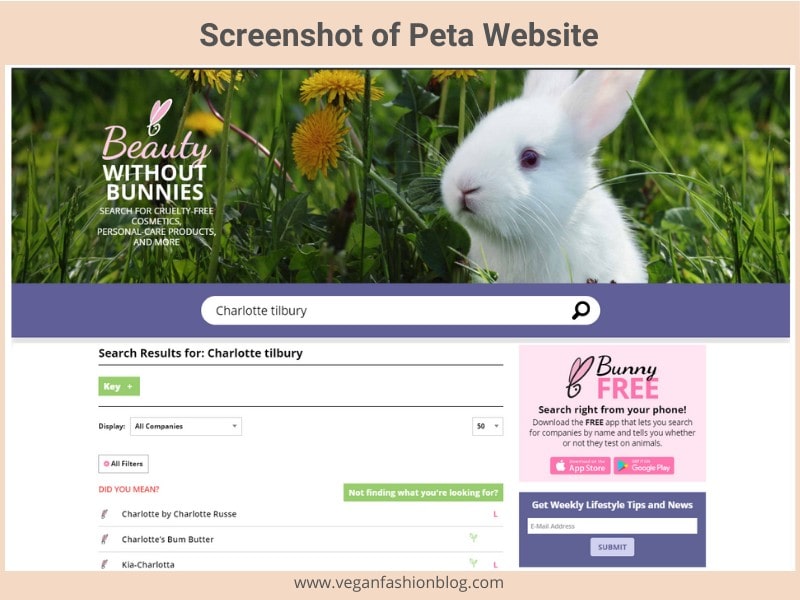 Is Charlotte Tilbury Owned by another company?
Puig, one of the world's largest cosmetics brands, owns the largest stake of Charlotte Tilbury after it acquired a majority stake of the company in 2020.
Nonetheless, Puig claims it doesn't test on animals, but it also sells its products in China.
Is Charlotte Tilbury Products Vegan?
While Charlotte Tilbury has a lot of products that are not made from animal ingredients that are, hence, vegan, all its products are not 100% vegan.
However, according to Logical Harmony, some of its vegan products include make-up and skincare products like:
Bar of Gold
Air Brush Flawless Finish Powder
Beach Stick
Beauty Light Wand
Cheek to Chic
Brightening Youth Glow Primer
Brow Lift
Colour Chameleon
Eyes To Mesmerise
Goddess Skin Clay Mask
Goddess Cleansing Ritual Duo
Summary
Known over the years as a cruelty-free brand, Charlotte Tilbury is just one of the brands that couldn't keep their eyes off the Chinese market.
Although it's not making in-store sales in China, where after-market animal testing is required by law, its products have appeared in Little B's stores a few times.
However, the company maintains that the products were not for sale but meant for inventory for testers and clients.