Quick Answer: Is Chloe Cruelty-Free and Vegan?
Chloe is not cruelty-free. They carry out animal testing when required by law and use animal byproducts in some of their fashion items. The brand is also not certified by any cruelty-free authority.
Chloe is a luxurious fashion brand that started in Paris, France, in 1953. The fashion label was founded by Gaby Aghion but is presently owned by multinational beauty corporation Richemont SA.
Chloe's catalog includes coats, bags, shoes, perfumes, and other fashion accessories.
Is Chloe Cruelty-Free?
To give an accurate answer to this question, we will have to dissect their market activities, especially outside of Europe.
We know for sure that the brand distributes worldwide and sells in countries in Asia and Africa. Most cosmetic bodies in Africa, America, and Europe don't require animal testing for cosmetics products.
The rules are different in Asia, especially in China. China is one country where animal testing is required by law. Unfortunately, big brands can't resist the urge to sell there due to the high demand for fashion items. Chloe is one such brand.
By selling in a country where animal testing is required by law, they've broken the cruelty-free code. As such, they can't be added to our database of cruelty-free brands.
Are Chloe Products Tested On Animals?
Chloe has failed to put up a testing policy on their website. They are not one to disclose how their company operates to members of the public, so concerned consumers who want answers are left to enquire directly via their support line.
In terms of animal testing, we know that they don't test on animals when they sell in Europe, nor do they use suppliers who do.
However, they leave their principles in the mud when they sell in China. Hence, we must assume that they test on animals in places where it's necessary.
Do They Test On Animals When Required By Law?
Chloe sells in areas where strict testing laws have been enacted. When the need arises, they carry out animal testing as required by law.
In China, authorities have failed to adopt non-animal testing alternatives for cosmetics and fashion items.
All foreign brands that sell in the area must agree to post-market tests that are carried out by the authorities. Even worse, the brands are the ones that finance the tests.
The only way a foreign brand that sells in China can remain cruelty-free is if their products are domestically manufactured in the area.
Otherwise, the only solution is to avoid the area or pull the products out of the Chinese market if they already sell there.
Are Chloe Products Sold In China?
Chloe made it easier for customers to search for the location of their stores in several countries. You can pinpoint the exact location of their stores using the store locator.
We used this tool to check if they have any stores where their items are sold in China, and we found a couple of them on the mainland.
They have stores in Beijing, and they also use third-party stores, such as China World Shopping Mall. You can see the location of all Chloe stores in the image below.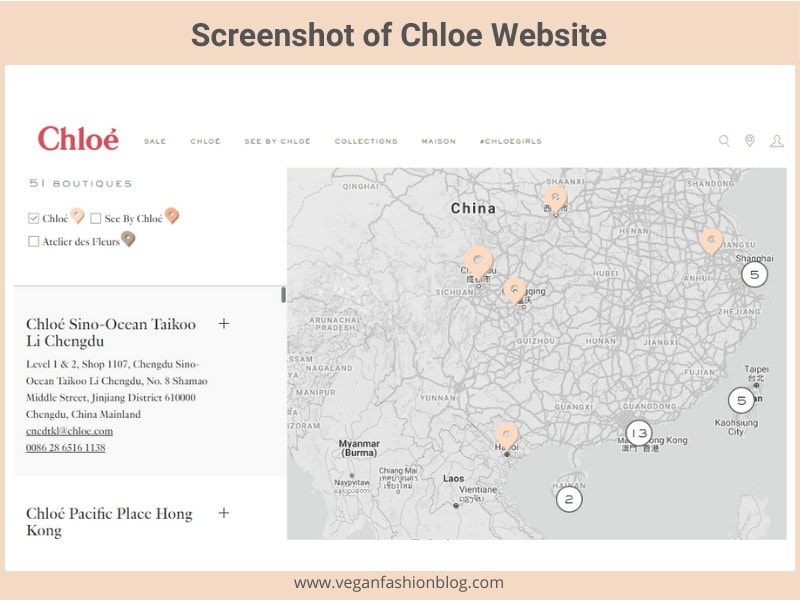 Does Chloe Have Cruelty-Free Certifications?
There are a total of 2,076 cruelty-free brands on Leaping Bunny's database, and Chloe isn't one of them. The numbers are even higher for PETA.
PETA labels Chloe as a brand that tests on animals, and this is an indication that they've failed to commit to a cruelty-free production process. A lack of certification confirms that they test on animals.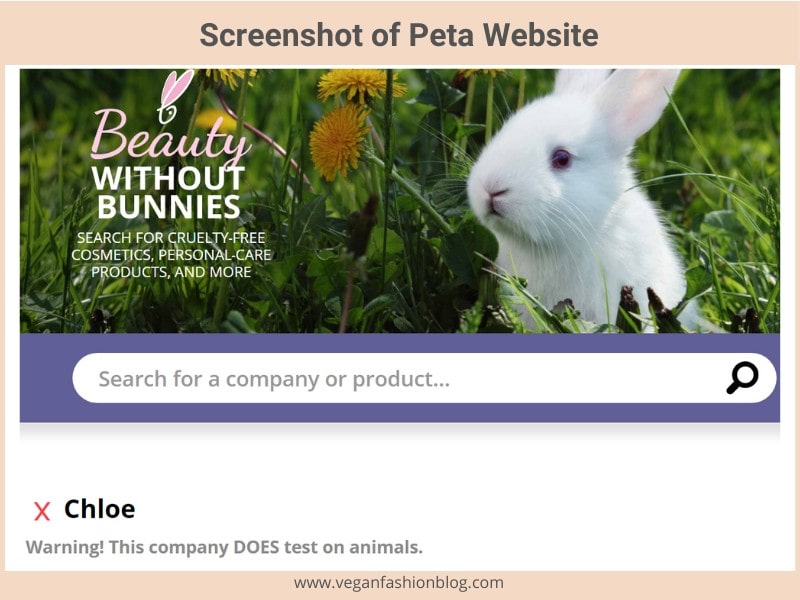 Is Chloe Owned By Another Company?
Chloe is a subsidiary of Richemont SA, a Switzerland-based company that specializes in manufacturing luxury goods.
The company was founded by South African business mogul Johann Rupert. Richmont originated in South Africa, and they have several subsidiaries, including Roger, Cartier, Peter Miller, and Plaget.
Are Chloe Products Vegan?
A lot of Chloe's fashion items, especially their clothing wear, include faux fur. Faux fur isn't the original fur extracted from animals.
This type of fur is made from synthetic raw material but has the texture of animal fur. Most of Chloe's coats contain this type of fur.
However, the issue is that while they don't use fur, there have been reports that they do use animal wool in some of their products. We can't verify that fact since the company hasn't done anything to address the rumor.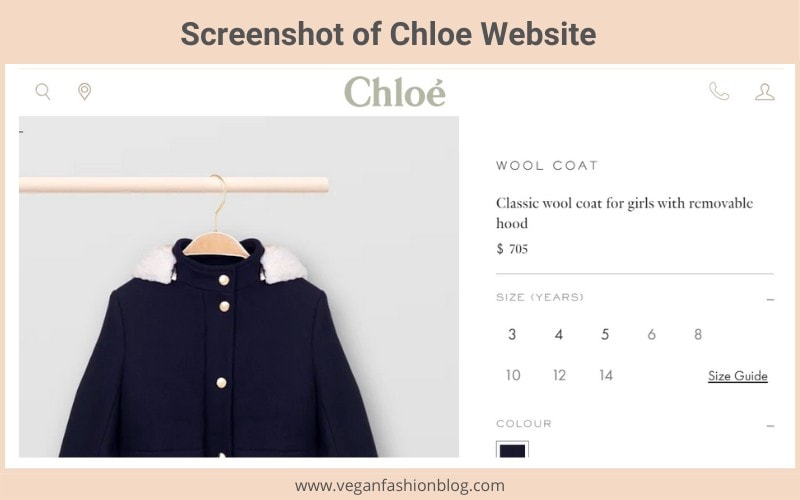 Due to the uncertainty surrounding them, we're not confident about adding them to our list of vegan brands for two reasons – they don't have a vegan seal, and they don't have a vegan policy.
Summary
Chloe has made its dealings very shady. Their consumers are kept in the dark about their testing policy and the ingredients that constitute their formulations. For this reason, we urge vegans to find an alternative to this brand.