Quick Answer: Is Christina Aguilera Cruelty-Free and Vegan?
Christina Aguilera's cruelty-free status remains a mystery and they are not Vegan. Most reports about this brand have been pure guesswork due to their inability to provide information. The biggest clue we have has to do with results from PETA. In terms of their formulation, no one is sure.
Christina Aguilera was launched in 2007 by onscreen diva and songwriter Christina Aguilera. She joined the list of Hollywood celebrities who were carving a niche for themselves in the beauty industry at that time.
The perfumes were distributed in lace bottles and fancy packaging that easily caught consumers' attention. Aside from the Christina Aguilera perfume collection, the founder also launched 6 other product lines.
Is Christina Aguilera Cruelty-Free?
We're able to confirm if a brand is cruelty-free or not by comparing them against certain criteria. The most important one is to ensure that they don't carry out animal testing of any sort.
By this, we mean they must not test on animals on their own, use a third party to do it, or sell in places where testing is required by law.
We're typically able to find answers to these questions by researching the activities of different brands. In the case of Christina Aguilera, it's a dead-end.
There's little information about the company's activities online. The only clue is that they're not certified by any cruelty-free authority. Hence, we can't add them to our list of cruelty-free brands.
Are Christina Aguilera Products Tested On Animals?
Christina Aguilera became popular for dolling herself up with makeup. Although she has carved a strong personality in the entertainment industry, the same can't be said for her perfume brand.
The website is a messy place and seems to be all about selling.
It's difficult to find a useful piece of information that gives more details about how the brand operates. For instance, we couldn't find an FAQ section, nor was there any animal testing policy published on the site.
We do know that the brand is now owned by a parent company – one that does not test on animals. However, it seems the parent company allows its subsidiaries to adopt their own testing policy.
For that reason, you will find some subsidiaries that manage that test on animals.
In view of Christina Aguilera's animal testing status, PETA insists that they test on animals, and we would take PETA at their word.
Do They Test On Animals When Required By Law?
Only brands that sell in China are required to test on animals by law. This is the best means of determining the safety of the product. In Europe, human volunteers are used.
In the case of Christina Aguilera, it's difficult to tell. The brand has failed to give more clarity on their testing policy. For this reason, that fact remains uncertain.
Is Christina Aguilera Sold In China?
The rumors that Christina Aguilera sells in China have not been confirmed, and it's still a gray area for us.
We didn't find any options on their site that state the locations they ship to, nor did we find any publication that indicated their launch date in Chinese territory.
Not finding any of this information online doesn't mean they don't sell in the area.
While some brands might not be available online, they're likely available in physical locations in the area. In the case of Christina Aguilera, we're not 100% certain.
Does Christina Aguilera Have Cruelty-Free Certifications?
The minimum Christina Aguilera should have done to put uncertainty concerning their cruelty status to bed was to acquire a certification from PETA. Unfortunately, they haven't done so.
Not a single cruelty-free authority has endorsed this company. They're not even on Leaping Bunny's database, but they have been featured on PETA's blacklist, which contains brands that test on animals.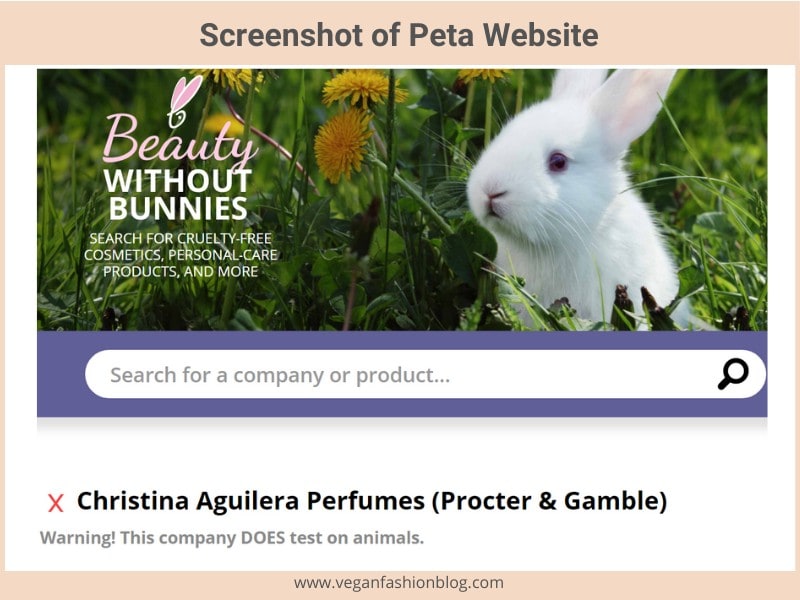 Is Christina Aguilera Owned By Another Company?
Christina Aguilera fragrance was formerly owned by P&G, but P&G relinquished the brand's license to Elizabeth Arden back in 2016. The sale meant the company acquired all of the brand's assets from its previous owner.
Elizabeth Arden is a publicly-traded company and has several beauty brands under its growing portfolio of world-class cosmetic corporations.
Some of their subsidiaries include John Varvatos, Wildfox Couture, and Elizabeth Arden Skincare.
Is Christina Aguilera Vegan?
Christina Aguilera products don't feature a vegan seal, and without any clarification on the type of ingredients they use, we can't declare them vegan.
The company's policy is all over the place, and you will see what we mean if you take a stroll to their site.
While they have a large catalog, they've failed to publish an ingredient list for any of their items. For all we know, they might or might not contain animal derivatives. Without an official statement, though, we can't be sure.
Summary
Christina Aguilera and its parent company leave more to be desired in terms of management. It's difficult to tell if the brand is vegan or cruelty-free, and withholding information only hurts a brand's credibility.