Quick Answer: Is Clairol Cruelty-Free and Vegan?
No, Clairol is not cruelty-free, but some of their products are vegan. They sell in countries where animal testing is required by law. Their affiliation with the Chinese market means they have to test their products on animals to gain approval to sell in the country.
Clairol is an American hair care brand owned by Coty. Clarion was launched in 1931 by a team of individuals who were fascinated by the idea of hair coloring.
Some of their hair care products are distributed by subsidiary units such as Balsam and Herbal Essence.
Is Clairol Cruelty-Free?
There are requirements that need to be met for a brand to be considered "cruelty-free". A seal of approval from PETA puts an end to any speculation.
However, most consumers can differentiate a cruelty-free brand from one that's not by taking a look at certain factors. We have narrowed down to the most important two.
The first is that the company must not be involved in any form of animal testing, and the second is that they shouldn't sell in countries where animal testing is made compulsory by law.
As you would have it, Clairol didn't meet any of these two requirements due to their affiliation with the Chinese market, which has put them at a disadvantage with PETA.
Are Clairol products tested on Animals?
Yes, Clairol products are tested on animals. This is because they sell in China. Hence they have to abide by the Chinese government animal testing policy, which is synonymous with brands that sell in the country.
Therefore, it's no surprise that some of the most popular brands, such as Calvin Klein, L'oreal, Clinique, and Aquafresh, are not cruelty-free. This is due to their desire to satisfy market demands in China.
Do they test animals when required by the Law?
Every country has its policies. In the US, the FDA deems animal testing on cosmetics products unnecessary. However, in China, the law is different.
The country is notorious for its strict animal testing policy, and as of 2020, brands who want to market their products there have to abide by the rule.
Are Clairol products sold in China?
Yes, Clairol products are sold in China. They're one of the most popular hair care brands in the country and are used in several hair salons. Clairol products are available for both wholesale and retail.
The competition for cosmetic products in the country is fierce, but Clairol has managed to carve a niche for itself in the hair industry.
Does Clairol have Cruelty free Certifications?
Most customers in the US have come to rely on PETA certification to officially confirm whether a brand is cruelty-free or not.
PETA certification indicates that a company has signed an official statement declaring that they won't carry out any test on animals or use animal derivatives in its production process.
We went on Peta.org to find out about Clairol's cruelty status, and the result showed that they're not recognized as a cruelty-free brand.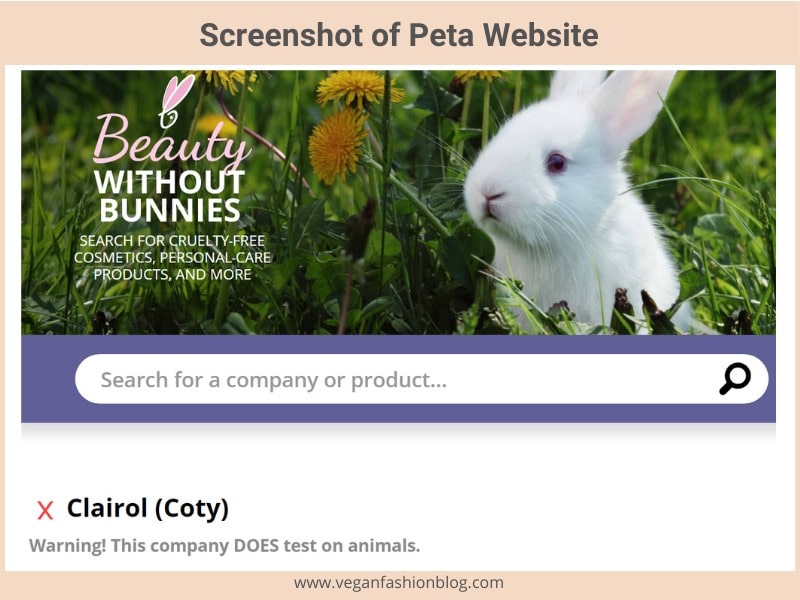 Is Clairol Owned by another Company?
Clairol isn't an independent company. The brand is a subsidiary unit of Coty. Although some Coty brands are certified by PETA, Clairol is one of the few that aren't due to their affiliation with China.
Coty is a multinational beauty corporation founded by Francois Coty in 1904. The brand is based in the US and, as of 2018, owned close to 80 brands.
Considering several brands under the company, we can say they major in cosmetics, skincare, nail care, and fragrance.
Are Clairol Products Vegan?
Clairol's vegan status is quite complicated. Most of their product lines in the past used to feature a lot of animal derivatives, but their current product line is slowly minimizing that animal-origin contents.
For instance, their recently launched hair dye, Natural Instincts, is said to be one of few completely vegan hair products in the market.
However, Clairol only put up a statement on their site that said they don't use any form of animal derivatives, but they say nothing about animal testing.
This is a big let down for vegans who want to steer completely clear of brands engaged in animal cruelty.
If you're all about an animal-friendly environment, you ought to settle for vegan brands and, at the same time, cruelty-free.
So far, Natural Instincts by Clairol is the only product by the brand that's 100% certified by a dermatologist to be vegan.
Summary
Recent products such as Natural Instincts from Clairol are free from any sort of animal derivatives and come with a "vegan" logo.
This shows that the brand is beginning to notice the importance of an animal-friendly environment.
This is a welcome change, but we wait to see if they would follow that up by eliminating animal testing from their production process. To be able to do that, this would mean taking their product off the Chinese market.